On October 13, Binance announced that it will include USTC as borrowable asset on the loans platform, along with release of the US CPI report. This spiked USTC price again after the rollout of USTC re-peg proposal on Medium on Sunday. The price increased by 17.55%, 26.53%, and 33.49% (24 hours) for three days from October 9 to October 11, reached the high at $0.0617 on Monday. While rest of the crypto and stock market were tumbling yesterday, USTC price increased by 19.81% (24 hours) and reached the high at $0.05577.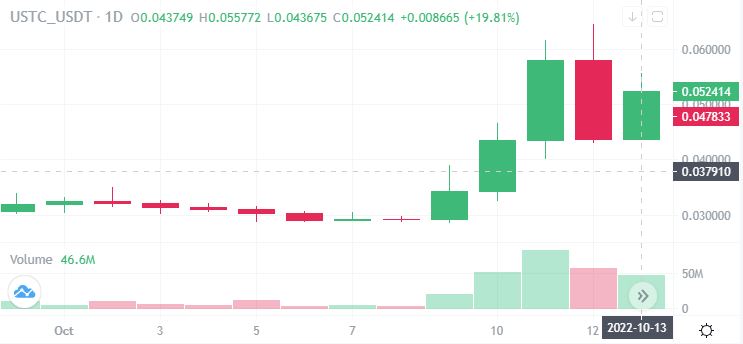 In addition, USTC price jumps 57.78% compared to last week. The recent price performance has strengthen the confidence of Terra's community. According to a Youtuber and Terra Luna Classic enthusiat ClayBro, he mentioned in one of his videos that MEXC Global and Binance have adopted LUNC burn mechanism and now Binance has included USTC as borrowable asset, which indicates that decentralized exchanges do have faith in Luna or otherwise wouldn't support the community.
Closing Thoughts
Although the Luna collapse in May led investors and crypto enthusiasts suffer from loss. I believe the new burn mechanism and the stablecoin re-peg proposal both bring the hope to our Terra community by reducing LUNC supply. If you would like to support Terra community, feel free to purchase LUNC (LUNC/USDT – trade it here) and USTC (USTC/USDT – trade it here) on MEXC Global with low trading fees!
Interested in reading more about Luna Classic?
Check out our LUNC series of articles:
How Can Luna Classic's Social Media Movements Accelerate the Burning Process?
How Long Will LUNC Take to Reduce Its First Trillion?
What is Terra Classic (LUNC) Tax Burn?