On September 7, MEXC Global announced that we will include 1.2% tax burn fee into the deposit fees and all on-chain transactions to support the Terra community. One day after MEXC's tax burn update, LUNC closing price increases by 17.64%. On September 21, Luna Classic tax burn went live at the Terra Classic block height of 9,475,200.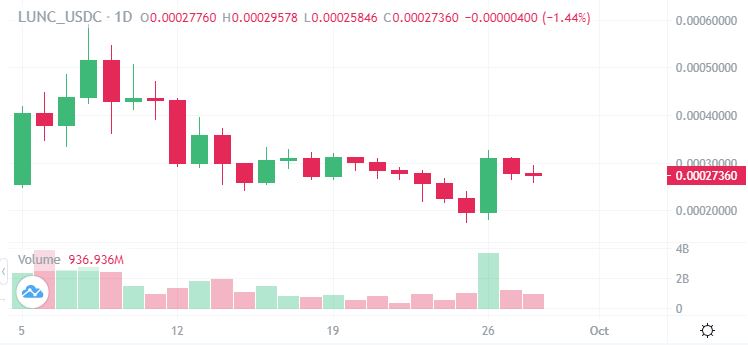 It has been showing a down trend after the official implementation, especially with the Federal Reserve raised interest rates by 75 basis points on September 22, and Binance's CEO CZ claimed that they will not support the new tax burn mechanism in the Ask Me Anything (AMA) session on September 23. However, Binance announced that they will adopt Luna's tax burn on trading fees this Monday. On September 26, LUNC price hikes 57.47% (24 hours) compared to the day before Binance's update.
Although the cryptocurrency market is going bearish due to the Fed's monetary policy changes to address overheated inflation, more and more centralized exchanges support the tax burn. This brings Terra community hope to make LUNC strong again and MEXC Global will always be there for Luna Classic by holding the Tax Burn Initiative Campaign. Tick tock! The campaign will end in 3 days. To keep supporting the Terra community and the tax burn mechanism, feel free to purchase LUNC (LUNC/USDT – Trade it here) on MEXC Global with low futures trading fees!