On September 21, LUNC's 1.2% tax burn was effectively executed reaching the block height of 9,475,200. LUNC reached its highest price (ATH) of 0.00059 on September 8. The current LUNC price is 0.000289, has dropped about 0.97% (24 hours) at the time of writing. Different from what we have been expecting to see large price fluctuations after the tax burn implementation, the price remains fairly unimpacted.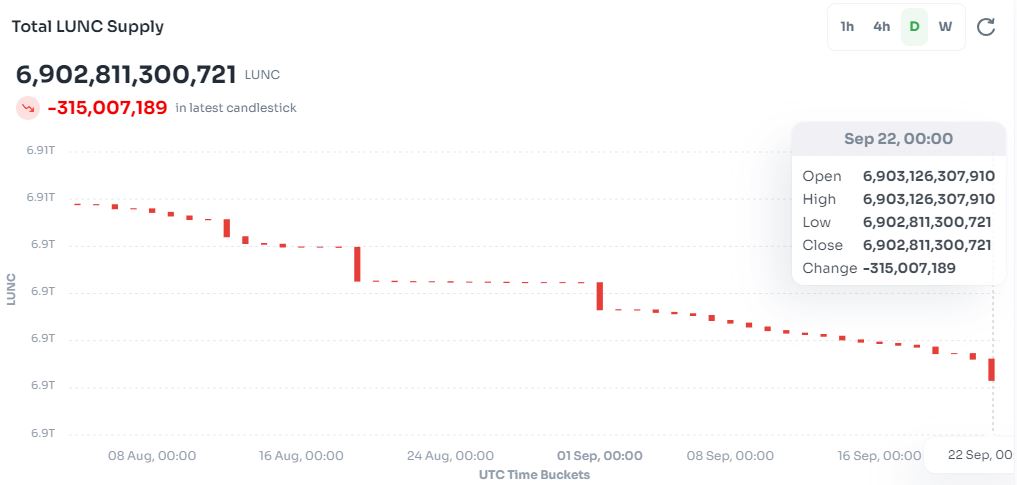 Under Terra governance, all on-chain transactions will be subjected to the 1.2% tax burn, both LUNC and USTC. This tax burn will be ongoing until the LUNC supply reaches 10 billion. According to StakeBin burn tracking, the total supply of LUNC has reduced by 315,007,189 in the past 24 hours and the current total supply is about 6.9 trillion. Terra community looks forward to utilizing the tax burn to remain the supply at 10 billion constantly.
MEXC committed to burn the spot trading fees for LUNC/USDT and LUNC/USDC from September 3 to September 17. Back in May, MEXC helped Terra's burning initiatives by holding a month-long repurchase and burn event to aid in LUNC's resurgence. To continuously support the Terra community and its new tax burn mechanism, you are more than welcome to trade LUNC (LUNC/USDT – Trade it here) on MEXC with low futures trading fees!