After the collapse of Terra Luna ecosystem, algorithmic stablecoins have been suffering from negative impacts. On October 9, a blockchain engineer Tobias Andersen posted a USTC re-peg proposal on Medium states that Terra can utilize quantitative tightening (QT) to recapitalize the stablecoin. Also, Andersen believes that USTC is a powerful asset to the Terra community and could be re-pegged to its original value of $1.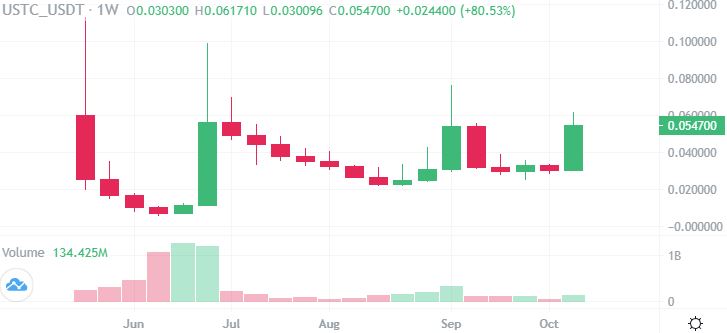 After the rollout of this proposal, USTC price soars 80% in the past seven days. It has been showing a bullish trend since the announcement on Sunday. At the time of writing, USTC is at $0.056, roughly 30% up compared to 24 hours ago. Furthermore, the proposal mentions that Terra community needs to build a more resilient market maker system to incentivize more businesses to do great things on the network.
Although many countries such as Japan uses quantitative easing (QE) to bail out their economy, QE has limited chances with great risks on re-pegging USTC. Andersen believes QT in the form of burning taxes will be a more sustainable tool for stablecoin recapitalization. This is the reason why MEXC Global has been supporting Luna's burning mechanism and we believe Terra community is strong and vibrant that we could rebuild the ecosystem together! Support Terra's stablecoin (USTC/USDT – trade it here) and Luna Classic (LUNC/USDT – trade it here) now on MEXC Global with low trading fees!