Zephyr Protocol or ZEPH is an untraceable, secure, and fully collateralized stablecoin protocol. It is a digital currency that combines the principles of privacy and stability.
Essential information for their token is available on the MEXC Digital asset introduction page. Furthermore, we are listing (ZEPH/USDT – Trade it here) on the Innovation Zone! Check it out now!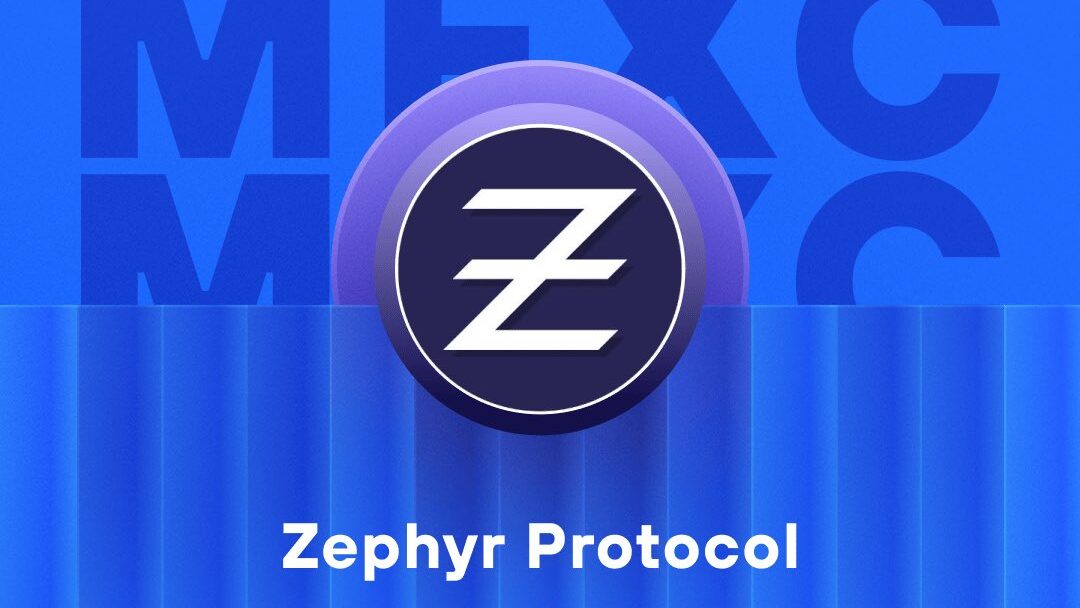 Understanding What is Zephyr Protocol
Zephyr Protocol represents a digital currency that merges privacy and stability principles. It is firmly grounded in the well-established Minimal Djed protocol and incorporates the robust privacy features of Monero. Zephyr introduces an innovative concept – the first private stablecoin system backed by reserves. The Djed protocol, inspired by AgeUSD and developed through collaboration between Emurgo, IOHK, and the Ergo Foundation, has been successfully implemented in various cryptocurrency projects.
Through Zephyr, users have the ability to create or redeem stable coins (ZephUSD) and reserve coins (ZephRSV) by using the base coin (ZEPH). The pricing of stablecoins relies on a pricing oracle, considering both spot and moving average (MA) prices. Meanwhile, Reserve coin pricing is determined through a formula based on current reserve data.
Types of Coin in the Zephyr Ecosystem
ZEPH (Base Asset)
ZEPH serves as the primary means of exchange within the Zephyr ecosystem. It forms the essential link between the stablecoin (ZephUSD) and the reserve coin (ZephRSV).
As the native currency, ZEPH plays a vital role in maintaining the seamless operation of the Zephyr Protocol. Users looking to enter the stablecoin system can do so by depositing ZEPH into the Protocol and, in return, minting ZephUSD. In this process, the value of ZEPH acts as the underlying collateral, imparting stability to ZephUSD.
Importantly, the supply of ZEPH remains unaffected by the minting and redemption of stablecoin and reserve coins. ZEPH can only be added to or withdrawn from the reserve. This mechanism ensures that ZEPH's supply cannot increase during these operations, safeguarding ZEPH holders against runaway inflation.
ZephUSD (StableCoin)
ZephUSD is a distinctive stablecoin that blends stability, efficiency, and privacy. This stablecoin maintains a stable value relative to the US dollar. However, it also incorporates the robust privacy attributes of Monero, establishing itself as a private stablecoin. This feature distinguishes ZephUSD and offers a level of anonymity akin to traditional cash transactions.
Furthermore, an excess of ZEPH backs this privacy-focused stablecoin. Meanwhile, a pricing oracle determines its pricing with factors in both spot and moving average (MA) prices. The system dynamically adapts to market conditions, assuring the stability of ZephUSD. Users have the ability to create or redeem ZephUSD in exchange for ZEPH.
In contrast to conventional stablecoins that rely on central authorities to maintain their peg to real-world assets, ZephUSD operates in a decentralized manner. This eliminates potential risks associated with centralized control. Now, users can engage in transactions freely and anonymously, free from concerns about volatility or surveillance.
ZephRSV (Reserve Coins)
ZephRSV serves as a reserve coin. Meanwhile, ZephRSV holders are reserve providers. They can deposit ZEPH into the Protocol and mint minting ZephRSV. The pricing of these reserve coins is determined by a formula linked to the current status of the reserve, creating a dynamic system that responds to market changes.
ZephRSV holders are strategically positioned to benefit from the potential appreciation of the base coin, ZEPH. This setup offers a leveraged exposure to the potential growth of ZEPH. It's important to note that potential profits aren't limited to ZEPH's price appreciation alone; they also include transaction fees that accrue as more ZephUSD coins are minted and redeemed. This process not only enhances the profit potential for ZephRSV holders but also reinforces the stability of ZephUSD by increasing the reserve's value, thereby strengthening the over-collateralization of ZephUSD.
Importantly, this process doesn't carry the risk of diluting the value held by existing ZephRSV holders. The Protocol maintains a maximum reserve ratio of 800%, preventing the minting of new reserve coins to protect the value held by current ZephRSV holders. This mechanism highlights the balance achieved by the Zephyr Protocol in promoting growth while maintaining stability.
Furthermore, ZephRSV holders have the ability to redeem their coins based on their share in the reserve's equity. This grants them significant flexibility and control, aligning with the decentralized ethos of the Zephyr Protocol.
Where to buy ZEPH Token
You can find ZEPH Token here at MEXC! We are listing ZEPH/USDT in our Innovation Zone!
What is the Price of ZEPH Tokens?
The ZEPH Token is currently trading at MEXC with a live price of $3.8. You can check the live price of their token right here!
How to buy ZEPH Tokens on MEXC
You can buy ZEPH Tokens on MEXC by following the steps:
Log in to your MEXC account and click [Trade]. Click on [Spot].
Search "ZEPH" using the search bar to see the available trading pairs. Take ZEPH/USDT as an example.
Scroll down and go to the [Spot] box. Enter the amount of ZEPH you want to buy. You can choose from opening a Limit order, a Market order, or a Stop-limit order. Take Market order as an example. Click [Buy ZEPH] to confirm your order. You will find the purchased ZEPH in your Spot Wallet.
You can find a detailed guide on how to buy ZEPH Tokens here.
Get Free Airdrops with MEXC Launchpad!
Did you know MEXC gives out 20+ free airdrops weekly? Launchpad and Kickstarter events ensure that all our loyal MX token HODLers receive a ton of new tokens! Learn all about it at our MX Zone now!
Meanwhile, check out all of the listings in the Innovation and Assessment zones as well as the major tokens in the Main Zone – we have more amazing projects to come! Visit the Hot Projects section as well to uncover more featured popular tokens. Lastly, feel free to visit MEXC Academy to learn more about cryptocurrency!
Start your travel on MEXC