MELD (MELD/USDT – Trade it here) is a non-custodial borrowing and lending DeFi platform. It runs on the Cardano blockchain, allowing users to borrow crypto or fiat currency with ease. Basic information for their token is available on the MEXC Digital asset introduction page.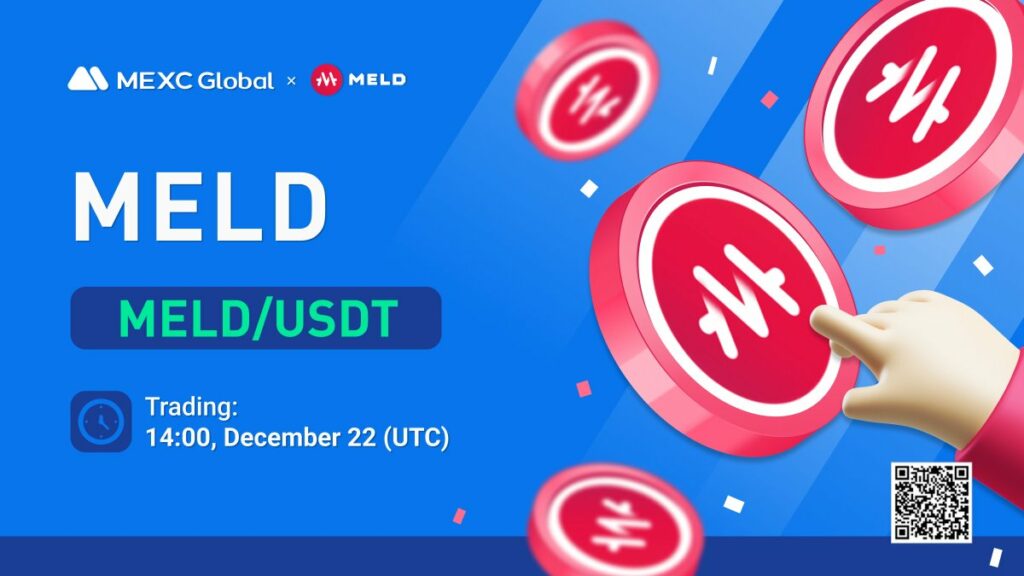 How Does it Work
MELD wants you to be your own bank. They are developing the DeFi banking stack. Now, you can convert your digital assets into fiat while maintaining a taxless long position. It is an open-source, non-custodial protocol that allows you to borrow fiats such as USD and EUR. Users can also use their crypto collateral to earn interest on deposits. Furthermore, users can use MELD tokens to manage the system or stake it to earn yield.
Currently, MELD is the first protocol to integrate fiat borrowing mechanisms into the cryptocurrency ecosystem. This allows for low-friction trades between cryptocurrencies and fiat holdings. Additionally, it preserves users' ownership over their digital assets.
MELD runs on the Cardano blockchain. It runs on a third-generation blockchain, therefore inheriting Cardano's advantages such as lower cost and high-speed output. In comparison with ETH-based alternatives, their fees are 99% lower. Furthermore, users can engage with MELDapp to quickly manage their digital assets. Their keys will be with them at all times, ensuring a safe and secure transaction anywhere in the world.
Perks of Using MELD
Users can now profit from the advantages of crypto investments as well as fiat liquidity. MELD also allows you to keep complete control of your assets while providing a quick liquidity foundation.
You can leverage your digital assets to obtain fiat or credit. Furthermore, you can effortlessly borrow money without selling crypto assets.
At MELD, you can use your cryptocurrency as collateral to get low-interest loans in fiat. Additionally, you keep your own private keys, maintaining security and safety.
MELD also prioritizes composability. The protocol is compatible with other functionalities such as AMMs, LPs, insurance, and many more. Therefore, users can access all the services with a click of a button.
Recent Price & Performance of MELD
Currently, their market price is $0.0168 per unit. It has a market cap of $48,200,430 and a fully diluted market cap of $67,306,584. It also has a 24-hour trading volume of $413,311. You can check the live price of their token right here!
How to buy MELD
You can buy MELD on MEXC by following the steps:
Log in to your MEXC account and click [Trade]. Click on [Spot].
Search "MELD" using the search bar to see the available trading pairs. Take MELD/USDT as an example.
Scroll down and go to the [Spot] box. Enter the amount of MELD you want to buy. You can choose from opening a Limit order, a Market order, or a Stop-limit order. Take Market order as an example. Click [Buy MELD] to confirm your order. You will find the purchased MELD in your Spot Wallet.
You can find a detailed guide on how to buy MELD token here.
Keep Yourself Updated With The Crypto Trend
Check out all of the listings in the Innovation and Assessment zones as well as the major tokens in the Main Zone – we have more amazing projects to come! What's more, MEXC lists moonshots and offers access to trade major cryptocurrencies. Visit the Hot Projects section as well to uncover more featured popular tokens. Lastly, feel free to visit MEXC Academy to learn more about cryptocurrency!
Start your travel on MEXC Global