IguVerse or IGUP (IGUP/USDT – Trade it here) is a GameFi that incorporates AI/ML technologies into NFTs. They are creating a pet-centric play-to-earn social networking game. Basic information for their token is available on the MEXC Digital asset introduction page. Furthermore, MEXC will list IguVerse on our Innovation zone soon, check it out now!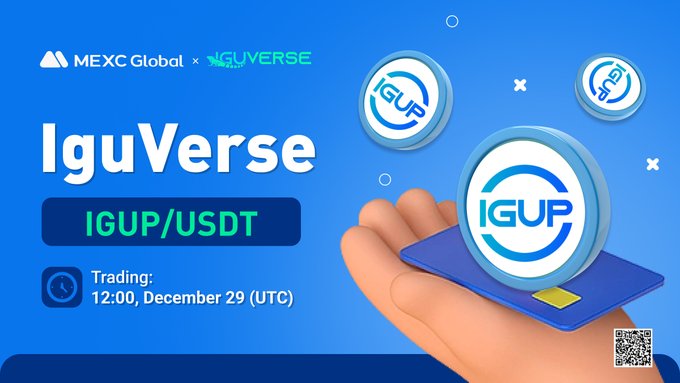 How Does it Work
IguVerse is incorporating social and pets into their GameFi software. It is a novel concept that allows pet owners from around the world to earn crypto with ease. All you need to do is a pet, show off the daily routines and start earning. Ambitious is the right word for IguVerse as they are combining socialize-to-earn, move-to-earn, and play-to-earn all into their ecosystem.
In the app, users can earn rewards by doing basic pet chores and showing them to the world. For example, users can walk their pets or feed the pets, take pictures, and share it on social media.
Socialize To Earn

Users will need to connect and bind to social media such as Instagram or Tiktok. Once it is done, start sharing about your pets, socialize and earn rewards.

Move To Earn

Move-to-earn is another mini-game where users walk their pets for a set length of time. They are hoping that this will promote a healthier lifestyle for owners and pets. The app will track the mobility according to the device's health and GPS data. (I wonder how will fish owners walk their fish)

Play To Earn

The game also provides the usual play-to-earn mechanism. They are incorporating an arcade reaction-based minigame where users can play to achieve a high score. In the near future, they will create a scoreboard where top performers earn great rewards.
NFT In IguVerse
In IguVerse, users can also explore the world of NFT. The platform uses AI/ML algorithms to create an NFT of your pet's photo. Furthermore, the system can detect an animal in a photo with 99% accuracy and distinguish the species or type of pets. However, they will reject non-animal photos. Therefore, users can only mint playable NFTs if the photo contains the image of an animal.
Don't have a pet? It is okay as IguVerse got you covered. Users can design their own NFT pet by selecting the attributes available in the algorithm. Users can choose the emotion, styles, and even backgrounds, converting them into a unique NFT. A hydra Shiba Inu with fishtails is no longer a dream!
Recent Price & Performance of IguVerse (IGUP)
MEXC will list IGUP/USDT in the innovation zone soon! Get ready to start trading on December 29, 2022, at 12:00 (UTC)! You can check the live price of their token right here!
How to buy IguVerse (IGUP)
You can buy The IguVerse (IGUP) on MEXC by following the steps:
Log in to your MEXC account and click [Trade]. Click on [Spot].
Search "IGUP" using the search bar to see the available trading pairs. Take IGUP/USDT as an example.
Scroll down and go to the [Spot] box. Enter the amount of IGUP you want to buy. You can choose from opening a Limit order, a Market order, or a Stop-limit order. Take Market order as an example. Click [Buy IGUP] to confirm your order. You will find the purchased IGUP in your Spot Wallet.
You can find a detailed guide on how to buy IGUP token here.
Keep Yourself Updated With The Crypto Trend
Check out all of the listings in the Innovation and Assessment zones as well as the major tokens in the Main Zone – we have more amazing projects to come! What's more, MEXC lists moonshots and offers access to trade major cryptocurrencies. Visit the Hot Projects section as well to uncover more featured popular tokens. Lastly, feel free to visit MEXC Academy to learn more about cryptocurrency!
Start your travel on MEXC Global