Flare Network or (FLR/USDT – Trade it here) is an interoperable Layer 1 Ethereum Virtual Machine (EVM) blockchain system. It runs on proof-of-stake (PoS) consensus and is interoperable with State Connector and Flare Time Series Oracle. Basic information for their token is available on the MEXC Digital asset introduction page. Furthermore, we are listing FLR/USDT on our innovation zone, check it out and win rewards!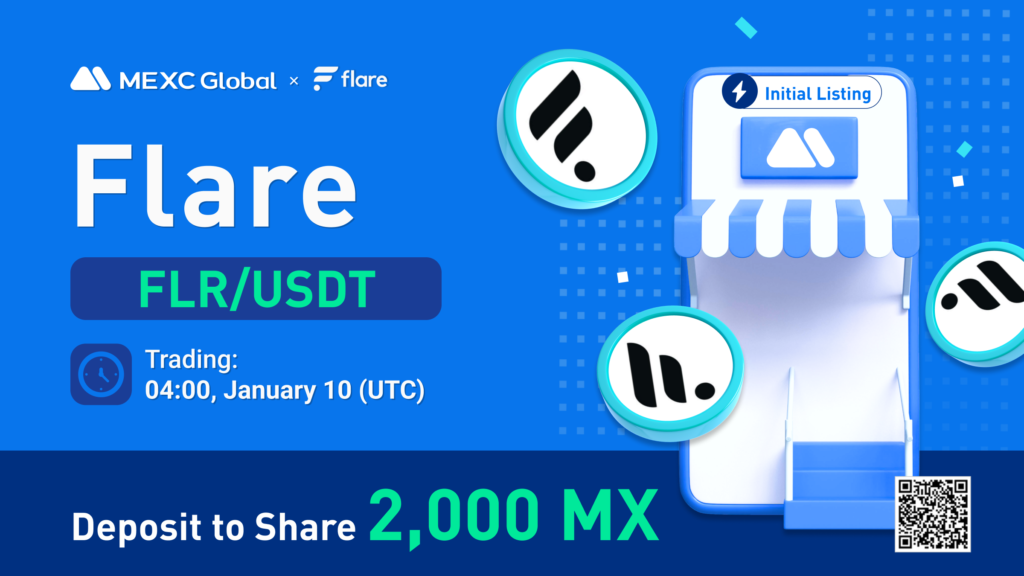 What is the Usage of Flare Network?
To put it in simpler terms, Flare Network is a blockchain that connects. It helps developers connect protocols with seamless interoperability, making it one of the most anticipated DeFi projects. It also gives developers the freedom to build without limits.
For example, Ripple (XRP) is a global remittance and exchange channel. They have huge success within their scope of use cases. However, they have a lot of limitations to dabble in other functionalities. Therefore, Flare Network comes in and provides smart contracts to protocols in need such as Ripple. Flare Network is capable of improving the smart contracts of other DeFi and applications. It will also help connect different platforms together, forming an interoperable ecosystem of applications.
What is so Special About Flare Network?
Flare Network has two core protocols that made its network stand out from the rest. It is respectively the State Connector and Flare Time Series Oracle (FTOS). The State Connector permits direct on-chain consensus on data of external blockchains. Meanwhile, FTSO is an oracle that delivers off-chain time series data. Its major use case comes in the form of cryptocurrency value. It also has a 3-minute update interval.
These core protocols on Flare Network allow DeFi to readily access timely information across blockchains. It also provides ideal inputs for many DeFi platforms, most notably with XRP.
What is the Difference Between Flare Network, Flare Finance, and Songbird Finance?
These networks all have similar names but with different tokenomics. However, they are all interrelated. The Flare Network is the main network with protocols for DeFi integration and application.
Meanwhile, Flare Finance is a Web 3 software house (Check it out right here!). It has a variety of Web 3 and DeFi products focusing on commercial and retail finance solutions.
Songbird Finance, on the other hand, is the canary network for Flare Network. In essence, it is the testing site for Flare Network (Check it out here!). It is an active and live testing platform on an operational blockchain in an adversarial environment. The canary network will help developers explore functions and future products before introducing it onto the mainnet.
Is Flare Network (FLR) a good investment?
According to the market outlook, Flare Network is a good project for long-term investment. Their work with XRP is proof that they have what it takes to grow. Furthermore, it has a lot of strong advantages. They are compatible with multiple wallets with a direct link to XRP. It also has many practical use cases with a strong team leader.
However, it is crucial to set up a good exit strategy before investing. Please consult your financial advisor and make proper research before investing as this is not financial advice.
Where to buy Flare Network (FLR)
You can find FLR tokens here at MEXC Global! We are listing FLR/USDT in our innovation zone!
What is the Price of Flare Network (FLR)?
FLR is trading with a market price of $0.03936 per unit. It has a market cap of $472,287,759. It also has a 24-hour trading volume of $35,211,534. You can check the live price of their token right here!
How to buy Flare Network (FLR)
You can buy Flare Network (FLR) on MEXC by following the steps:
Log in to your MEXC account and click [Trade]. Click on [Spot].
Search "FLR" using the search bar to see the available trading pairs. Take FLR/USDT as an example.
Scroll down and go to the [Spot] box. Enter the amount of FLR you want to buy. You can choose from opening a Limit order, a Market order, or a Stop-limit order. Take Market order as an example. Click [Buy FLR] to confirm your order. You will find the purchased FLR in your Spot Wallet.
You can find a detailed guide on how to buy FLR token here.
Keep Yourself Updated With The Crypto Trend
Check out all of the listings in the Innovation and Assessment zones as well as the major tokens in the Main Zone – we have more amazing projects to come! What's more, MEXC lists moonshots and offers access to trade major cryptocurrencies. Visit the Hot Projects section as well to uncover more featured popular tokens. Lastly, feel free to visit MEXC Academy to learn more about cryptocurrency!
Start your travel on MEXC Global