Dogechain (DC/USDT – Trade it Here) is an EVM-compatible layer-2 blockchain that aims to complement the original Dogecoin cryptocurrency. As a proof-of-stake blockchain, Dogechain seeks to bring scalability, security, robustness, and utility to Dogecoin and aims to harmonize with the original meme crypto by enhancing its capabilities with smart contracts. This article explores the core features and overall tokenomics of Dogechain (plus how to buy and earn DC on MEXC).
Core Features of Dogechain
The main goal of Dogechain is to increase the use cases of Dogecoin by providing it with much-needed utility. Dogecoin users can achieve this goal by merely wrapping their $DOGE into Dogechain smart contracts and receiving $wDOGE PoS tokens in return. $wDOGE tokens live on the Dogechain blockchain and will allow users to access an ecosystem of DeFi products, NFTs and GameFi, all indirectly powered by their original $DOGE tokens. This enhance of utility relies on the following technical features:
IBFT Proof-of-Stake (PoS) consensus: Community users can participate in the network which ensures a permissionless and decentralized blockchain.
EVM-compatible: Existing Ethereum smart contracts can easily be migrated to Dogechain without requiring any further modification.
Decentralized Governance: Community members (token holders) can make proposals, delegate, vote on the blockchain parameters & events, and influence governance decisions.
Cross-chain compatibility: Dogecoin can be easily utilized on the Dogechain network by wrapping the Dogecoin via the Dogechain bridge, and sent back to the Dogecoin network as needed.
DC Tokenomics
There is a total of 1 billion DC tokens. At the time of writing, DC has accumulated a transaction volume of $35,935,255 since its launch. The intitial allocation of tokens are as illustrated below: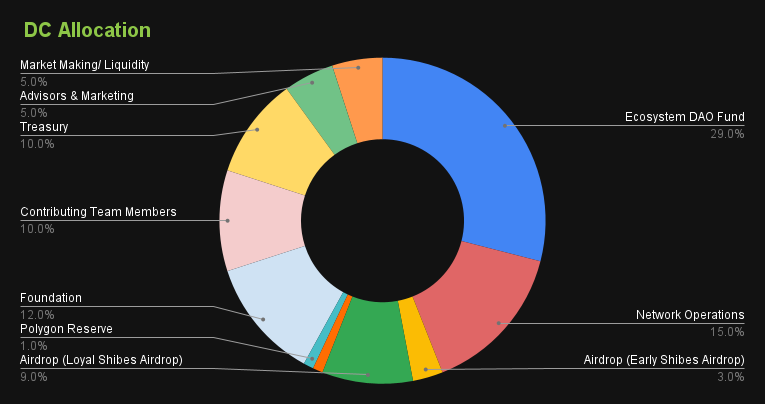 The projected supply schedule is as seen below: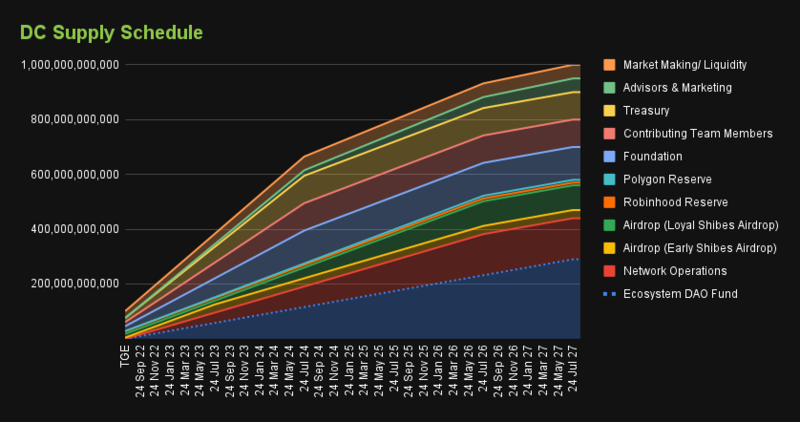 Further, Dogecoin holders are expected to be given Dogechain tokens for free. Details of that distribution are yet unclear.
How to buy Dogechain (DC)
Looking for a way to buy DC? You can purchase Dogechain (DC) on MEXC following the steps:
Log in to your MEXC account and click [Trade]. Click on [Spot].
Search "Dogechain (DC) " using the search bar to see the available trading pairs. Take Dogechain (DC) /USDT as an example.
Scroll down and go to the [Spot] box. Enter the amount of DC you want to buy. You can choose from opening a Limit order, a Market order or a Stop-limit order. Take Market order as an example. Click [Buy Dogechain (DC) ] to confirm your order. You will find the purchased DC in your Spot Wallet.
Recent Token Price & Performance
Since its launch on MEXC on August 25th, 2022, Dogechain (DC) reached the highest price (ATH) of 0.002694 USD on August 26th 2022. The lowest price of Dogechain (DC) since its launch was 0.0007294 USD on August 25th, 2022. At its current price, DC retains about 124% of its gains from its all-time low.
Interested in crypto like DC?
MEXC lists moonshot and provides access to trading of major crypto coins like Dogechain (DC) , keep an eye on our listings in Innovation and Assessment zones, as well as major tokens in the Main Zone – we have more great projects to come! Also, visit the hot projects section to find more hot tokes that were listed already. If you would like to know more about crypto trading itself visit MEXC Academy.