Carecoin or CARE (CARE/USDT – Trade it here) is a blockchain platform that utilizes medical and health data and manages health information. They aim to revolutionize the world from a medical perspective. Basic information for their token is available on the MEXC Digital asset introduction page.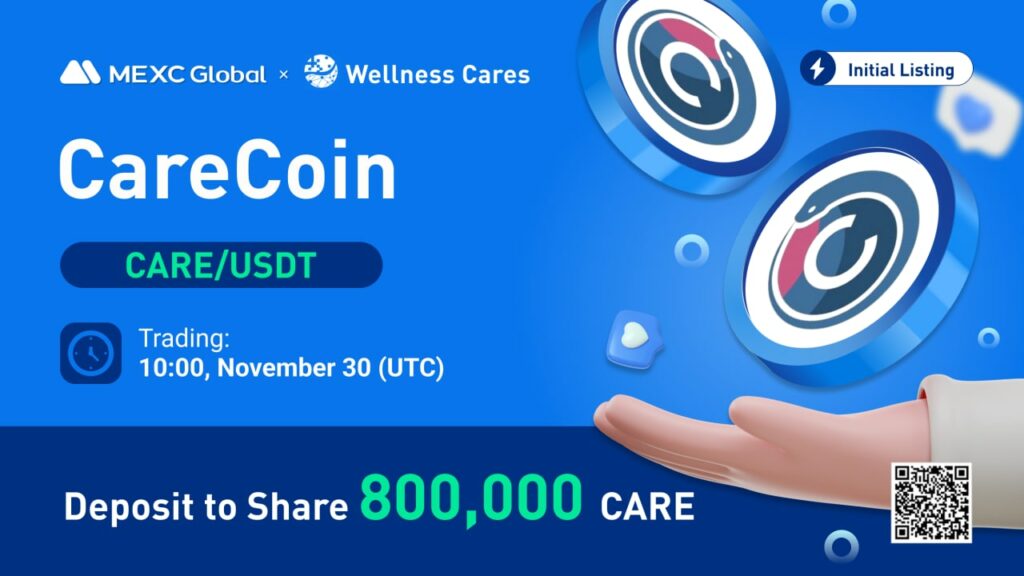 How Does it Work
The healthcare sector is moving towards the customization of medical treatments. We are looking at the growth of rare illnesses that require unique treatments or therapies. Therefore, data collection is pressing. It takes a lot of time and money to analyze and develop a potential cure for a disease-free world. Unfortunately, information is obviously not easy to get. It is especially harder when it regards sensitive personal information. Furthermore, not all patients or users know how to effectively use their data for research. There are also no incentives for people to share their data. Thus, CARE is here to change that.
CARE is a utility token in an ecosystem that uses medical and health data to create blockchain-based health information management. The ecosystem created a built-in incentive plan for patients and users to benefit from providing data. It will enable easier data collection for healthcare services, ultimately lowering medical costs. Users will receive Carecoin in return for giving their health data. They will also be able to pay for high-end healthcare with Carecoin. They hope that this will start a positive feedback loop where people enjoy better and cheaper healthcare by sharing their health data.
CARE's healthcare data collection does not only occur on protocols. They are advocating a world where people manage their information not only as healthcare digital data but also iPS cells as analog data. They hope to strengthen medical AI, health AI, and iPS cell development using their ecosystem. This is achievable when the feedback loop creates a huge cycle that generates income. Then, the CARE team can reinvest the revenue towards important sectors.
Recent Price & Performance of Carecoin (CARE)
CARE is a utility token for the ecosystem. Users can use Carecoin as a payment method for health screening or procedures.
Currently, their market price is $0.00469 per unit. They have a market cap of $14,270,272 and a fully diluted market cap of $1,421,016,627. It also has a 24-hour trading volume of $1,212,469. You can check the live price of their token right here!
How to buy Carecoin (CARE)
You can buy Carecoin (CARE) on MEXC by following the steps:
Log in to your MEXC account and click [Trade]. Click on [Spot].
Search "CARE" using the search bar to see the available trading pairs. Take CARE/USDT as an example.
Scroll down and go to the [Spot] box. Enter the amount of CARE you want to buy. You can choose from opening a Limit order, a Market order, or a Stop-limit order. Take Market order as an example. Click [Buy CARE] to confirm your order. You will find the purchased CARE in your Spot Wallet.
You can find a detailed guide on how to buy CARE token here.
Keep Yourself Updated With The Crypto Trend
Check out all of the listings in the Innovation and Assessment zones as well as the major tokens in the Main Zone – we have more amazing projects to come! What's more, MEXC lists moonshots and offers access to trade major cryptocurrencies. Visit the Hot Projects section as well to uncover more featured popular tokens. Lastly, feel free to visit MEXC Academy to learn more about cryptocurrency!
Start your travel on MEXC Global