Radix (XRD/USDT – Trade it Here) is a full-stack layer-1 protocol. They make it easy for developers to build and scale decentralized finance (DeFi) applications without the risk of network congestion, smart contract hacks, and exploits. In this article, we will discuss everything you need to know about Radix plus a guide on how to buy XRD tokens. Basic information for their token is available on the MEXC Digital asset introduction page.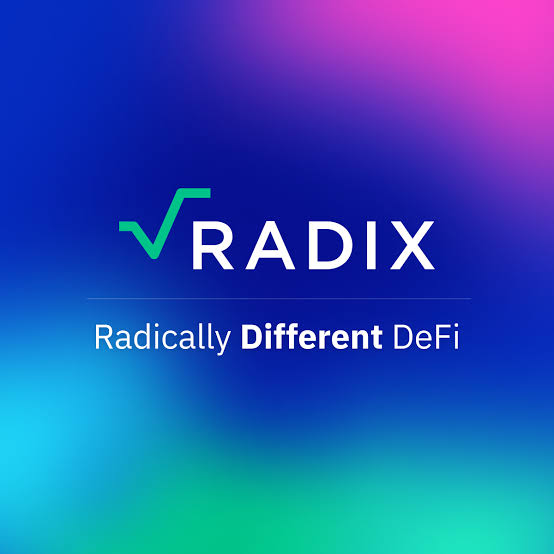 Who created Radix (XRD)?
Dan Hughes started eMunie (later renamed Radix) on Bitcointalk in May 2013 after having researched Bitcoin for a year. With his background in developing telecommunications technology, he could see the tremendous impact that blockchain could have on global finance and beyond.
For the next five years, Dan focused on solving the biggest problem of the day: scalability. He invented and tested multiple consensus architectures, including Blocktrees, Directed Acyclic Graphs (DAGs), Channeled Asynchronous State Trees (CAST), Tempo, and Cerberus.
In 2017, Piers Ridyard joined the team as CEO and rename the project Radix. Funding was raised from Taavet Hinrikus the co-founder of TransferWise; and LocalGlobe, a leading European VC.
Radix DLT & XRD Token
Radix DLT (distributed ledger technology) is an integrated technology solution addressing common issues that create barriers to decentralized finance (DeFi). Also, Radix stated that it is "the only decentralized network where developers can build quickly without the constant threat of exploits and hacks". As a layer-1 protocol, Radix optimizes cross-shard synchronicity, enabling multi-chain scalability without compromising on composability or security.
XRD Token
Released in July 2021, the XRD token is the native cryptocurrency of the Radix public network.
Apart from serving as the reward to the Radix developer community for any improvements made to the protocol. There are two primary uses of XRD:
Staking
XRD is a fundamental part of Radix's Delegated Proof of Stake (DPoS) system. It uses XRD to secure the Radix Public Network against a type of attack known as a Sybil attack.
XRD token holders vote on which validator nodes to participate in consensus by delegating tokens to the token holders, known as "staking". These "stakers" are incentivized to do so by earning network emission rewards. The top 100 validator nodes with the most delegated stake are chosen by the Radix Protocol as its validator set.
As a part of the Radix Xi'an release, they plan to remove the 100 validators limit. This allows an unlimited number of validators.
Transaction fees
You can also use XRD to pay transaction fees on the Radix Public Network. Transaction fees are primarily intended as a means of preventing spam transactions across the network.
100% of all transaction fees are burnt, i.e. the tokens used to pay the fee are destroyed by the Radix Protocol.
Key Features of Radix (XRD)
Radix Engine
The Radix Engine is a development environment that minimizes the risk of smart contract hacks and exploits. Also, the Radix Engine serves as a decentralized "self-incentivizing developer ecosystem" to foster the growth of a community based around Radix's developer tools.
Designed specifically for "the creation of logic that defines predictable, correct results on-ledger in response to requests", the Radix Engine derives its programmability from Finite State Machines (FSMs) used in mission-critical systems that require predictable correctness at all times. The smart contracts that the Radix engine creates are aptly named "Components".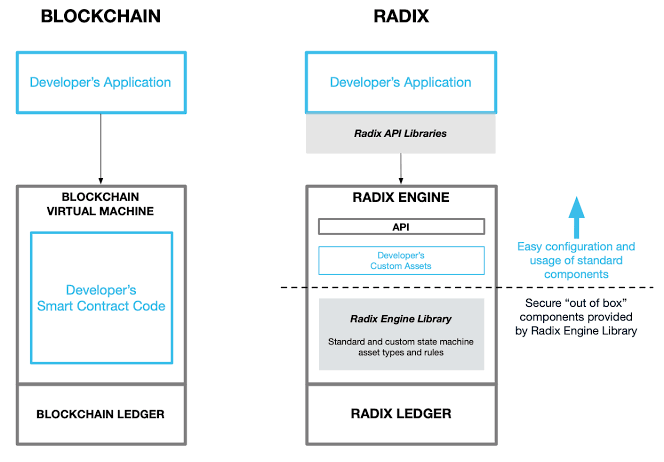 Two of the most innovative features of the Radix Engine are the Component Catalog and the Developer Royalty System.
Radix Developer Royalties System
The Radix Developer Royalties System serves as an incentive for developers to deploy applications on Radix. The automated on-ledger system rewards developers for building smart contracts for decentralized finance (DeFi) on Radix DLT. In turn, this has the potential to create an automated decentralized autonomous marketplace for Radix Components. Components
Radix uses a type of smart contract known as "Components". Components behave more intuitively than Ethereum-based smart contracts, allowing for consistent, predictably reliable outcomes. Furthermore, Components act as DeFi Lego bricks that can easily integrate into other applications.
The creation of Components is possible via a programming language known as Scrypto. Scrypto is a functional programming language that should be familiar to many DLT developers.
Before a Component becomes available to the network, it automatically enters the Component Catalog. The Component Catalog is an on-ledger registry of inactive templates or "DeFi Lego bricks" available for anyone to use as templates or building blocks. Components within the Component Catalog are activated for use when a developer instantiates them from a Component template. Once active, these Instantiated Components can apply to an unlimited number of applications and will act in the same way each time. This is particularly useful when creating multiple Components with the same parameters. Moreover, it achieves instantiation easily using an application programming interface (API), requiring no code. As such, any developer can quickly and safely execute smart contracts or issue assets without having to learn the Scrypto programming language.
What makes Radix (XRD) unique?
Radix is unique across every level of its technology stack, providing:
A unique asset-oriented programming language Scrypto aims to substantially improve the Web3 and DeFi developer experience by providing assets (tokens) as a native first-class feature of the language.
Unique virtual machine Radix Engine Being the world's first "DeFi Engine", it promises to do for DeFi what game engines did for games development.
A unique consensus algorithm, Cerberus, a unique consensus algorithm that "braids" consensus across a massive "shardspace". With every transaction being cross-shard and atomic, this is what gives Cerberus its unique combination of atomic composability with linear scalability.
Tokenomics with recent price & performance of Radix Token (XRD)
The tokenomics of XRD :
Name: Radix Token.
Ticker: XRD.
Token standard: ERC-20.
Token type: Utility.
Max supply: 24,000,000,000 XRD.
Self-reported Circulating Supply: 4.68B XRD.
XRD reached the highest price (ATH) of 0.62 USDT on November 15, 2021. The lowest price since the date of ATH was 0.05 USDT on August 25, 2022. The 30 days performance sees the highest price at 0.062 USDT on September 30, 2022, and the lowest at 0.052 USDT on October 19, 2022. Currently, it is performing at 0.052 USDT with a market cap of $245,249,474 & fully diluted market cap of $1,257,796,927. You can also check the live price of their token right here!
How to buy Radix Token (XRD)?
You can buy Radix Token (XRD)on MEXC by following the steps:
Log in to your MEXC account and click [Trade]. Click on [Spot].
Search "XRD" using the search bar to see the available trading pairs. Take XRD/USDT as an example.
Scroll down and go to the [Spot] box. Enter the amount of XRD you want to buy. You can choose from opening a Limit order, a Market order, or a Stop-limit order. Take Market order as an example. Click [Buy XRD] to confirm your order. You will find the purchased XRD in your Spot Wallet.
Keep Yourself Updated With The Crypto Trend
Check out all of the listings in the Innovation and Assessment zones as well as the major tokens in the Main Zone – we have more amazing projects to come! What's more, MEXC lists moonshots and offers access to trade major cryptocurrencies. Visit the Hot Projects section as well to uncover more featured popular tokens. Lastly, feel free to visit MEXC Academy to learn more about cryptocurrency!
Start your travel on MEXC