Vemate or VMT (VMT/USDT – Trade it here) is a crypto-NFT hybrid project designed to simplify the entire process of learning how to traverse the world of NFTs. They want to simplify complicated words, reduce the memorization process and provide guides to their users. As I know, they are making a lot of headlines in the market. Users are loving their utility and a hype train might depart soon. Basic information for the Vemate token is available on the MEXC Digital asset introduction page. Don't forget to check out our announcement to see what competition do we have in store!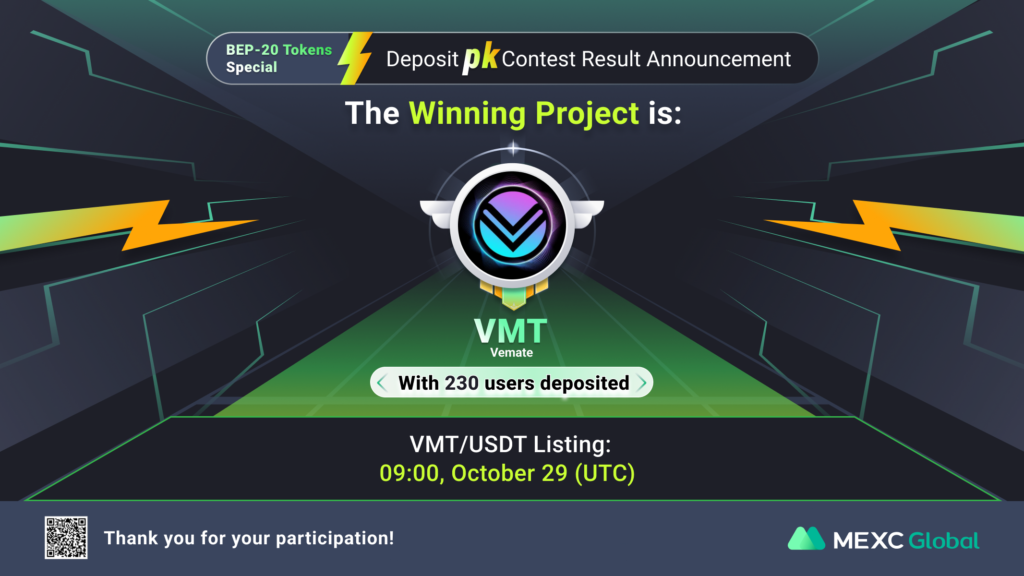 How Does it Work?
Vemate is the market's most adaptable and dynamic application tool. They feature trade analysis tools, market intelligence, fractional and tokenized NFT trading, and the first fully integrated Crypto – NFT bridge platform. Vemate works in two phases.
Phase One – VEVE data collection application. All products are developed under the Vemate umbrella as a Vemate application. This avoids confusion and segregates themselves from complex titles or shady businesses.
Phase Two – Reducing NFT market entry threshold. They will integrate and simplify the steps for a successful NFT analysis, minting and trading.
Vemate will collect information of NFT collections, compile them and provide it to you. It is easy to understand, reduces your information digestion time and increases decision making efficiency. In terms of technical analysis, Vemate will help you undertake intricate analyses of indices and charts using their Guided User Interface. This will educate and enlighten your decision-making process during trading analysis.
Now that you have information and technical analysis guidance, you can head to their NFT marketplace. You can trade easy and quick, unlimited minting as well using their information. Ultimately, these three elements combined together allows Vemate to create a market with lower threshold for the public. It also opens up a new and more lucrative options for NFT collectors to come in and join the fun. If you want to understand exactly how do they work, feel free to check out their whitepaper!
How to Buy Vemate Token (VMT)
You can buy Vemate Token (VMT) on MEXC by the following the steps:
Log in to your MEXC account and click [Trade]. Click on [Spot].
Search "VMT" using the search bar to see the available trading pairs. Take VMT/USDT as an example.
Scroll down and go to the [Spot] box. Enter the amount of VMT you want to buy. You can choose from opening a Limit order, a Market order or a Stop-limit order. Take Market order as an example. Click [Buy VMT] to confirm your order. You will find the purchased VMT in your Spot Wallet.
You can find a detailed guide on how to buy Vemate Tokens here.
Keep Yourself Updated With The Crypto Trend
Check out our listings in the Innovation and Assessment zones as well as the major tokens in the Main Zone – we have more amazing projects to come! What's more, MEXC lists moonshot and offers access to trade major cryptocurrencies. Visit the Hot Projects section as well to uncover more featured popular tokens. Lastly, feel free to visit MEXC Academy to learn more about cryptocurrency! Until then, happy trading!