USDT, or USD-backed Tether, is an asset-backed cryptocurrency stablecoin. Tether tokens are pegged to a fiat currency (in this case, USD) and therefore retain price stability/low volatility. Tether tokens exist as digital tokens built on various blockchains including Algorand, Ethereum, EOS, Liquid Network, Omni, Tron, Bitcoin Cash's Standard Ledger Protocol, and Solana. This article explores the core technological features and overall tokenomics of Tether (plus ways of how to buy and earn USDT on MEXC).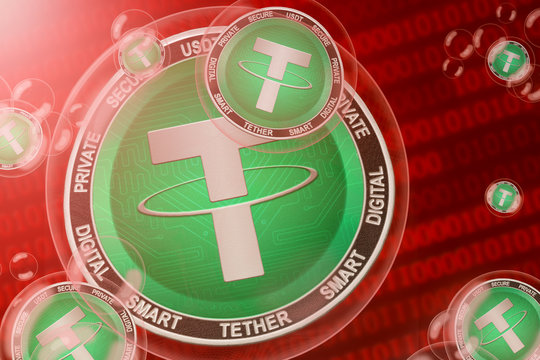 Core Features of USDT
Every Tether token in circulation is backed in a one-to-one ratio with an equivalent amount of fiat currency held in the reserves of Hong Kong Tether Limited Inc. This implementation collectively reduces the complexity of conducting both Fiat and crypto audits while increasing the security, provability, and transparency of these audits.
Three-Layer Stacking Structure.

The first layer is the Bitcoin blockchain in which the two other layers are embedded in and exist as meta-data. Bitcoin was chosen as the principal layer because it is the most developed ecosystem in the DeFi space and thus offers the most network support.
The second layer is the Omni Layer Protocol. Omni allows for 1) the creation and destruction of tokens, 2) tracking and reporting the circulation of Tether via Omnichest.info and Omnicore API
The third layer is Tether Limited, which deals primarily with fiat currency management, public reports of audits, maintaining integration with bitcoin-related products, and operating Tether.to (a web wallet).

Proof of Reserve (also known as Proof of Solvency and/or Real­Time Transparency)

By combining the real-time Bitcoin ledger of tether tokens with third-party audited reports of Fiat reserve, the process of ensuring that each Tether token is backed by an equal amount of Fiat assets is simplified and made transparent to users who can manage their own amount of Tether through Omni Wallet.
USDT Tokenomics
As required by the 2021 settlement between the New York State Attorney General and Bitfinex & Tether Limited, the latter was compelled to release a complete breakdown of its reserves — as seen in the chart below.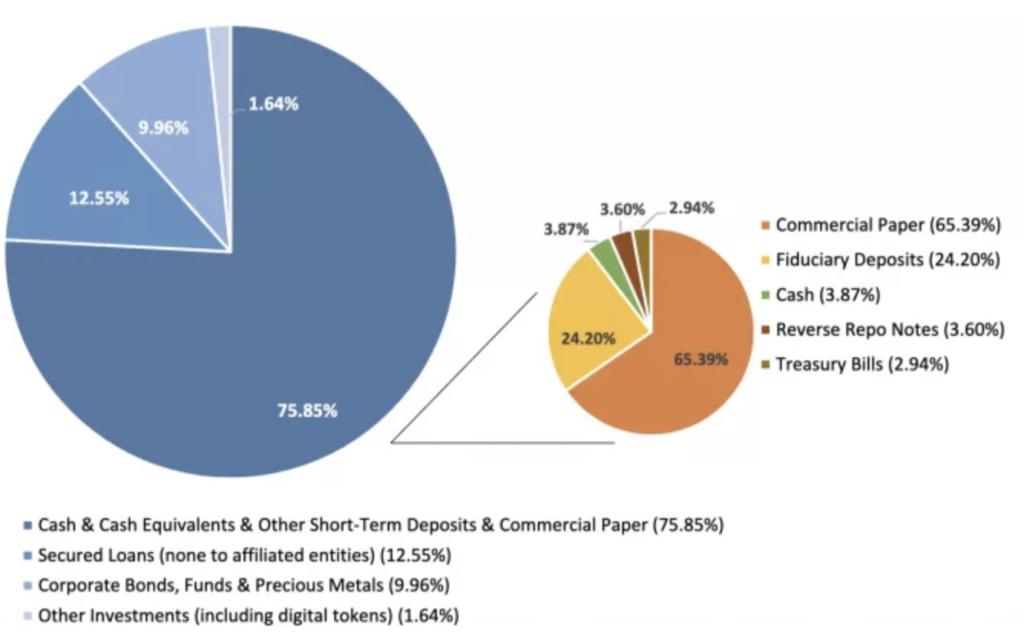 Moreover, Tether publishes real-time balances on all networks that it is available on. At the time of writing, USD-backed Tether is standing at
Total Assets: $66,008,667,983.17
Total Liabilities: $65,846,277,709.52
Shareholder Capital Cushion: $162,390,273.65
In terms of transaction fees, withdrawals and deposits of Tether tokens are all free of charge. However, there is a requirement of a minimum of $100,000 for Fiat withdrawals and/or deposits. Similarly, every Fiat withdrawal incurs about a 0.1% fee (or the greater of $1000) and every Fiat deposit incurs exactly a 0.1% fee. For those interested in ownership of Tether, there is also an initial verification fee of 150 USD of which then will exist in the account as Tether tokens but are nevertheless non-refundable.
How to buy USDT?
Looking for how to buy USDT? You can purchase USDT token on MEXC following the steps:
Log in to your MEXC account and click [Trade]. Click on [Spot].
Search "USDT" using the search bar to see the available trading pairs. Take USDT/USDT as an example.
Scroll down and go to the [Spot] box. Enter the amount of USDT you want to buy. You can choose from opening a Limit order, a Market order or a Stop-limit order. Take Market order as an example. Click [Buy USDT] to confirm your order. You will find the purchased USDT in your Spot Wallet.
For the comprehensive guide on how to buy USDT and other available tokens, please visit special MEXC How to Buy Guides Section.
Recent USDT Token Price & Performance
Due to its nature as a stablecoin, USDT has a relatively stable performance. However, it did peak at around 1.0023 USD (ATH) on February 11th, 2022. It also fell to a price of 0.9817 USD on May 12th, 2022 since its all-time-high.
Tether Token Staking
On MEXC you can periodically stake Tether and other tokens via MX DeFi event plus other staking products with flexible and fixed APYs. You can check the availability of Tether Token staking option here.
Interested in crypto like Tether?
MEXC lists moonshot and provides access to trading of major crypto coins like Tether, keep an eye on our listings in Innovation and Assessment zones, as well as major tokens in the Main Zone – we have more great projects to come! Also, visit the hot projects section to find more hot tokes that were listed already. If you would like to know more about crypto trading itself visit MEXC Academy.
Start your travel on MEXC Global