One of the centralized crypto exchanges Binance, has announced on November 2 that they will launch the Bluebird Index perpetual contracts with up to 25x leverage. So what's so special about this index? The index will include Mask Network (MASK), Dogecoin (DOGE), and Binance Coin (BNB). The rebalance of the index will take place every Thursday and weighted according to volume and market cap. The following question is: what does it have to do with Twitter? I will explain it shortly in this article.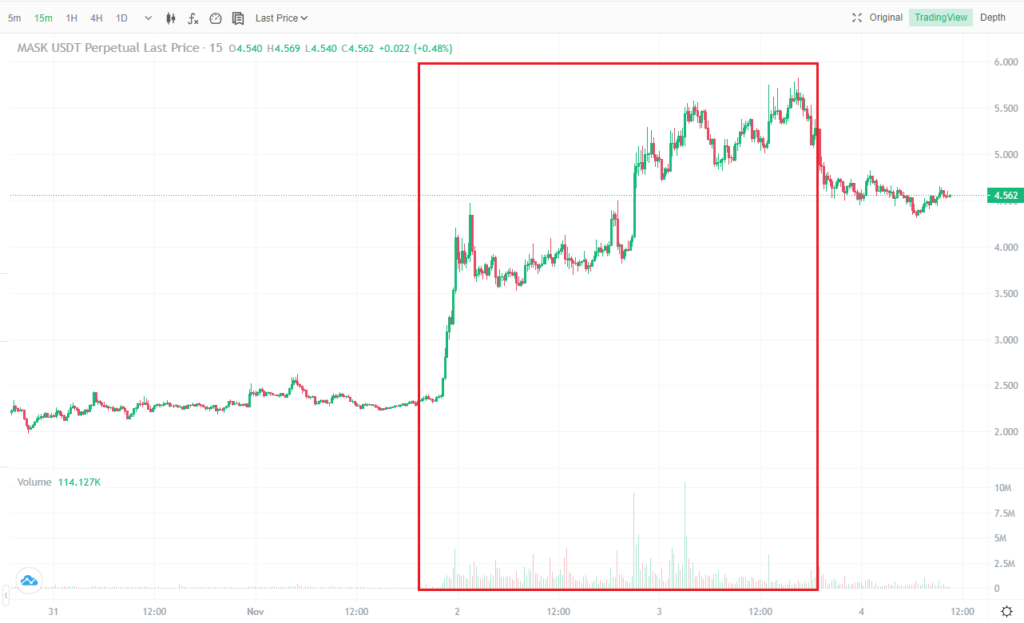 Although the price performance of BNB and DOGE didn't have large fluctuations, MASK price hiked 86.08% on the day of announcement, reaching a high of $4.47. The rally wasn't over. The rally continued on Thursday, MASK price jumped again! Price increased by 22.7% to a high of $5.828. At the time of writing, MASK price is at $4.557, and has increased 114.45% in the past 7 days.
MASK: The Latest Obsession on Twitter
According to a report on Decrypt, Binance said that "this index is not related to Binance's investment in Elon Musk's acquisition of Twitter."
On the other hand, the new boss of Twitter Elon Musk mentioned before that he would like to build Twitter with the integration of crypto payments in a "WeChat Style". Speculators have a belief that Twitter may include a collection of crypto assets as payment options in the future, including the Mask Network token and Dogecoin.
Although it is still unclear if MASK or any other tokens in the Bluebird Index will be adopted by Twitter. We can see what people believe matters, and it did have some significant impact on prices.
Closing Thoughts
The connection between Mask Network and Twitter can be traced back to 2021. The network launched MASK token through Initial Twitter Offering (ITO) back in February 2021. Users could participate in the launch of tokens and airdrops on Twitter directly.
I am curious what the future holds for the Network in terms of integration on Twitter. Honestly, Twitter serves as a platform which allows free speeches, they can choose whatever coins to include for payments freely. We still don't know what is the next move of Twitter related to crypto, so be sure to do your own research and trade carefully.
Excited about trading some MATIC but not sure how to? Please refer to this article, we will walk you through how to purchase MATIC. MEXC offers Mask Network token (MASK/USDT – trade it here) and Dogecoin (DOGE/USDT – trade it here). Start your crypto journey now by following our daily industry news!