Just a day before the official purchase of Twitter on Friday, Elon Musk, the founder of Tesla, tweeted about his motivations and thoughts on the purchase of social media giant – Twitter. The acquisition will cost $44 billion in total. Musk mentioned that the reason why he bought Twitter is because he would like to build this community into a common digital town square where everyone can share their different beliefs and opinions without the risking of potential violence online. The price of Dogecoin (DOGE) has reflected the news.
Elon Musk also stated that:
In addition to adhering to the laws of the land, our platform must be warm and welcoming to all, where you can choose your desired experience according to your preferences, just as you can choose, for example, to see movies or play videos ranging from all ages to mature.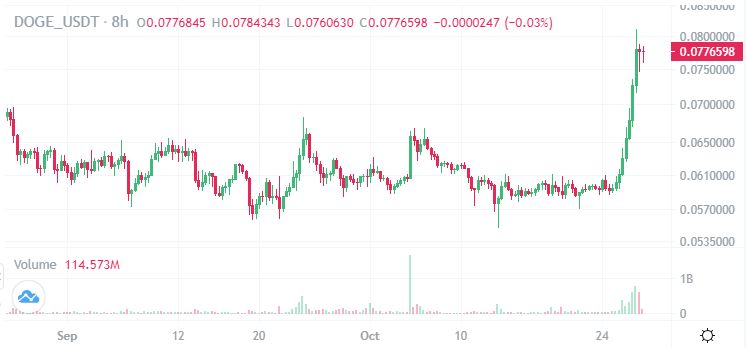 Even before Musk's tweet, DOGE price soared 30.6% in the past 7 days, specifically rose 15.23% on Wednesday reached a high at $0.081 since the mid August. Back in December, Musk announced that Tesla will experiment with dogecoin payments for its merchandise.
Although it is unclear about Musk's crypto plans for Twitter. Now we think about it, if he acquire Twitter successfully on Friday (very likely), are there any chances Musk will offer crypto payments on Twitter? Especially Dogecoin. This may be the reason why the avid Dogecoin fans are very excited about this acquisition.
The acquisition of Twitter has been a prolonged drama over months. Musk proposed his first offer to buy Twitter on April 14. Twitter initially turned down the deal but then accepted a $44 billion offer on April 25. Later in July, Twitter was trying to force Musk to continue the deal through a trial. The trail started in October, and Musk decided to acquire Twitter regardless the outcome of the trial on around October 4. And he visited the headquarter of Twitter yesterday, which also contributed to the price pump of DOGE.
Final Thoughts
I honestly think it is quite stunning to see a billionaire to interact with people and to build a free but healthy online community. Since Elon Musk is the founder of Tesla and SpaceX, I will not be too surprised if he decides to use Bitcoin and Dogecoin as payments for Twitter. I am so excited to see what the future holds for both Dogecoin and Twitter. However, the price of DOGE is still much lower than its all-time-high price at $0.74 back in May 2021. So, what do you think? Are you bullish or bearish (DOGE/USDT – trade it here) on the Dogecoin price? MEXC Global is here with you to fulfill your trading needs! Also don't forget to visit our daily industry news if you would like to stay tuned in crypto!