In the past week, a lot of changes came to light on Twitter. For starters, Elon Musk, CEO of Tesla, took over Twitter for $44 Billion Dollars. The community speculated a lot of rumors and Elon himself tweeted all sorts of content such as "the bird is freed". In the process, he also hopes to make some changes that will steer Twitter's direction towards a different path. Many are concerned at the thoughts of him reinstating banned users. On the other hand, crypto users can't wait to see the integration of twitter and crypto. So how will the situation play out for the Twitter community and what is the future of Twitter? Will it impact the crypto market?
Twitter's New Features and Their Impact Towards Crypto Market
Recent Projects
We all know that Elon Musk is a big fan of crypto. He is also a big fan of space ships, sometimes eccentric and all of the time a free speech absolutist. Mixing all these criteria up, and we might actually see big changes on Twitter that will impact the crypto market. Let's start with some changes that have already happened.
Twitter began rolling out its "Tips" feature on September 23, 2021, allowing users to reward their favorite accounts with bitcoin or cash.
Twitter launched its NFT verification function in January 2022, allowing Twitter Blue paying subscribers to post their NFTs as a profile image.
Currently, Twitter is experimenting with NFTs. They introduced a project called NFT tweet tiles which is a separate panel within a tweet displaying NFTs. They are partnering up with big name NFT marketplace such as Rarible, Dapper Labs, Magic Eden and Jump.trade to enhance user engagement. Additionally, this new feature will support Ethereum, Immutable X, Flow, Polygon, Solana, and Tezos.
Impact on Crypto Market
Despite all these projects, some are still speculating that Elon's effort will end in failure. Binance's CEO, Changpeng "CZ" Zhao was one to take the stance. In his speech at the Web Summit Tech Conference, he thinks that 90% of Elon's ideas will fail. He who invested $500 Million Dollars on the acquisition felt that the innovation is outstanding, but the results might not be up to standards. CZ thinks that the future of Twitter in general is heading towards a good path, but that is a 10 – 20 years of envision.
Marcus Sotiriou, an analyst at digital asset broker GlobalBlock also mentioned that Elon's constant hints at integrating dogecoin to twitter is actually making the situation worse for the market. He stated that:
"I think the most bullish outcome for dogecoin could be for Twitter to never actually integrate it into the platform."

"If Elon Musk continues to tease the crypto community for years, people's imaginations about the potential opportunities will be far greater than the actual reality of dogecoin being integrated."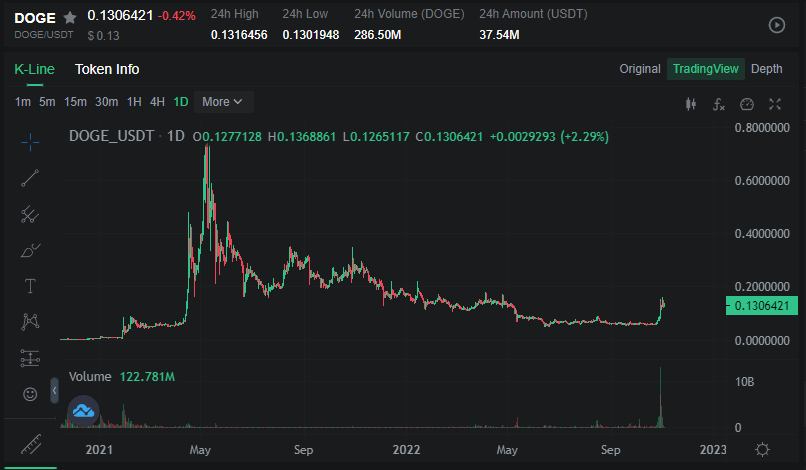 Honestly, what Marcus said was not a far cry from the truth. Despite the hype of Elon's acquisition and hints of Dogecoin usage in the future of Twitter, the market is not moving as it once was. It is losing power, and it will continue losing power unless a drastic change is made.
On the other hand, Elon shared his ideas on removing the outdated blue checkmark system and let everyone have it for a price. He suggests that $8 USD a month will give users a new system, quoting " power to the people! ". In response, Strike founder and CEO Jack Mallers suggested integrating the Bitcoin Lightning System. He stated:
"My company (Strike) partnered with Twitter to enable Lightning tips. We even offer the ability to settle these payments in USD, so there is no extra lift for Twitter (settles and reported like a card payment). This can be implemented in days, given we already have a partnership."
A Quick Summary
As we can see, market speculation on the future of twitter towards crypto is not that optimistic. On the surface, it looks as if a billionaire is trying to have some fun and be different. If we look deeper and wider into the macroeconomics, their impact on the crypto market and users is honestly not as significant as the community deemed it to be. Yes, Twitter provides exposure on NFT, they also provide hopes of full crypto integration. But how far can it go? Hope is a great motivation but too much hope without actions will only weaken the credibility and that is where Twitter is heading now.
On the flip side of the coin, Twitter does have high potential of bringing crypto exposure to the general public. It can be in forms of NFT, coin usage or coin payment. These features will attract fresh users or curious onlookers to understand what it is. Overall, the future of Twitter for crypto users is moderate at best. In the short 1 – 2 years timespan, it is best not to put too much anticipation on what might happen, but what can we do now. Hopefully when crypto users increase and more parties of interest join in the fray, the outlook will change for the better. In the meantime, check out MEXC with the latest topics, industry news and articles. We believe that an educated audience is the best audience. So what are you waiting for? Start your crypto journey with MEXC today!