UpOnly is developing the industry's first play-to-earn data directory. This platform intends to collect a wealth of information about play-to-earn games, establishing itself as the go-to resource for blockchain gamers looking for such information.
Essential information for their token is available on the MEXC Digital asset introduction page. Furthermore, we are listing (UPO/USDT – Trade it here) on the Innovation Zone! Check it out now!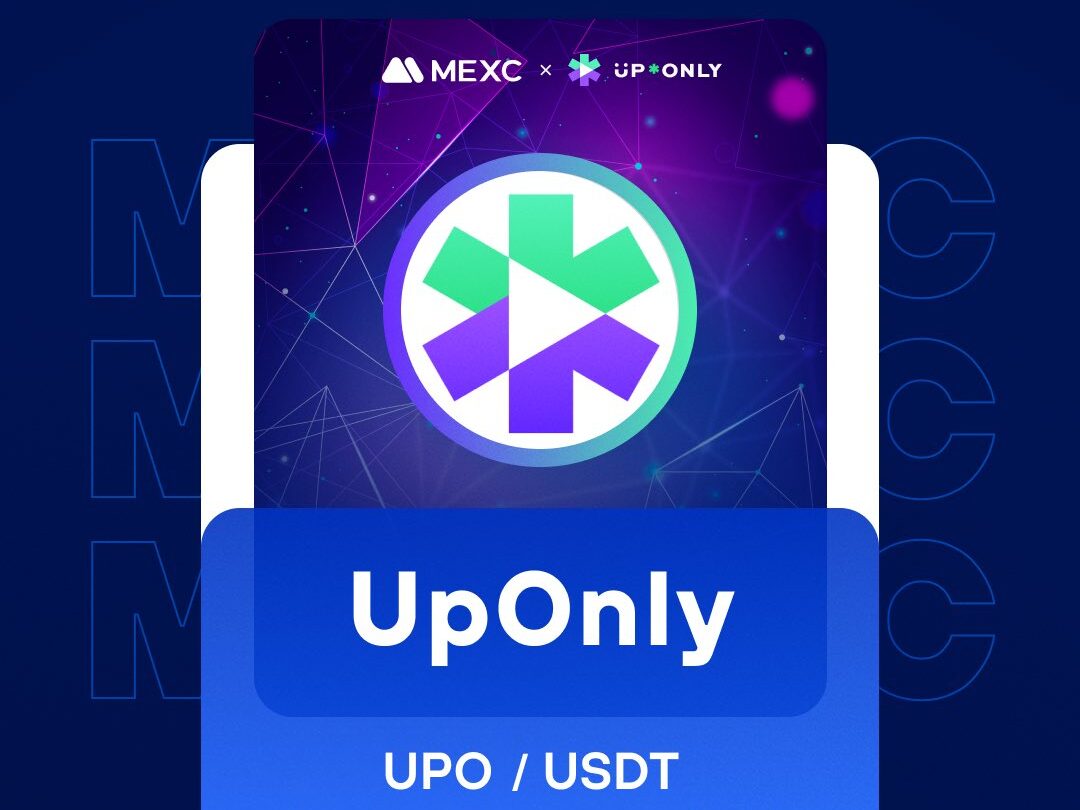 What Exactly is UpOnly?
UpOnly might sound like a meme coin. Actually, it is not! Instead, it is an amazing innovation! UpOnly is positioning itself as the foremost data and analytics platform within the rapidly expanding play-to-earn industry. This industry is currently experiencing a surge in growth, accompanied by a multitude of gaming options. However, both play-to-earn gamers and observers lack a dependable source of data and analytics that can empower them with insights and enable them to make the most of their activities in the gaming realm.
UpOnly is stepping in to fill this crucial void in the market. Additionally, it is establishing an infrastructure that will enable the swiftly growing audience of play-to-earn spectators to participate in betting on the outcomes of play-to-earn games, harnessing their predictive skills to generate financial value.
What Does The Data Directory in UpOnly Provide?
The availability of industry-related data remains limited at best in the context of the expanding blockchain-based gaming business. Few entities currently provide data on blockchain-based gaming. Furthermore, the available data is sometimes quite limited in scope. Even well-known players in this market, such as DAppradar.com, are primarily concerned with supplying data related to user metrics and trade volume. As the decentralized gaming sector continues to grow rapidly, the need for precise and meaningful data becomes more pressing. Therefore, the UpOnly data directory was created expressly to fulfill and address this crucial market need.
Using data query technologies such as TheGraph, the UpOnly data directory will access real-time data from play-to-earn games. This data retrieval procedure will include a variety of topics, such as prize pool sizes, information on active games, the probability of earning play-to-earn prizes, and accessibility variables.
This data directory will also allow UpOnly's community members to provide pertinent links relative to various play-to-earn projects. UpOnly members, for example, will be able to upload news items and press releases related to the projects included in the database, promoting a more collaborative and informative atmosphere.
Meanwhile, this directory will let play-to-earn players quickly locate games and platforms with the most attractive prizes, those with a less competitive landscape, and those gaining traction in terms of platform utilization and the price movements of their native tokens. This information enables gamers to make informed decisions in their gaming activities.
Spectators, on the other side, will profit from the directory by being able to quickly locate the most dynamic and entertaining play-to-earn games to watch. Furthermore, spectators will have the exciting possibility of making money from their participation by placing bets on the results of various play-to-earn games, providing an additional layer of engagement and possible profit to the ecosystem.
UpOnly Prediction Platform – Bet On Your Favorite Game!
UpOnly is building a decentralized infrastructure on the Polygon network to encourage speculation on the results of play-to-earn games. The online gaming and blockchain-based gaming audience is fast growing, and this infrastructure is intended to allow speculators in play-to-earn games to convert their spectatorship into a stable and sustainable source of income.
Spectators can use the insights supplied by the UpOnly data directory to make educated guesses regarding the outcomes of various play-to-win games. The native UPO coin is at the heart of the UpOnly prediction platform. Spectators must have UPO tokens in order to gamble on the outcomes of play-to-win games. Spectators who stake their UPO tokens on the outcomes of various play-to-win games stand to receive additional UPO payouts if their predictions are correct.
This decentralized prediction platform is a game-changing development in the blockchain-based gaming sector, as it pioneers a system that allows blockchain-based game spectators to monetize their participation. It also provides broader access to insights and data via the UpOnly platform, making the ecosystem more inclusive and participatory for all participants.
Where to buy UPO Token
You can find UPO Token here at MEXC! We are listing UPO/USDT in our Innovation Zone!
What is the Price of UPO Tokens?
The UPO Token is currently trading at MEXC with a live price of $0.01654. It also has a fully diluted market cap of $2,645,682. You can check the live price of their token right here!
How to buy UPO Tokens on MEXC
You can buy UPO Tokens on MEXC by following the steps:
Log in to your MEXC account and click [Trade]. Click on [Spot].
Search "UPO" using the search bar to see the available trading pairs. Take UPO/USDT as an example.
Scroll down and go to the [Spot] box. Enter the amount of UPO you want to buy. You can choose from opening a Limit order, a Market order, or a Stop-limit order. Take Market order as an example. Click [Buy UPO] to confirm your order. You will find the purchased UPO in your Spot Wallet.
You can find a detailed guide on how to buy UPO Tokens here.
Get Free Airdrops with MEXC Launchpad!
Did you know MEXC gives out 20+ free airdrops weekly? Launchpad and Kickstarter events ensure that all our loyal MX token HODLers receive a ton of new tokens! Learn all about it at our MX Zone now!
Meanwhile, check out all of the listings in the Innovation and Assessment zones as well as the major tokens in the Main Zone – we have more amazing projects to come! Visit the Hot Projects section as well to uncover more featured popular tokens. Lastly, feel free to visit MEXC Academy to learn more about cryptocurrency!
Start your travel on MEXC