POINT Network (POINT/USDT – Trade it here) is an Open-Source software evolving by a community of like-minded individuals that care about the principles of the early Web 3.0. The evolution of the network is driven by proposals, which are then accepted. At the moment, Point Network Ltd is the company behind most proposed changes, and it's using Point Labs FZCO (Point Labs) as a software vendor company to develop these changes. The team hopes that the development becomes fully community-driven and not to be reliant on any one entity. Ultimately, Point Network users decide whether to run update patches from Point Network Ltd and Point Labs.
What is Point Network used for?
Point Network is an implementation of a decentralized internet, also known as "web 3.0", with POINT being its native digital token. It's a blockchain-based peer-to-peer network designed to make the internet more secure, private, decentralized, and censorship-resistant.
Point Labs has invented and built Point Network, the first of its kind network which decentralizes every major component of the legacy internet: decentralized domains, decentralized storage, and decentralized identities. Which makes this architecture the only network deserving to be called "web3", fulfilling the dream of a fully decentralized internet.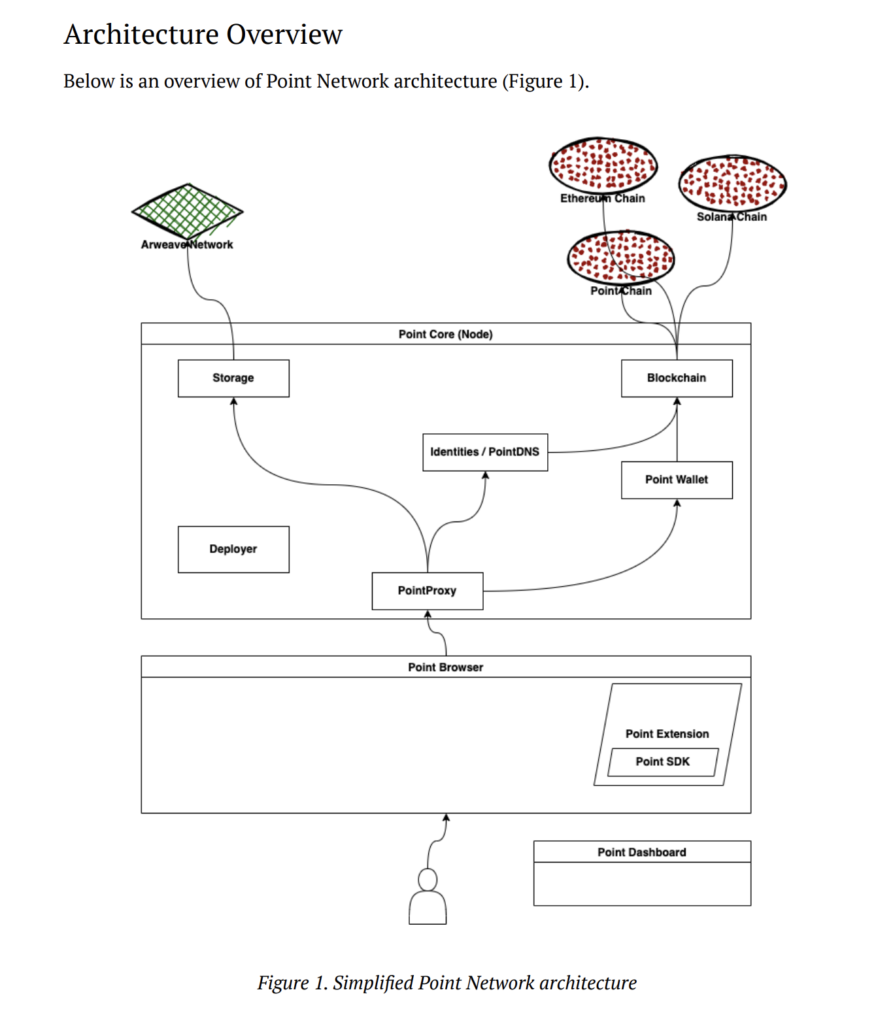 Core Features of Point Network Project
Point Network decentralized all main components of the modern internet:
decentralized domains (.point) that cannot be taken away or censored
decentralized storage (using Arweave's permaweb) on which the website code, posts, images, and videos are uploaded and permanently stored in a censorship-resistant way
Decentralized identities are used instead of logins and passwords. You only need one seed phrase to log into all dApps on all chains that Point Network supports
Tokenmics of POINT
On the new decentralized internet, the team bootstrapped, POINT token is positioned to become the default payment method everywhere, from paying for transactions to tips and subscriptions on decentralized Patreon, to salaries on decentralized Upwork, and other dApps communities may be built. On Point Network, users can read and watch everything for free, but to write something to the network/blockchain (be it leaving a comment or uploading a website), they have to send micropayments in POINT token.
POINT token will start with the total initial supply of 1,000,000,000 POINT (1 billion). Extra rewards will be given for staking and validation on the network.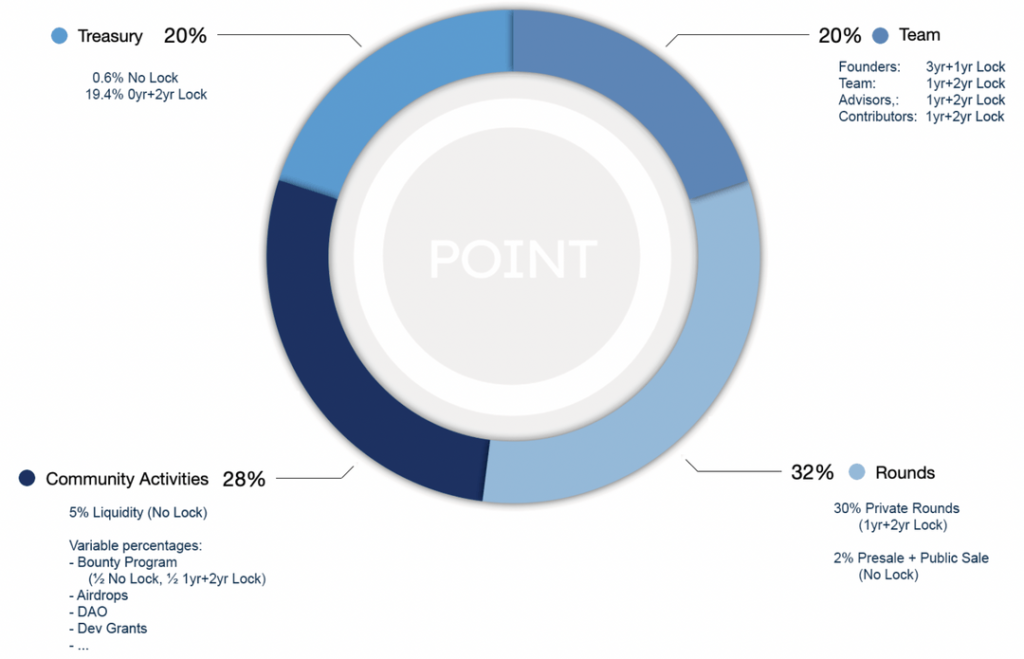 The lock is listed as [unlock start time+unlock end time]. For example, "1yr+2yr Lock" means tokens are 100% locked for 1 year after the main net launch and then gradually proportionally released during the next 2 years.
Who are the founders of POINT?
The teams are decentralized and work remotely all over the world. Serge Var is the CEO & Co-Founder of the POINT project. Saleh Abdul's role at Point Network is Co-Founder COO.
Recent POINT Token Price & Performance
Since listed on MEXC on 5th September 2022, POINT has been rising recently from the lowest of 0.02 USDT in the last month to the highest of 0.5589 USDT.
How to buy POINT Token?
You can buy POINT on MEXC following the steps:
Log in to your MEXC account and click [Trade]. Click on [Spot].
Search "POINT" using the search bar to see the available trading pairs. Take POINT/USDT as an example.
Scroll down and go to the [Spot] box. Enter the amount of POINT you want to buy. You can choose from opening a Limit order, a Market order, or a Stop-limit order. Take Market order as an example. Click [Buy POINT] to confirm your order. You will find the purchased POINT in your Spot Wallet.
Interested in crypto like POINT?
MEXC lists moonshot and provides access to trading of major crypto coins like POINT. Keep an eye on our listings in Innovation and Assessment zones, as well as major tokens in the Main Zone – we have more great projects to come! Also, visit the hot projects section to find more hot tokens that were listed already. If you would like to know more about crypto trading itself, visit MEXC Academy.