Collateral Network is a worldwide Software as a Service (SaaS) protocol that harnesses the power of blockchain technology to link borrowers and lenders. It provides a decentralized platform specifically designed for asset-based lending, digital loans, and facilitating borrowing and lending activities in the digital realm.
Essential information for their token is available on the MEXC Digital asset introduction page. Furthermore, we are listing (COLT/USDT – Trade it here) on the Innovation Zone! Check it out now!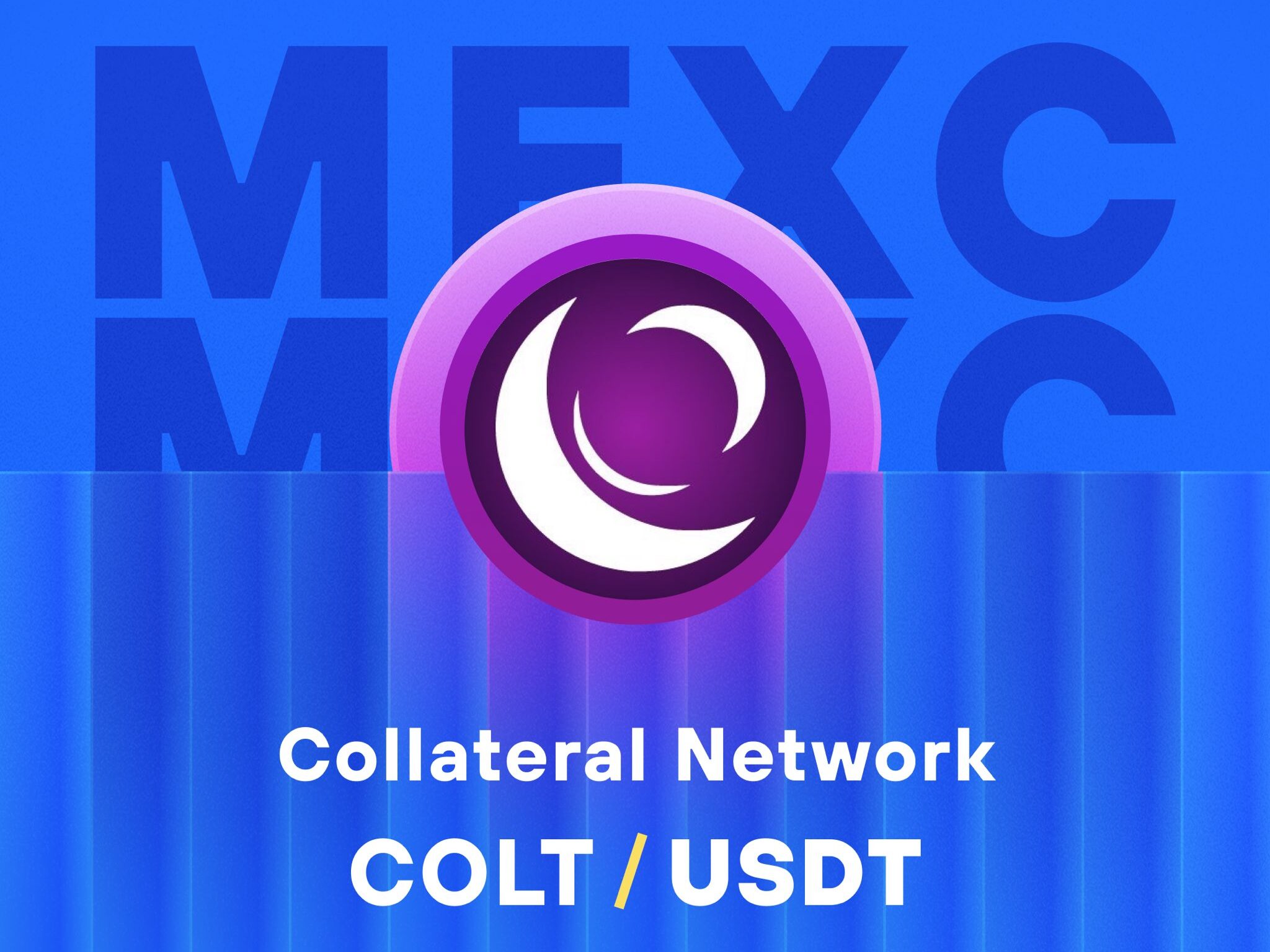 What Exactly is Collateral Network?
Collateral Network has revolutionized decentralized finance (DeFi) as an innovative Software-as-a-Service (SaaS) protocol. It connects lenders and borrowers while abstaining from acting as a direct lender or borrower. This groundbreaking platform introduces transparency and empowerment to the lending and borrowing landscape. Let's delve into its distinctive features and functionalities:
Interface and Protocol Integration:
Collateral Network employs a user-friendly web-hosted interface and a decentralized protocol. This facilitates straightforward interaction with underlying smart contracts, ensuring seamless peer-to-peer transactions across various asset classes.
Asset Utilization and Fractionalization:
Users can mint assets into tangible T-NFTs, allowing the leveraging of both physical and digital assets like real estate, luxury items, NFTs, and fine art. Fractionalization provides flexibility in lending against different assets, empowering businesses and individuals to optimize their holdings.
Lending and Borrowing Process:
Lenders propose terms, and borrowers customize their experiences. The platform offers fractionalized Loan Offerings and a unique Bid and Buy option, giving users the freedom to select favorable terms from lender offerings to meet their borrowing needs.
Physical Assets Handling:
Collateral Network goes beyond lending services by providing additional features like valuation tools and secure storage of physical assets until the loan is discharged, adding a layer of trust and validation.
Non-Custodial Approach:
Emphasizing complete control over private keys and assets, Collateral Network's non-custodial nature aligns with decentralized principles, ensuring users retain full authority over their assets.
KYC and Legal Compliance:
In collaboration with external parties, optional KYC services within the platform maintain legal compliance, credibility, and security, offering users flexibility in navigating regulatory requirements.
Fee Structure and COLT Token Benefits:
An adaptive fee structure is complemented by special privileges for COLT Token holders. These privileges include access to new loan opportunities, reduced platform fees, access to the trading platform, and early access to distressed assets.
Governance Model and Risk Management:
Decentralized Governance engages the community, while access to external valuation tools and asset storage options safeguards investments and maintains transparency, ensuring a comprehensive risk management framework.
What is The Collateral Marketplace?
The Collateral Marketplace, operating on the Ethereum blockchain with WETH, stands out as a revolutionary feature within the Collateral Network platform. It also transcends conventional barriers in asset-backed lending by seamlessly bridging digital and physical assets. It goes beyond mere transactions; it fosters connection, collaboration, and community engagement.
Fractionalized Assets: By enabling tangible assets to be minted into NFTs, the marketplace opens access to a diverse range of assets such as real estate, luxury items, fine art, and more. These tangible NFTs (T-NFTs) can be fractionalized, expanding lending and borrowing opportunities across different asset classes and democratizing investment.
Peer-to-Peer Transactions: The marketplace eliminates the need for intermediaries, enabling users to connect directly. This direct lending and borrowing dynamic enhances efficiency and customization in financial agreements. Lenders and borrowers negotiate interest rates, duration, and collateral requirements to tailor transactions to their unique needs.
Physical Assets Handling: Collateral Network ensures accurate valuation and provides secure custody of physical assets until loans are repaid. This end-to-end process, from valuation to custody, adheres to jurisdictional regulations, fostering trust and transparency.
Trade and Investment: The marketplace functions as a specialized venue for trading asset-backed NFT loans and investing. Fractionalization broadens access to these investment avenues, offering dynamic growth opportunities to a wider audience.
Secure and Compliant: Leveraging Ethereum blockchain and WETH technology ensures robust security and full compliance with legal requirements. Users can confidently engage in transactions, assured of integrity and reliability throughout the process.
Integration with COLT Token: The Collateral Network (COLT) Token seamlessly integrates into the marketplace, providing users with privileges such as reduced platform fees and access to exclusive opportunities, further enhancing the overall user experience.
Use Cases of COLT Token
The native token of Collateral Network, COLT, stands as a central component in the platform's ecosystem, offering various utilities and rewards to its holders. Here are the key aspects of the token's structure, functionality, and benefits, highlighting its integral role within the Collateral Network:
Token Specifications:
Name: Collateral Network
Symbol/Ticker: COLT
Initial Price: $0.01
Total Supply: 1,400,000,000
Presale Supply: 532,000,000
Functionality and Utilities:
Rewards and Access: COLT functions as a gateway to the collateral ecosystem, with features and privileges unlocking in proportion to the number of tokens held.
Tiered Benefits: Depending on the quantity of COLT tokens held, users can enjoy a tier-based discount system applicable to various fees within the platform.
Discounts:

For Investors: Reduction of platform fees, enhancing cost-efficiency in the investment process.
For Borrowers: Reduction in platform fees, making Collateral Network a more attractive option for securing loans.

Governance: Token holders have voting rights, allowing them to participate in decision-making processes related to critical ecosystem matters, including upcoming listings, acceptable asset classes, accepted currencies, and other strategic considerations.
Staking:

Earn Passive Income: Long-term holders who stake COLT can generate passive income, with the return dependent on the quantity and duration of staking.
Annual Percentage Rate (APR): The APR for staking COLT ranges from 5.5% to 14.8% per annum, providing an attractive incentive for holding and staking the token.
Where to buy COLT Token
You can find COLT Tokens here at MEXC! We are listing COLT/USDT in our Innovation Zone!
What is the Price of COLT Tokens?
The COLT Token is currently trading at MEXC with a live price of $0.003723. You can check the live price of their token right here!
How to buy COLT Tokens on MEXC
You can buy COLT Tokens on MEXC by following the steps:
Log in to your MEXC account. Click on [Spot].
Search "COLT" using the search bar to see the available trading pairs. Take COLT/USDT as an example.
Scroll down and go to the [Spot] box. Enter the amount of COLT you want to buy. You can choose from opening a Limit order, a Market order, or a Stop-limit order. Take Market order as an example. Click [Buy COLT] to confirm your order. You will find the purchased COLT in your Spot Wallet.
You can find a detailed guide on how to buy COLT Tokens here.
Get Free Airdrops with MEXC Launchpad!
Did you know MEXC gives out 20+ free airdrops weekly? Launchpad and Kickstarter events ensure that all our loyal MX token HODLers receive a ton of new tokens! Learn all about it at our MX Zone now!
Meanwhile, check out all of the listings in the Innovation and Assessment zones as well as the major tokens in the Main Zone – we have more amazing projects to come! Visit the Hot Projects section as well to uncover more featured popular tokens. Lastly, feel free to visit MEXC Academy to learn more about cryptocurrency!
Start your travel on MEXC