Tomi is a web3 company that focuses on the future and decentralization. It is a platform that brings in the finest Web2 and Web3 for everyone, liberating the control of huge corporations. Essential information for their token is available on the MEXC Digital asset introduction page. Furthermore, we are listing (TOMI/USDT – Trade it here) on our innovation Zone, check it out now!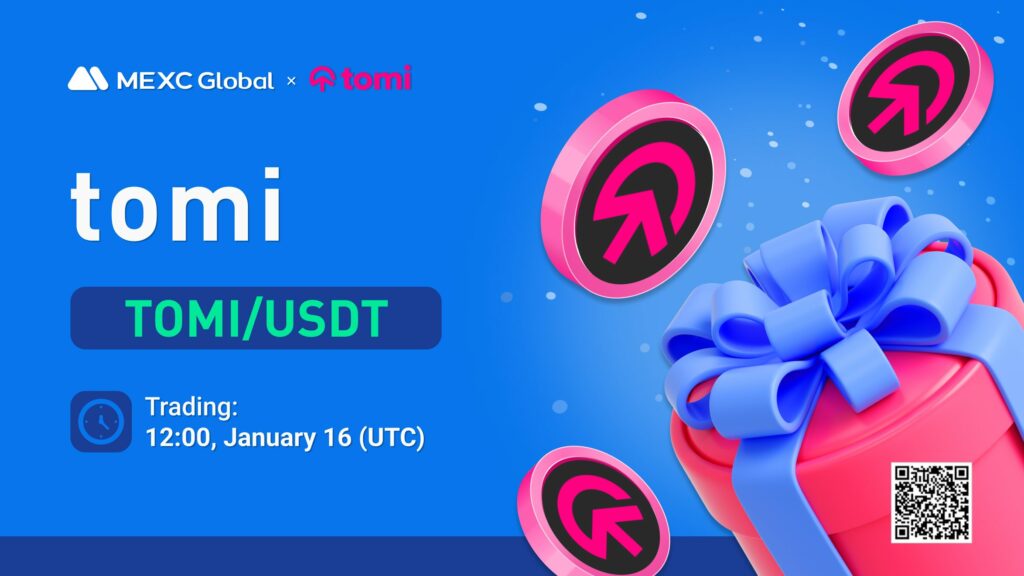 Problems in the Current Internet
The internet started off as a place where anybody and post anything. However, it grew over time, and companies started joining in. Nowadays, the Internet became a tool and power of some selected few, favoring huge corporate interests instead.
As a result, we are looking at a lot of private info leaking and manipulation via social media. The targeted ads are basically just another corporation spreading your interest far and wide. Furthermore, there is a lot of monitoring and banning on websites. Sometimes, we can even see government join hands with corporations to gather information. They then use this information for their personal benefit.
In fact, Google and Facebook logins for every site create a monopolistic pattern for corporates. This allows them to gather an unseen amount of data throughout the web. Now, Tomi is here to change it.
The Idea Behind Tomi
Tomi is developing a full alternative internet that combines Web2 and Web3. It is a privacy-preserving, self-governing, and self-funding internet. Furthermore, anyone with a basic browser may visit this parallel network. It will also liberate users from the control of giant corporates. Meanwhile, Tomi augments the core function of their platform using DAO, crypto, and privacy layers.
What is the Usage of Tomi?
There is definitely a list of issues with the current internet. Therefore, Tomi is introducing the TomiNet. It is a parallel internet that assures decentralization, freedom of speech, information, and non-extractive economic models. Tomi is creating an alternative network to the world wide web (WWW) that we know of. Furthermore, their infrastructure comes with a few major features.
For starters, its governing body comes in the form of a DAO and privacy storage network. This stops large corporations from giving pressure or censorship on the net. It also stops data from leaking out. One of the primary duties of TomiDAO is to regulate or prohibit sites that violate community norms.
The community decides on the rules that create a basic foundation of the net. These rules will remove the harm of the internet such as violence, unlawful pornography, or extreme activities. However, TomiNet will encourage lawful activities and even extreme beliefs, only removing extremist acts. Additionally, the DAO will constantly update and review the rules. They will also investigate allegations of any breach of rules.
Is TOMI a Good Investment?
TOMI has a great concept with a lot of room for growth. It is a good project with the potential for long-term investment. However, it is crucial for users to prepare a proper exit strategy before investing. It is also important to consult your financial adviser for any investment plans. This is not financial advice.
Where to buy TOMI Token
You can find TOMI Token here at MEXC Global! We are listing TOMI/USDT in our innovation zone!
What is the Price of TOMI Token?
TOMI is trading with a market price of $0.2631 per unit. It has a fully diluted market cap of $25,656,126. It also has a 24-hour trading volume of $3,849,573. You can check the live price of their token right here!
How to buy TOMI Token
You can buy TOMI Token on MEXC by following the steps:
Log in to your MEXC account and click [Trade]. Click on [Spot].
Search "TOMI" using the search bar to see the available trading pairs. Take TOMI/USDT as an example.
Scroll down and go to the [Spot] box. Enter the amount of TOMI you want to buy. You can choose from opening a Limit order, a Market order, or a Stop-limit order. Take Market order as an example. Click [Buy TOMI] to confirm your order. You will find the purchased TOMI in your Spot Wallet.
You can find a detailed guide on how to buy TOMI Token here.
Keep Yourself Updated With The Crypto Trend
Check out all of the listings in the Innovation and Assessment zones as well as the major tokens in the Main Zone – we have more amazing projects to come! What's more, MEXC lists moonshots and offers access to trade major cryptocurrencies. Visit the Hot Projects section as well to uncover more featured popular tokens. Lastly, feel free to visit MEXC Academy to learn more about cryptocurrency!
Start your travel on MEXC Global