Metal Blockchain is a Layer 0 blockchain that allows any chains to deploy and reach consensus using Snow Protocol. It allows chains to run on a highly efficient Proof-of-Stake (PoS) model. Essential information for their token is available on the MEXC Digital asset introduction page. Furthermore, we are listing (METAL/USDT – Trade it here) on our innovation Zone, check it out now!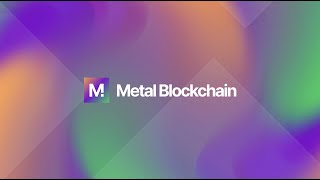 Is Metal Blockchain a New Generation of Blockchain?
Metal Blockchain is a trustless and scalable layer 0 blockchain. It addresses issues with centralized bridge hacks and cross-chain compatibility. It also provides energy-efficient scaling along with interoperability. Metal Blockchain is basically paving the way for a new generation of blockchains. It is striving to enable global access to traditional banking and digital assets.
Currently, it reaches a consensus with Avalanche, Snowman, and Antelope. Furthermore, it boasts a transaction speed of more than 4,500 transactions per second. Their time to finality also comes off as less than 0.5 seconds.
What are The Four Subchains in Metal Blockchain?
Proton (A Chain)
Proton handles payments more efficiently. This includes DeFi, dApps, DAOs, Banks, and Fintechs.
EVM (C Chain)
C chain manages the Ethereum Virtual Machine. It also deploys Solidity contracts capable of interacting with currencies in a trustless environment.
Stake (P Chain)
P chain allows stakers to validate the Metal network. It also delegates validation to other validators in order to earn staking rewards.
Exchange (X Chain)
Exchange handles cross-chain exchanging and sub-chain transfer.
Is Metal Blockchain (METAL) a Good Investment?
In the past week, METAL is seeing some fluctuations in the market. It is better viewed as a short-term investment project. Furthermore, it is crucial for users to prepare a proper exit strategy before investing. It is also important to consult your financial adviser for any investment plans. This is not financial advice.
Where to buy Metal Blockchain (METAL)
You can find Metal Blockchain (METAL) here at MEXC! We are listing METAL/USDT in our innovation zone!
What is the Price of METAL Tokens?
METAL is trading with a market price of $0.05941 per unit. It has a market cap of $2,444,709 and a fully diluted market cap of $39,608,629. It also has a 24-hour trading volume of $1,279,682. You can check the live price of their token right here!
How to buy METAL Tokens
You can buy METAL Tokens on MEXC by following the steps:
Log in to your MEXC account and click [Trade]. Click on [Spot].
Search "METAL" using the search bar to see the available trading pairs. Take METAL/USDT as an example.
Scroll down and go to the [Spot] box. Enter the amount of METAL you want to buy. You can choose from opening a Limit order, a Market order, or a Stop-limit order. Take Market order as an example. Click [Buy METAL] to confirm your order. You will find the purchased METAL in your Spot Wallet.
You can find a detailed guide on how to buy METAL Tokens here.
Keep Yourself Updated With The Crypto Trend
Check out all of the listings in the Innovation and Assessment zones as well as the major tokens in the Main Zone – we have more amazing projects to come! What's more, MEXC lists moonshots and offers access to trade major cryptocurrencies. Visit the Hot Projects section as well to uncover more featured popular tokens. Lastly, feel free to visit MEXC Academy to learn more about cryptocurrency!
Start your travel on MEXC