Smart Reward Token or SRT (SRT/USDT – Trade it here) powers the development of an SRT platform and the creation of an ecosystem. The Smart Rewards Token platform recognizes that consumers are productive beings that can receive incentives for their existence and intends to contribute to the consumer economy through 'small reward processing' that has been overlooked. It is based on more detailed targeting by merging the data of consumers' online and offline consumption into one.
In addition, the Smart Rewards Token platform will be used on Cash.Fi Service of partner company DANBI, an action-based reward mobile application that is an advertising platform that improves the technically backward areas of offline advertising. Basic information for their token is available on the MEXC Digital asset introduction page.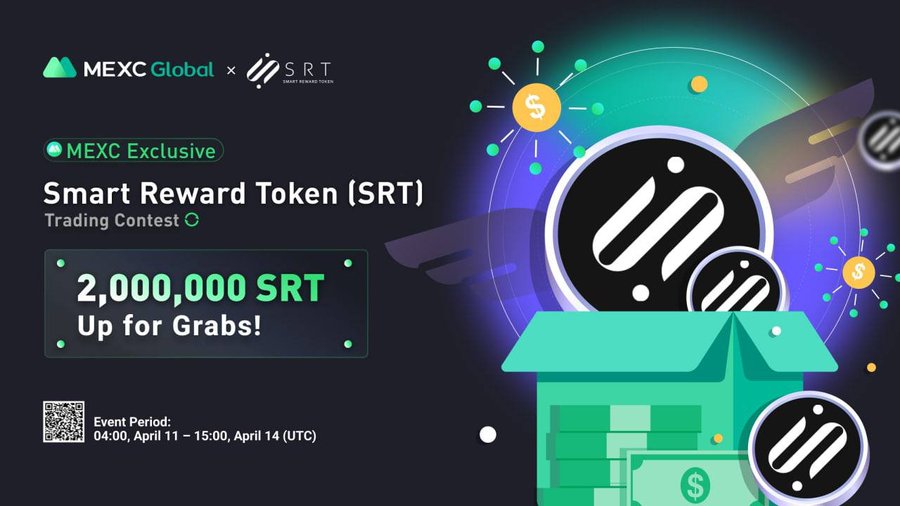 SRT Core Features
Smart Reward Token (SRT) is an ERC-20 swapping utility token in Cash.Fi ecosystem. SRT holders are able to claim rewards through our play-to-earn features. The primary way that users are able to earn SRT is by submitting check-ins for quality review. Posts with high-quality photos and captions will receive SRT.
The goal of SRT is to align incentives between Cash.Fi users and local businesses in new, novel ways. This alignment occurs because:
Users are rewarded for exploring and documenting with Cash.Fi. The team will also incentivize users to hold on to their earned tokens to claim even more rewards.
Local businesses are rewarded when people explore them. Furthermore, businesses will have the opportunity to increase sales and earn SRT when Cash.Fi users go there.
Participating businesses will be able to provide discounts to Cash.Fi users in the form of spending tokens to get some % discount on their purchases. For example, if a user spends SRT at a coffee shop, the user may be able to get 5% off. Furthermore, the business will receive the tokens. The difference between the original price will be made up later by team Cash.Fi.
Businesses will be able to offer SRT rewards when people come to shop at times when they want more customers (e.g. businesses are usually slower in the early afternoon after the lunch rush and before dinner, so they can incentivize Cash.Fi visitors to come by doing such as happy hours with SRT drops). Businesses pay the user.
A give/get model is used to increase the number of local businesses participating in Cash.Fi platform. Businesses will be able to give another business X SRT for signing up and get an equal amount of SRT in return. These tokens come from the treasury and will be capped at X amount of referrals.
SRT Ecosystem
The Smart Reward Token platform ecosystem is expected to secure many stores and consumers from the beginning as DANBI participates as a major partner company. It is essential to secure as many partners as possible in order to create a smart reward token platform ecosystem, DANBI points to offline small and medium-sized stores as the biggest partner to use and expand related services.
Cash.Fi from SRT Ecosystem
Cash.Fi turns daily life into game-like experiences. This will allow the users to share more clear experiences with the community in the real world. Cash.Fi runs on a decentralized ledger for digital collectible ownership and ERC20 token called SRT by the Foundation of SR Corporation. Cash.Fi users' incentives will be rewarded by SRTs and NFTs, which means the value could be added by the growth of the ecosystem. Participating businesses will be looking forward to having more customers through various ways of incentivizing Cash.Fi users. As Cash.Fi becomes more active and established, and businesses will have a better perception of how they would manage and enhance their businesses.
Recent Price & Performance of Smart Reward Token (SRT)
SRT is the governance and utility token for the ecosystem. Users can stake the tokens to receive benefits and rewards. Furthermore, you can use the tokens to vote on future changes and new projects along its journey.
Currently, their market price is $0.0001615 per unit. It has a market cap of $143,455. It also has a 24-hour trading volume of $223,668. You can check the live price of their token right here!
How to buy Smart Reward Token (SRT)
You can buy Smart Reward Token (SRT) on MEXC by following the steps:
Log in to your MEXC account and click [Trade]. Click on [Spot].
Search "SRT" using the search bar to see the available trading pairs. Take SRT/USDT as an example.
Scroll down and go to the [Spot] box. Enter the amount of SRT you want to buy. You can choose from opening a Limit order, a Market order, or a Stop-limit order. Take Market order as an example. Click [Buy SRT] to confirm your order. You will find the purchased SRT in your Spot Wallet.
You can find a detailed guide on how to buy SRT token here.
Keep Yourself Updated With The Crypto Trend
Check out all of the listings in the Innovation and Assessment zones as well as the major tokens in the Main Zone – we have more amazing projects to come! What's more, MEXC lists moonshots and offers access to trade major cryptocurrencies. Visit the Hot Projects section as well to uncover more featured popular tokens. Lastly, feel free to visit MEXC Academy to learn more about cryptocurrency!
Start your travel on MEXC Global