Samoyed Coin or SAMO (SAMO/USDT – Trade it here) is Solana's cutest ambassador doggo! It is the premier of Solana's community mascot, the dog ambassador. Essential information for their token is available on the MEXC Digital asset introduction page.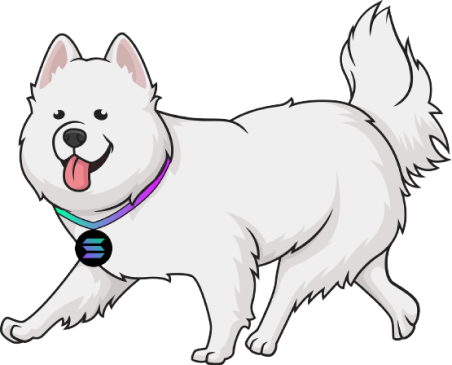 What is The Purpose of Samoyed?
Samoyedcoin came into the market in 2021, during the emergence of meme coins. It is the ambassador of Solana with the aim to promote, educate, and build support for the Solana ecosystem. Soon, Samoyed Coin changed from a meme coin into an experimental Web 3.0 community coin. This change came after receiving a lot of support from the online community and brings benefits to Solana's ecosystem.
Additionally, Samoyed coin helps onboard new market users, promote their underlying blockchain, and penetrate the modern-day culture. It is now a new digital asset that focuses on onboarding Solana users. It also educates market players, builds personal relationships, and assists one another in life navigation.
Is Samoyed a Good Investment?
It is a good coin for short-term investment. However, it is always important to do proper research before investing as this is not financial advice. Furthermore, it is crucial to prepare a safe exit strategy in case the investment goes south.
Where to buy Samoyed Coin (SAMO)
You can find Samoyed Coin here at MEXC Global! We are listing SAMO/USDT in our innovation zone!
What is the Price of Samoyed Coin (SAMO)
SAMO is trading with a market price of $0.004130 per unit. It has a market cap of $15,333,864 and a fully diluted market cap of $19,903,159. It also has a 24-hour trading volume of $4,040,385. You can check the live price of their token right here!
How to buy Samoyed Coin (SAMO)
You can buy Samoyed Coin (SAMO) on MEXC by following the steps:
Log in to your MEXC account and click [Trade]. Click on [Spot].
Search "SAMO" using the search bar to see the available trading pairs. Take SAMO/USDT as an example.
Scroll down and go to the [Spot] box. Enter the amount of SAMO you want to buy. You can choose from opening a Limit order, a Market order, or a Stop-limit order. Take Market order as an example. Click [Buy SAMO] to confirm your order. You will find the purchased SAMO in your Spot Wallet.
You can find a detailed guide on how to buy SAMO coin here.
Keep Yourself Updated With The Crypto Trend
Check out all of the listings in the Innovation and Assessment zones as well as the major tokens in the Main Zone – we have more amazing projects to come! What's more, MEXC lists moonshots and offers access to trade major cryptocurrencies. Visit the Hot Projects section as well to uncover more featured popular tokens. Lastly, feel free to visit MEXC Academy to learn more about cryptocurrency!
Start your travel on MEXC Global