Pay Turn or PTR (PTR/USDT – Trade it here) is an NFT property-based metaverse platform that uses blockchain technology. This takes on a positive role of lowering the entry wall by allowing users to easily experience the virtual reality and metaverse through self-developed advanced VR(Virtual reality). Basic information for their token is available on the MEXC Digital asset introduction page.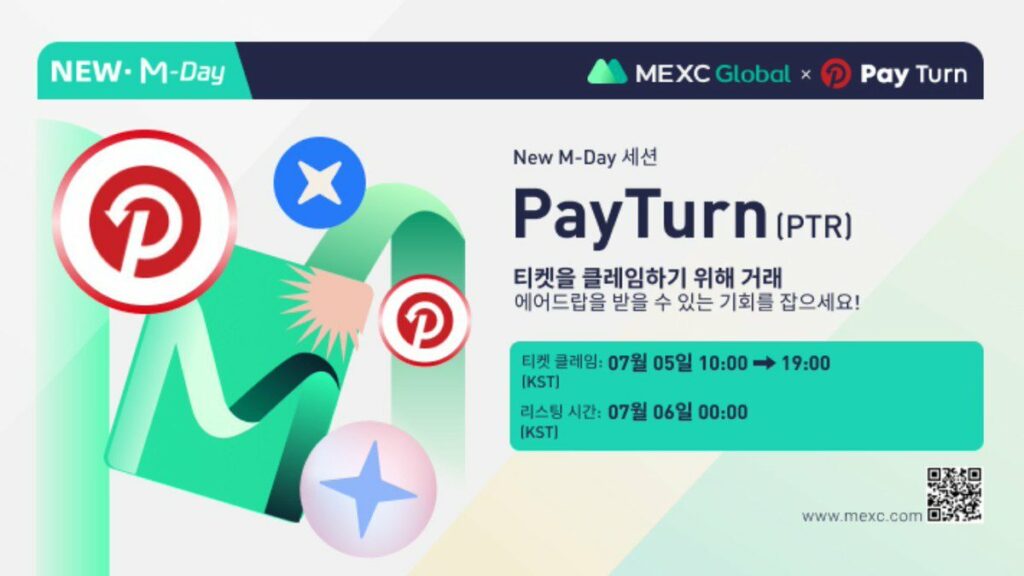 Pay Turn Core Features
To establish a metaverse ecosystem that leads a virtuous circle between ecosystem members such as various companies, developers, users, and so on, Pay Turn core functions include:
As a shopping mall where stores necessary for daily life such as life, home appliances, food, and furniture can enter and sell products. Currently, users can purchase more than 100,000 products through the platform cryptocurrency PayTurn token.
Partnership with NGOs nationwide, donations of goods are provided to the socially underprivileged, and discounts are provided to general users so that good consumption is possible.
Provided to receive discount services when paying with PayTurn through partnerships with on/offline companies in various industries
Provides a prepaid card so that PayTurn can substitute cash even offline through the linkage of the payment system with PG.
Pay Turn Ecosystem
Pay Turn works with both business partners and NGOs.
The Pay Turn platform can integrate and exchange the points of members scattered in each store with Pay Turn tokens, their own cryptocurrency. Through Pay Turn, points held by existing affiliates can be used in conjunction with various places of use within the Pay Turn business ecosystem. Furthermore, the reliability and stability of point issuance have been secured through a smart contract based on blockchain.
They operate a point-integrated conversion system to promote solidarity between business models. This guarantees free exchange and transactions between "company and company" and "members and members" that perform business models without a third-party intermediary.
Through partnerships with NGOs nationwide, donations of goods are received and sold on the PayTurn Platform. Then, the donated products are provided free of charge to certified members of the socially underprivileged and provided at a discounted price to allow good consumption by general users.
Recent Price & Performance of PayTurn (PTR)
Currently, their market price is $0.0029 per unit. It also has a 24-hour trading volume of $3.93k. You can check the live price of their token right here!
How to buy PayTurn (PTR)
You can buy PayTurn (PTR) on MEXC by following the steps:
Log in to your MEXC account and click [Trade]. Click on [Spot].
Search "PTR" using the search bar to see the available trading pairs. Take PTR/USDT as an example.
Scroll down and go to the [Spot] box. Enter the amount of PTR you want to buy. You can choose from opening a Limit order, a Market order, or a Stop-limit order. Take Market order as an example. Click [Buy PTR] to confirm your order. You will find the purchased PTR in your Spot Wallet.
You can find a detailed guide on how to buy PTR token here.
Keep Yourself Updated With The Crypto Trend
Check out all of the listings in the Innovation and Assessment zones as well as the major tokens in the Main Zone – we have more amazing projects to come! What's more, MEXC lists moonshots and offers access to trade major cryptocurrencies. Visit the Hot Projects section as well to uncover more featured popular tokens. Lastly, feel free to visit MEXC Academy to learn more about cryptocurrency!
Start your travel on MEXC Global