Pawtocol Token or UPI (UPI/USDT – Trade it here) is using the power of blockchain technology to create solutions that will strengthen the pet community and bring value back to its members. It will also provide help to rescues and shelters in need. Basic information for their token is available on the MEXC Digital asset introduction page.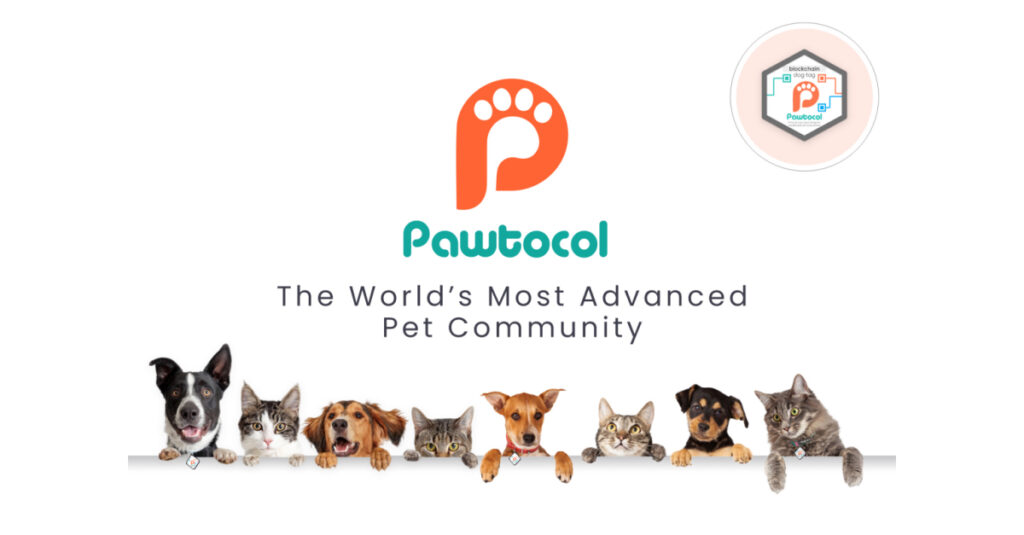 Pawtocol Token Core Features
The Pawtocol token vision is to introduce the pet industry to the new era of blockchain technology and educate them on the ways it can positively impact the global pet community – creating value for pets and pet owners through decentralization, transparency, and digital ownership.
To fulfill the goal of helping out pet shelters and rescues, Pawtocol proposed several solutions:
The Pawtocol platform facilitates transparent donations that can be delivered directly to shelters and rescues in need. These donations will provide valuable resources to decrease euthanization and help end kill shelters.
Pawtocol will level the playing field for small, pet health-focused businesses by giving the community the power to prove quality through crowd verification. Crowd-verified businesses will enjoy an elevated status in the eyes of consumers on the platform.
The Pawtocol Pet Tag helps lost pets find their way home. Not only will it update information in real time, but it will also post bounties and rewards for lost pets. Additionally, the use of the Pawtocol Pet Tag will qualify pets for other futuristic aspects of the Pawtocol network that would use IDs to organize information.
Pawtocol will force companies to market and label their products truthfully by placing powerful analytic tools in the hands of consumers. The platform will also inform pet owners if the company they purchase from is mislabeling or misrepresenting products.
Pawtocol will create a normalized pet data language, making all collected data compatible with existing data sets. This will allow pet data to be interpreted more accurately by researchers.
Pawtocol Token Ecosystem
The Pawtocol token ecosystem is built upon the foundation of a structure including several key components and mechanisms:
Blockchain and Smart Contracts
Pawtocol will use blockchain technology to empower its users to own and monetize their pet's data while protecting the privacy and the best interests of all participants on the platform.
Pawtocol's digital currency will incentivize users to upload their pet's data without any adverse impact on the platform's margins or liabilities.
Pawtocol's NFT marketplace will provide a number of opportunities for users to collect, trade, and sell one-of-a-kind pieces of digital art – either of their own pet or limited edition NFTs. Furthermore, a portion of the proceeds of every Pawtocol NFT will be donated to rescues and shelters in need.
Many third-party devices will feed data into Pawtocol's AI, and data owners will receive UPI tokens in compensation just like any other data source. There are hundreds of pet-specific IoT devices available already from GPS collars that measure heart rate, to weight-sensing food bowls. These devices will encourage non-technical people to join the Pawtocol platform making it simple to monetize their data.
ZKP will enable Pawtocol's users to keep custody of their growing repository of data points and to maintain ultimate control over the information they wish to voluntarily disclose.
Distributed Encrypted Storage
DES spreads user data across a series of nodes in the network while ensuring that only the file's owner can access and see their data.
Within the ecosystem, the Pawtocol platform targets and caters to four different types of users, as described below:
Pet Parents: Owners of pets who form the core of the user base, collect and hold the majority of the data in the system and both create and consume the utility of the network.
Vendors: Parties selling goods and services to pet parents.
Supply Chain Participants: People & businesses selling goods and services to other companies.
Data Economy Participants: People who want to access/use data and information from other users, including advertisers, researchers, and pet health professionals.
UPI Tokenomics
UPI (universal Pet Income) is the token used for pricing goods, services, rewards, and trades within the system. In particular, UPI will be used to pay for transactions that require someone to pay for gas, Ethereum's pricing unit for computations.
The improved user experience is intended to abstract away implementation complexity so users can focus on enjoying the application. Additionally, the protocol will subtract a transaction fee from the value of each transaction. This transaction fee will accrue to Pawtocol's reserves to support R&D and community development. The current plan is based on a 2% transaction fee per transaction.
Recent Price & Performance of Pawtocol (UPI)
Currently, their market price is $0.001883 per unit. It has a market cap of $485,703 and a fully diluted market cap of $1,881,780. It also has a 24-hour trading volume of $75,676. You can check the live price of their token right here!
How to buy Pawtocol (UPI)
You can buy Pawtocol (UPI) on MEXC by following the steps:
Log in to your MEXC account and click [Trade]. Click on [Spot].
Search "UPI" using the search bar to see the available trading pairs. Take UPI/USDT as an example.
Scroll down and go to the [Spot] box. Enter the amount of UPI you want to buy. You can choose from opening a Limit order, a Market order, or a Stop-limit order. Take Market order as an example. Click [Buy UPI] to confirm your order. You will find the purchased UPI in your Spot Wallet.
You can find a detailed guide on how to buy UPI token here.
Keep Yourself Updated With The Crypto Trend
Check out all of the listings in the Innovation and Assessment zones as well as the major tokens in the Main Zone – we have more amazing projects to come! What's more, MEXC lists moonshots and offers access to trade major cryptocurrencies. Visit the Hot Projects section as well to uncover more featured popular tokens. Lastly, feel free to visit MEXC Academy to learn more about cryptocurrency!
Start your travel on MEXC Global