Osmosis or OSMO (OSMO/USDT – Trade it here) is a Layer-1, Proof-of-Stake (PoS) blockchain designed with the Cosmos SDK to serve as a sandbox for automated market makers (AMMs). The chain enables developers to construct and deploy bespoke AMMs by using Osmosis' on-chain governance system and its numerous modules. Basic information for the Osmosis token is available on the MEXC Digital asset introduction page. Don't forget to check out the announcement of OSMO and find out how you can get rewards for depositing OSMO tokens!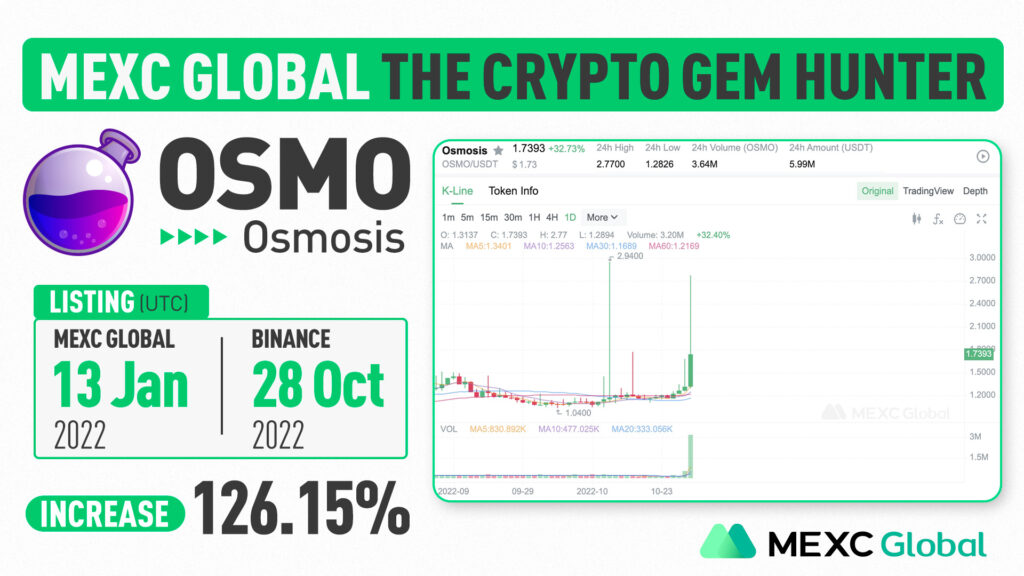 How Does It Works?
The Osmosis automated market maker (AMM) allows users to construct new and unique liquidity pools that participants manage and vote on. It runs in the Cosmos ecosystem, and it specializes in the Interchain DeFi movement (Tendermint-based blockchains).Osmosis token (OSMO) on the other hand, is utilized in its pools to vote, stake, and offer liquidity. It is a bit complicated so let me break it down to you.
The Cosmos Ecosystem
Osmosis is a decentralized exchange (DEX) and automated market maker (AMM) protocol running in the Cosmos Ecosystem. It is an "Internet of blockchain" network that allows developers to create interoperable decentralized applications (dApps). DApps on these networks connect with one another and exchange tokens and data using Cosmos' Inter-Blockchain Communication (IBC) Protocol. Cosmos also provides a software development kit (SDK) for projects and teams to use in order to build on its network.
The Osmosis automated market maker (AMM)
Osmosis is a DEX protocol. It uses algorithms to price crypto assets in liquidity pools, acting as a centralized market maker in an order-book method platform. Their AMM is special because it allows users to establish their own liquidity pools or clone existing ones with custom settings. Users have the freedom to exchange assets from over 47 distinct chains inside the Cosmos Ecosystem.
Superfluid Staking
Token holders in traditional DeFi must choose between earning income from staking (which helps to keep the protocol running) or generating revenue from liquidity (which provides AMM stability). Superfluid staking on the hand, allows you to do both simultaneously. Users are allowed to stake tokens while providing assets to a liquidity pool. This means that users receive reward fees linked with liquidity pool transactions while getting rewarded for staking.
Tokenomics of Osmosis (OSMO)
OSMO is the native Osmosis token that serves as the foundation for the whole Osmosis protocol. It facilitates everything from liquidity mining reward allocation to the base network swap fee. Check out their live price here!
The tokenomics of OSMO :
Name: Osmosis.
Ticker: OSMO.
Token type: Utility and Governance.
Max supply: 1,000,000,000 OSMO.
Initial Supply: 100,000,000 OSMO.
How to buy Osmosis Token (OSMO)?
You can buy Osmosis Token (OSMO) on MEXC by the following the steps:
Log in to your MEXC account and click [Trade]. Click on [Spot].
Search "OSMO" using the search bar to see the available trading pairs. Take OSMO/USDT as an example.
Scroll down and go to the [Spot] box. Enter the amount of OSMO you want to buy. You can choose from opening a Limit order, a Market order or a Stop-limit order. Take Market order as an example. Click [Buy OSMO] to confirm your order. You will find the purchased OSMO in your Spot Wallet.
You can find a detailed guide on how to buy Osmosis tokens here.
Keep Yourself Updated With The Crypto Trend
Check out all of the listings in the Innovation and Assessment zones as well as the major tokens in the Main Zone – we have more amazing projects to come! What's more, MEXC lists moonshot and offers access to trade major cryptocurrencies. Visit the Hot Projects section as well to uncover more featured popular tokens. Lastly, feel free to visit MEXC Academy to learn more about cryptocurrency!