OpenLeverage or OLE (OLE/USDT – Trade it here) is a permissionless lending margin trading protocol that provides traders with efficient and secure options to long or short on any trading pair on DEXs.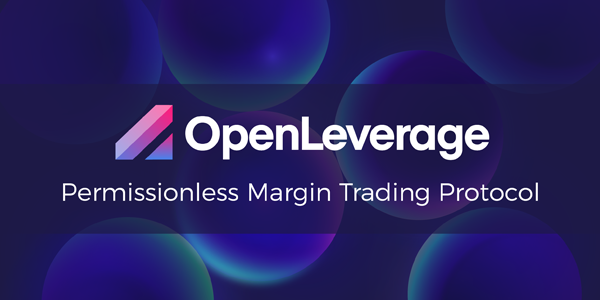 OpenLeverage Core Features
As a lending margin trading protocol, OpenLeverage has following features to approach real decentralization and trading efficiency:
Trade Any Token – Leverage thousands of tokens on OpenLeverage and trade with integrated liquidity from top DEXs like Uniswap, Sushiswap, PancakeSwap, Biswap and more.
Fully Permissionless – Anyone can create lending and trading pools for any trading pair available on a DEX, with default interest rate and risk parameters.
Single-Sided Lending – Isolated and independent lending pools facilitate single-sided token lending with minimal risk. Margin interest incurred by leveraged traders is paid out to lenders.
Multichain – Connecting to top AMM DEXs on Ethereum, BNB Chain, and Kucoin Community Chain.
Some unique selling points that set OpenLeverage apart can be concluded as follows:
Anyone can create lending pools for any trading pair available on a DEX, with default interest rate and risk parameters, which the community can change via the governance process.
Lenders can earn higher yields by depositing assets into the lending pools, earning interest from borrowed assets, receiving OLE rewards, or receiving rewards by re-staking LToken to join other projects' reward programs.
Traders can borrow and leverage trade with hundreds of pairs from DEX with a one-click transaction.
Projects can integrate with the OpenLeverage to facilitate leverage trading on specific trading pairs by integrating LToken.
Liquidators can trigger liquidations to earn rewards if the trade's collateral ratio falls below the market limit.
OLE Tokenomics
OLE is the native token that empowers the OpenLeverage ecosystem by providing incentives and community usages. It will be minted by trading, lending, referring new members, and participating in Clans Clash.
A total of 1,000,000,000 OLE have been minted and will be vested over five years, starting on the date when OLE becomes transferable. A maximum perpetual inflation rate of 3.00% per year will increase the supply of OLE after five years, ensuring the community has the resources to continue contributing to the protocol.When OLE becomes transferable, approximately 4.6% of the OLE supply will be liquid.
OLE can be earned from using the protocol, e.g. trading, lending, referral, or staking LP tokens to xOLE. All rewards calculations and distributions operate on a 21-day cycle referred to as an epoch. During each epoch, all OLE earned from protocol usage will be claimable and transferable 7 days after the end of the epoch.
OLE Token rewards available for users
Staking and Fee Rewards
Staking and fee rewards are distributed to users who stake assets on OpenLeverage based on a combination of xOLE amount and lock duration. xOLE is the governance token for OpenLeverage. Users receive xOLE as a receipt for providing OLE-BUSD liquidity on a designated partner DEX and subsequently staking their LP tokens on OpenLeverage into a time-escrowed contract. Users may choose to lock their LP tokens for a minimum period of two weeks up to four years. Users who lock for the maximum duration (4 years) will receive 436% xOLE compared to those who lock for the minimal duration (2 weeks).
Trading Rewards On Volume
Members who open positions with trading volume levels during the campaign will be awarded the corresponding OLE rewards. Traders can participate by margin trading any valid pair. Trading rewards are distributed to traders who long or short a rewarded pair.
Retroactive rewards
7.35% of OLE '73,500,000 OLE' has been allocated to historical lenders, traders, and NFT holders. All retroactive rewards will be distributed to the respective chain where they have been earned.
How to buy OLE?
You can buy OLE on MEXC following the steps:
Log in to your MEXC account and click [Trade]. Click on [Spot].
Search "OLE" using the search bar to see the available trading pairs. Take OLE/USDT as an example.
Scroll down and go to the [Spot] box. Enter the amount of OLE you want to buy. You can choose from opening a Limit order, a Market order or a Stop-limit order. Take Market order as an example. Click [Buy OLE] to confirm your order. You will find the purchased OLE in your Spot Wallet.
H2: Interested in crypto like OLE?
MEXC lists moonshot and provides access to trading of major crypto coins like OLE, keep an eye on our listings in Innovation and Assessment zones, as well as major tokens in the Main Zone – we have more great projects to come! Also, visit the hot projects section to find more hot tokes that were listed already. If you would like to know more about crypto trading itself visit MEXC Academy.