GMX (DMX/USDT – Trade it here) is a decentralized spot and perpetual exchange that supports low swap fees and zero price impact trades and lets you trade top cryptocurrencies with up to 30x leverage directly from your wallet. The protocol initially went live on Arbitrum in September 2021, followed by Avalanche in early 2022. A distinct multi-asset liquidity pool facilitates their trading. It produces rewards from market making, swap fees, leverage trading (spreads, funding fees, and liquidations), and asset rebalancing and channels them back to liquidity providers. Basic information for their token is available on the MEXC Digital asset introduction page.
What Makes Them Special?
For starters, GMX is one of the few cryptocurrencies to have risen in value since the start of 2022. They are a decentralized derivative exchange providing service on the Arbitrum Layer 2 protocol and the Avalanche (AVAX) blockchain. They also obtain dynamic price information from a number of exchanges using Chainlink oracles. Currently, their project is the biggest dApp on the largest L2 with a total value locked (TVL) of $390 million on Arbitrum.
Their perpetual swap markets let traders trade key tokens long or short with up to 30x leverage. However, what makes them unique is their trading pool. Instead of using an order book, the trading is accomplished using a shared liquidity mechanism known as GLP, which acts as a pool of all traded assets. Trades are done with a potentially infinite depth using the current oracle price secured by Chainlink.
A GLP token holder receives liquidity provider fees in the form of escrowed GMX incentives (esGMX) and 70% of platform fees. The payouts will vary according to the network GLP that is minted. Platform fees are allocated in ETH on Arbitrum and AVAX on Avalanche.
What Is the Difference between GMX Token and GLP Token
Fundamentally, GMX is the token for governance and GLP is the token for trading liquidity. GMX is the network's utility and governance token, allowing stakeholders to receive 30% of all fees collected across the platform. Users can also stake their tokens to earn escrowed GMX, multiplier points, and ETH fees on Arbitrum or AVAX fees on avalanche.
GLP token, on the other hand, is the network's native liquidity provider token. When liquidity providers participate in the platform's multi-asset indexes, they are issued freshly minted GLP. The investments supply the exchange with the liquidity it requires. When a liquidity provider chooses to redeem their investment, the GLP is burned. As a result, GLP's supply will fluctuate with the demand-driven continuous minting and burning.
Is GMX Worth Investing?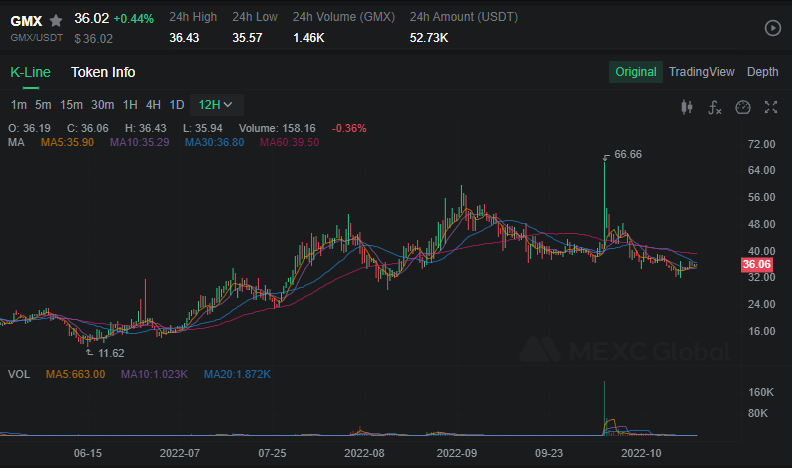 As the moment stands, investors and traders are looking well at this token. The platform's liquidity strategy and enhanced trading options are important drivers of this optimism. Furthermore, they are considered a user-friendly exchange that provides detailed information on trading, fees, and liquidity. Despite the current crypto winter, they are performing quite well. Traders speculate that when the market opens up, we will be able to see a huge increase in volume.
Recent Price & Performance of GMX
Currently, their market price is $42.28 per unit. It has a market cap of $354,920,713 and a fully diluted market cap of $371,723,882. It also has a 24-hour trading volume of $7,827,499. You can check the live price of their token right here!
How to buy GMX
You can buy GMX on MEXC by following the steps:
Log in to your MEXC account and click [Trade]. Click on [Spot].
Search "GMX" using the search bar to see the available trading pairs. Take GMX/USDT as an example.
Scroll down and go to the [Spot] box. Enter the amount of GMX you want to buy. You can choose from opening a Limit order, a Market order, or a Stop-limit order. Take Market order as an example. Click [Buy GMX] to confirm your order. You will find the purchased GMX in your Spot Wallet.
You can find a detailed guide on how to buy GMX token here.
Keep Yourself Updated With The Crypto Trend
Check out all of the listings in the Innovation and Assessment zones as well as the major tokens in the Main Zone – we have more amazing projects to come! What's more, MEXC lists moonshots and offers access to trade major cryptocurrencies. Visit the Hot Projects section as well to uncover more featured popular tokens. Lastly, feel free to visit MEXC Academy to learn more about cryptocurrency!
Start your travel on MEXC Global