NanoByte or NBT is a project aiming to increase the use and acceptance of crypto. They are here to establish it as a mainstream and legitimate form of currency. Furthermore, they are pouring the initial focus on the Indonesian market. Essential information for their token is available on the MEXC Digital asset introduction page. Furthermore, we are listing (NBT/USDT – Trade it here) on our Innovation Zone! Check it out now!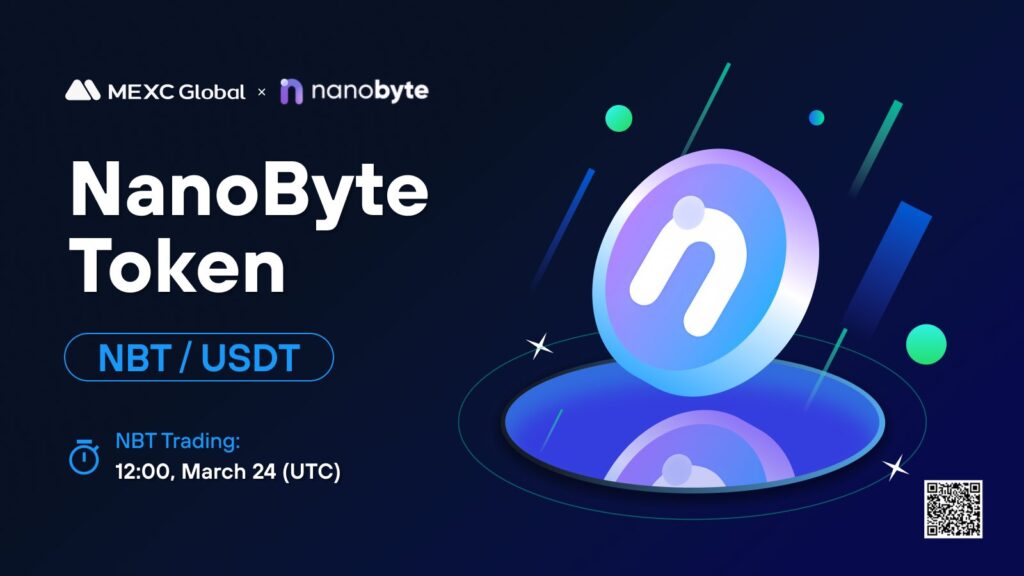 What Exactly is NanoByte?
NanoByte is a decentralized finance Solution with real-world use cases to drive crypto mass adoption in Indonesia. NanoByte Token (NBT) has been successfully piloted in Indonesia, the world's largest archipelagic state with a population of 270 million. Indonesia has been experiencing rapid growth in financial inclusion and the adoption of digital financial services over the past five years. This is one of the main reasons why NanoByte was developed, to tap into the immense potential of these markets.
NanoByte Use-Cases
Nanovest
Nanovest is an investment app that allows users to invest in cryptocurrency and global stocks. Furthermore, it allows users to invest in fractional amounts with a minimum investment of just 0.3 dollars. Nanovest will provide the necessary tools for users to achieve financial freedom, with a diverse range of asset classes and low barriers to entry. Since its launch almost two years ago, Nanovest has onboarded over one million users (with an actual KYC number of 746k users) and facilitated approximately 60 million transactions.
Nano Marketplace
At the core of NanoByte's vision is the commitment to realizing NBT as a utility currency. They are also hoping to increase usage as a medium of exchange comparable to traditional fiat currency. Therefore, the NBT marketplace kickstarted this journey. The marketplace is a platform that encourages users to use NBT as the primary payment method for purchasing a range of conventional items. This includes telco vouchers, digital gold, e-commerce vouchers, and many more. Additionally, the purchase will happen directly without the need for any external services or off-ramps. From its launch in June 2022 to December 2022, over 12 million NBT worth of products were purchased on the marketplace.
Financial Service Bridge
To further promote the use of crypto in other financial services, they are focusing on developing a range of products. Currently, they are focusing specifically on insurance and loans such as peer-to-peer (P2P) lending in the initial stage. The first use case of this financial service integration is the use of NBT as a tool for the instant loan approval in Danamas, a P2P lending platform. Through a partnership between Nanovest and Danamas, users can now use their NBT to obtain up to 100 million Rupiah in loans from a licensed financial institution in Indonesia.
NBT DeFi Staking
For users who are more familiar and comfortable with decentralized finance, NBT DeFi staking is the place for you. This allows users to stake their NBT and earn up to 111.47% annual percentage rate (APR) as of December 2022. Although the APR is much higher than staking on Nanovest, it is not fixed and fluctuates based on the total NBT staked and the NBT emission set. To date, over 100 million NBT has been staked, and stakers have claimed over 17 million NBT. Of course, these are just a few of their amazing list of use cases. Learn about everything Nanobyte has to offer on their whitepaper!
Where to buy NBT Token
You can find NBT Token here at MEXC! We are listing NBT/USDT in our Innovation Zone!
What is the Price of NBT Tokens?
The price of the NBT token is coming to MEXC soon! You can check the live price of their token right here!
How to buy NBT Tokens
You can buy NBT Tokens on MEXC by following the steps:
Log in to your MEXC account and click [Trade]. Click on [Spot].
Search "NBT" using the search bar to see the available trading pairs. Take NBT/USDT as an example.
Scroll down and go to the [Spot] box. Enter the amount of NBT you want to buy. You can choose from opening a Limit order, a Market order, or a Stop-limit order. Take Market order as an example. Click [Buy NBT] to confirm your order. You will find the purchased NBT in your Spot Wallet.
You can find a detailed guide on how to buy NBT Tokens here.
Keep Yourself Updated With The Crypto Trend
Check out all of the listings in the Innovation and Assessment zones as well as the major tokens in the Main Zone – we have more amazing projects to come! What's more, MEXC lists moonshots and offers access to trade major cryptocurrencies. Visit the Hot Projects section as well to uncover more featured popular tokens. Lastly, feel free to visit MEXC Academy to learn more about cryptocurrency!
Start your travel on MEXC