Bullshit Inu or BULL (BULL/USDT – Trade it here) is a BEP-20 based token that aims to build a global marketplace for cryptocurrency enthusiasts. It values contributors to the Bullshit Ecosystem and not afraid to reward them. For example, to show that they welcome all the creators, community members, Bullshit Inu announced there will be no tax on transfers. This article will cover everything you need to know about the ecosystem plus a guide on how to buy BULL tokens on MEXC Exchange.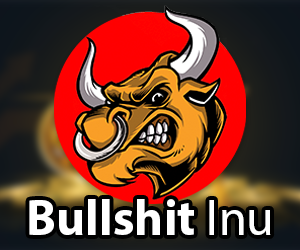 BullshitNomics
There are pre-allocated tokens to ensure future development for Bullshit Inu. All users will be able to trade BULL tokens with ease yet without tax for life. So, what makes it special?
Marketplace. Bullshit Inu aims to build the best marketplace for crypto lovers without the limitation of intermediaries barriers.
Swap Hub. The In-House Swap Hub Technology makes the process of BULL tokens swapping easier.
Marketing. Bullshit Inu offers great giveaways, meme challenges daily to all of the users.
Distribution. Three million of the BULL tokens will be distributed for free to more than 10k wallets in the first year.
Token Information
Ticker: BULL
Name: Bullshit-Inu
Total supply: 1,000,000,000,000 BULL
Network: Binance Smart Chain (BEP-20)
How to buy BULL token?
You can buy BULL on MEXC following the steps below:
Log in to your MEXC account and click [Trade]. Then click on [Spot].
Search "BULL" using the search bar to see the available trading pairs. Take BULL/USDT as an instance.
Scroll down and go to the [Spot] box. Enter the amount of tokens you would like to buy. Next, you can choose from opening a Limit order, a Market order or a Stop-limit order. Take Market order as an example. Click [Buy BULL] to confirm your order. You will find the purchased tokens in your Spot Wallet.
Recent Price & Performance of Bullshit Inu
BULL reached the highest price (ATH) of 0.000003086 USDT on July 3rd, 2022. On the other hand, the lowest price since the date of ATH was 0.0000000465 USDT on September 2nd, 2022.
Want to check out more crypto like Bullshit Inu?
Pay close attention to our listings in the Innovation and Assessment zones as well as the major tokens in the Main Zone – we have more amazing projects to come! What's more, MEXC lists moonshot and offers access to trade major crypto coins. Visit the Hot Projects section as well to uncover more featured popular tokens. Lastly, feel free to visit MEXC Academy to learn more about cryptocurrency in general.