Flux (FLUX/USDT – Trade it here) is a next-gen web 3.0 computational network. It is the latest iteration of scalable decentralized cloud architecture. Flux helps you to build, maintain, and launch your apps. They are also dApps and Web 3.0 ready. Basic information for their token is available on the MEXC Digital asset introduction page.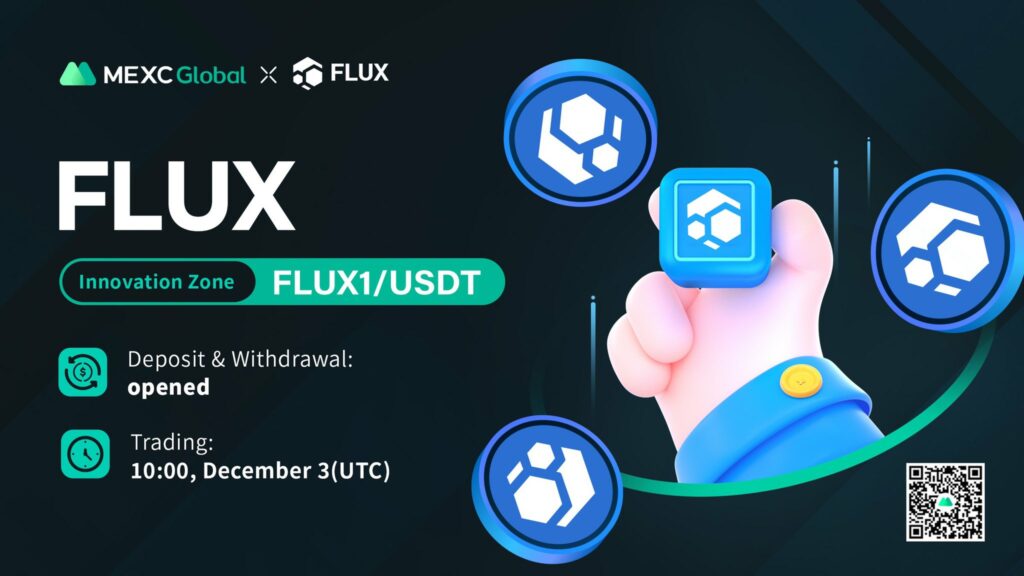 How Does it Work
Flux is a full range of blockchain-as-a-service solutions and computing services. Its ecosystem is made up of the decentralized Fluxnodes platform, FluxOS cloud operating system, Zelcore self-custody multi-asset wallet and blockchain app suite, and also the Flux blockchain.
So, why does the blockchain need Flux ecosystem? Basically, Flux offers essential infrastructure, programming tools, and business knowledge to accelerate blockchain implementations. They also provide users with cutting-edge and user-friendly solutions. Furthermore, they believe that building a comprehensive blockchain profile will speed up new technology's emergence. This in return will expand the usage of cryptocurrency.
Currently, Flux enables users to create their own cutting-edge blockchain solutions and act as their strategic partners. Users will then be able to utilize their processing power and services to accelerate blockchain development; introducing new concepts. The Flux Blockchain, on the other hand, provides a variety of services to both developers and users.
The blockchain provides on-chain economics, governance, parallel assets to offer DeFi access, and interoperability with other blockchains. Obviously, a developer can launch an app on the Flux Network. For users' cases, there is much more variety. You can be a Flux node operator or miner on the platform to earn tokens. You can also stake your tokens to provide liquidity and earn rewards. If these are boring, you can explore a wide range of dApps available on their platform. The options are limitless, waiting for you to explore.
Recent Price & Performance of Flux (FLUX1)
FLUX1 is the ecosystem's governance and utility token. Token holders play a part in shaping the future of the ecosystem. Furthermore, they are creating a "parallel asset" that allows FLUX1 to work on all DeFi protocols such as Solana, Tron, and more.
Currently, their market price is $0.5098 per unit with a market cap of $145,101,368 and a fully diluted market cap of $224,389,484. They also have a 24-hour trading volume of $4,884,764. You can check the live price of their token right here!
How to buy Flux (FLUX1)
You can buy Flux (FLUX1) on MEXC by following the steps:
Log in to your MEXC account and click [Trade]. Click on [Spot].
Search "FLUX1" using the search bar to see the available trading pairs. Take FLUX1/USDT as an example.
Scroll down and go to the [Spot] box. Enter the amount of FLUX1 you want to buy. You can choose from opening a Limit order, a Market order, or a Stop-limit order. Take Market order as an example. Click [Buy FLUX1] to confirm your order. You will find the purchased FLUX1 in your Spot Wallet.
You can find a detailed guide on how to buy FLUX1 token here.
Keep Yourself Updated With The Crypto Trend
Check out all of the listings in the Innovation and Assessment zones as well as the major tokens in the Main Zone – we have more amazing projects to come! What's more, MEXC lists moonshots and offers access to trade major cryptocurrencies. Visit the Hot Projects section as well to uncover more featured popular tokens. Lastly, feel free to visit MEXC Academy to learn more about cryptocurrency!
Start your travel on MEXC Global