Fable of the Dragon Tyrant or TYRANT (TYRANT/USDT – Trade it here) is a dragon NFT project. The idea came from Nick Brostrom's popular book and Vitalik Buterin's Twitter mantra. Furthermore, the TYRANT token is an ERC20 token that is exclusively minting 750 unique dragons NFT. Basic information for their token is available on the MEXC Digital asset introduction page.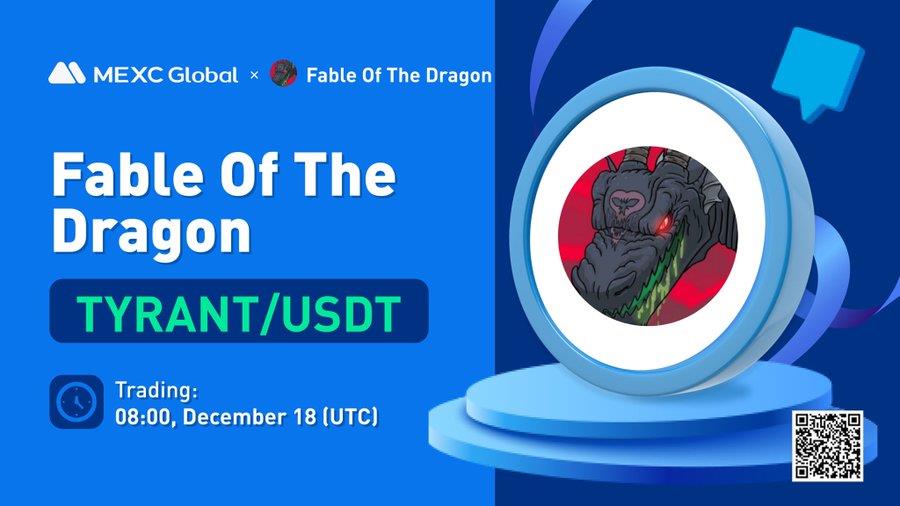 How Does it Work
Fable of the Dragon Tyrant is Vitalik Buterin's favorite piece of literature. It talks about a world that will eventually end, with technology as its only salvation. The inevitable is coming and mankind does whatever it takes to prolong it. Since 2017, Dragon Tyrant had always been on Buterin's Twitter profile.
This NFT project aims to bring dragons to life via NFTs. The NFTs represent Dragon Tyrant, a mythological beast that portrays aging and social problems. Soon, users can mint exclusive Fable Dragon NFTs. Furthermore, all dragons are each unique without replacement. After minting, users can choose to keep it or trade and sell it at OpenSea.
Fable Dragon owners will also receive the cure for aging and a bunch of benefits within the community. The team believes that this is a historical milestone under Buterin's inspiration. Furthermore, the team is donating 50% of the mint proceedings to Sens Research Foundations. It is an organization that researches aging-related diseases and life-prolonging. It is also a foundation that Vitalik Buterin closely supports.
Recent Price & Performance of Fable of the Dragon Tyrant (TYRANT)
Currently, their market price is $0.5359 per unit. It has a market cap of $5,358,685 and a fully diluted market cap of $5,361,580. It also has a 24-hour trading volume of $1,216,210. You can check the live price of their token right here!
How to buy Fable of the Dragon Tyrant (TYRANT)
You can buy TYRANT on MEXC by following the steps:
Log in to your MEXC account and click [Trade]. Click on [Spot].
Search "TYRANT" using the search bar to see the available trading pairs. Take TYRANT/USDT as an example.
Scroll down and go to the [Spot] box. Enter the amount of TYRANT you want to buy. You can choose from opening a Limit order, a Market order, or a Stop-limit order. Take Market order as an example. Click [Buy TYRANT] to confirm your order. You will find the purchased TYRANT in your Spot Wallet.
You can find a detailed guide on how to buy TYRANT token here.
Keep Yourself Updated With The Crypto Trend
Check out all of the listings in the Innovation and Assessment zones as well as the major tokens in the Main Zone – we have more amazing projects to come! What's more, MEXC lists moonshots and offers access to trade major cryptocurrencies. Visit the Hot Projects section as well to uncover more featured popular tokens. Lastly, feel free to visit MEXC Academy to learn more about cryptocurrency!
Start your travel on MEXC Global