TCG Coin 2.0 (TCG2/USDT – Trade it here) is the foundation for two online economies bringing gaming and collectible trading and selling to the Binance chain. TCG stands for Trading Card Game. It consists of several elements working together, such as TCGCoin, TCG Trading Platform, and TCG World. TCGCoin 2.0 is the main foundation element for two online economies. This methodology drives a continuous demand for the tokens across a wide array of both physical and virtual transactions. The trading platform uses smart contracts to protect buyers and sellers, holding their funds until the goods are received and finally verified. Both TCG Trading Platform and TCG World share not only the token but also integrate for buying and selling of real-world collectibles as well as virtual world NFTs.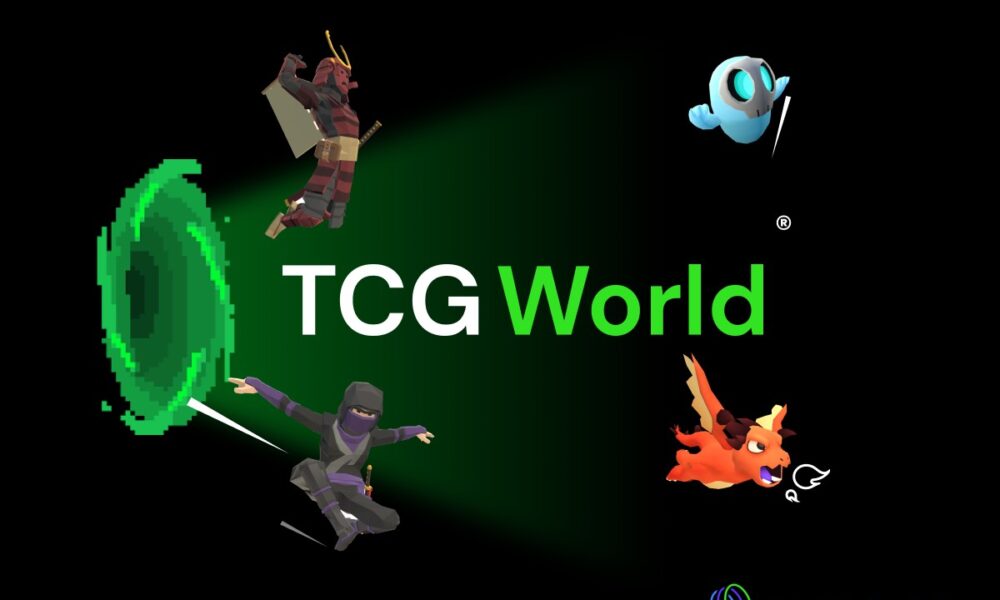 How does TCG work?
TCG World is an online open-world metaverse where players can earn TCGCoin 2.0, gather NFT collectibles, own virtual real estate, create, explore the game world, control their own online businesses, or just have fun. TCG World introduces a new approach to NFTs, making it more than just a piece of art- now, players can take their NFTs into the virtual game world and play. Everything a player owns in the metaverse is NFT- real estate, vehicles, pets, trophies, and even player avatars. As part of the entertainment, TCG World will also host live collectible card game tournaments at the TCG World Stadium.
TCG World was initially built from the ground up with blockchain technology in mind. Everything a player owns exists in blockchain terms. As a very important part of this system, land plots of different sizes can also be bought and sold. Regional plots are customizable, and players can create their own art galleries, buildings, theme parks, or something creative or inventive. Farming plots also introduce a unique opportunity for project investors to earn TCGCoin 2.0.
The game world will be a living and breathing virtual world filled with real people and activities, bringing the real world and the virtual metaverse world together, using the play-to-earn approach system. TCG World has its own story, which will progress as a player spends more time in the game.
Two types of land plots can be purchased by users in TCG World-regional and farming plots. The regional plots are distributed between four main regions: North, East, Asia, and Forest. Farming plots also offer an opportunity to earn TCGCoin 2.0, and once purchased, the region is selected randomly. Buying a new regional plot, a player secures their place in the metaverse. Every plot of land is titled with an NFT kept in the player's own crypto wallet.
Tokenmics of TCG2
Total supply: 280, 000, 000 TCGCoin 2.0(constant for every stage)
Selling fee: 10% to the liquidity pool
The key concept behind the first tokenomics stage of the TCG project is a fee for selling TCGCoins 2.0 to grow the liquidity pool quickly. If the holder sells their TCGCoin 2.0, the holder must pay a 10% fee. That 10% is distributed as follows:
10% is split equally, with half being converted to Binance Coin (BNB)and the remaining half converted to TCGCoin 2.0, pairing them for use in a liquidity pool.
Please note: The sell tax will remain in place temporarily during the development of the project and the contract migration period.
The TCGCoin 2.0 smart contract can apply a custom fee on all transactions (buys/sells/transfers). Some parts of it could be automatically distributed to active players, landlords, and farmers in TCG World Metaverse or will be automatically added to the liquidity pool.
That means the number of tokens in holders' wallets could increase as they play, trade, and own tokens in the TCG World Metaverse. Based on this setup, the liquidity pool will continuously increase as well, which leads to a higher price floor for TCGCoin 2.0. This way impermanent loss is avoided altogether, and in effect, holders get paid for just playing and interacting in the TCG World metaverse and can use TCGCoin 2.0 for the daily in-game business.
About the team
At TCGCoin 2.0, they have brought together leading experts from all over the world to ensure. David Evans, the CEO, is An entrepreneur with 20 years of experience in National Security and Home Automation. Expertise in facial recognition, video analytics, and artificial intelligence. He has an innate ability to analyze complex business requirements and identify opportunities successfully. Over the last 20 years, he has worked with Government, Banks, Property Developers, Hotels, Retail, and Homeowners in the design, implementation, and project management of IP CCTV Systems, Intrusion Detection, Access Control, Fire Alarms, Intercoms, Audio Visual, Home Automation, Video Analytics, Facial Recognition, Perimeter Protection, Hurricane Impact Doors, and Windows, Automated Gates and Barriers, Vingcard Hospitality and Automated Shades.
Stepan Sidorov is the CTO, and Eddy Birmingham is the COO.
Recent TCG2 Token Price & Performance
Since listed on MEXC in 2022, TCG2 reached the highest price (ATH) of 0.1172 USDT, and the lowest price was 0.00973 USDT.
How to buy TCG2 Token?
You can buy TCG2 on MEXC following the steps:
Log in to your MEXC account and click [Trade]. Click on [Spot].
Search "TCG2" using the search bar to see the available trading pairs. Take TCG2/USDT as an example.
Scroll down and go to the [Spot] box. Enter the amount of TCG2 you want to buy. You can choose from opening a Limit order, a Market order, or a Stop-limit order. Take Market order as an example. Click [Buy TCG2] to confirm your order. You will find the purchased TCG2 in your Spot Wallet.
Interested in crypto like TCG2?
MEXC lists moonshot and provides access to trading of major crypto coins like TCG2. Keep an eye on our listings in Innovation and Assessment zones, as well as major tokens in the Main Zone – we have more great projects to come! Also, visit the hot projects section to find more hot tokens that were listed already. If you would like to know more about crypto trading itself, visit MEXC Academy.