In this Telegram AMA recap, you'll find insights about the Tokocryto project. In an event hosted by Miranda from MEXC, you will meet Bika Pidada, the leader of the Tokoverse Project.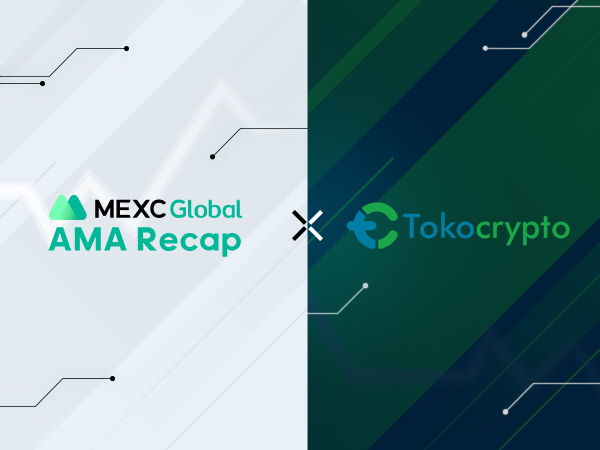 Questions from communityto Tokocrypto:
Question 1:
Miranda: First can you tell us what is TKO? maybe you can share with us more in detail?
Bika: Toko Token (TKO) is Tokocrypto's very own exchange utility token which was launched on the Binance Launchpad on 7 April 2021 resulting in a record-breaking 50,000% oversubscription of its hard cap of 75 million units from 201,406 individuals, with a total of 10,502,201 Binance Coin (BNB) (approximately USD 4 billion in value based on the price of BNB on 7 April 2021) subscribed for the launch.
TKO! TKO! Tokoverse!
Question 2:
Miranda: Next can you tell us what triggers Tokocrypto to be launched? What are some of the real-world problems/ pain points that Tokocrypto aims to solve?
Bika: Wow thats a super important question
In short: TKO is Tokocrypto's answer to the global issue of financial exclusion and the high barriers to entry of the financial services sector which have culminated in the systemic inefficiencies of the conventional financial domain..
But in essence, TKO functions as a bridge between the CeFi and DeFi domains thereby allowing TKO users to benefit from minimum risks exposure through the stability of CeFi while at the same time maximizing their investment returns through the crypto rocket fuel that is DeFi
As we all know, in the crypto domain, trust is at a premium, the fact that TKO is issued by the most trusted exchange in Indonesia is the token's unique selling point. TKO! TKO! Tokoverse!
Miranda: Can't agree more.
Question 3:
Miranda: What about the TKO in Tokocrypto? Can you tell us it's roles and tokenomics?
Bika: Alrightt, in Tokocrypto, we live and breathe TKO, but let me answer in more detail
TKO serves as a unifying thread that weaves together the various components of Tokoverse which range from GameFi, Game-ducation, DeFi and NFT to blockchain startups venture building..
As the backbone of Tokoverse, TKO's functional use cases include Binance Pay (which is a contactless, borderless and secure user-to-user cryptocurrency payment feature on the Binance App) and TokoMall (which is the first multi-category NFT marketplace in Indonesia), T-Hub and Toko Launchpad
As for TKO's tokenomics.. it takes the form of an elaborate scheme which is structured with the purpose of managing the inflation rates and liquidity levels of TKO to maximize the value of TKO and to secure the capital growth prospects of TKO in order to optimize the investment returns of TKO holders.
The crux of TKO's tokenomics scheme is its quarterly burn arrangement where every quarter we utilize a portion of trading volume generated on Tokocrypto's crypto-to-crypto platform to burn TKOs whereby the amount of TKOs burned may go up to 10% of total TKO token supply!
We have burned TKOs multiple times in 2021! TKO's first quarterly burn was carried out from 26-30 July 2021 during which about 200,000 TKOs were burned. The second and latest quarterly TKO burn was completed on 11 November 2021 with a total of 349,500 TKOs burned!
That question was loaded Miranda! TKO! TKO! Tokoverse!
Question 4:
Miranda: Thanks Bika, are there any exciting news or updates with regards to TKO that you would like to share with the users?
Bika: Of course we do! We are always trying to innovate and we are here to build an ecosystem and we are here for the long run!
With relation to building an ecosystem, Tokoverse has recently achieved two key milestones whereby firstly the ecosystem has launched T-Hub as Asia's first crypto hub in the picturesque island of Bali, Indonesia which will act as a physical stomping ground for the region's crypto community, giving them a space to gather, ideate, create, improve, innovate or simply live the crypto lifestyle,through the sheer utility of TKO. It aims to empower the crypto community by equipping them with the knowledge and skill sets needed to capitalize on the endless opportunities in the crypto economy.
And we didnt stop there.. During the launch of T-Hub, Tokoverse achieved another breakthrough in the crypto domain through the announcement of a partnership with leading government-owned bank's corporate venture capital firm, BRI Ventures to kickstart the Tokocrypto Sembrani Blockchain Accelerator (TSBA) which is a component of Toko Launchpad. Through its cutting edge accelerator program, the collaboration is set to help emerging blockchain projects and startups scale up with the support of technology, community networks, and also allow them gain access to funding opportunities. 🚀🚀🚀
Miranda: That's great news, thanks for sharing Bika.
Bika: If you guys wanna check out t-hub, check out this instagram too: https://instagram.com/thub.tko?utm_medium=copy_link
Question 5:
Miranda: If you were to summarize your project in ONE word, what would it be? Why?
Bika: One word… thats a tough one cause TKO holds so much.. but I think I will use the word FUTURISTIC
Simply because TKO is moving to the future with all that we have in store in Tokoverse
TKO! TKO! Tokoverse!
Free-asking Session to Tokocrypto:
Q1. STAKING is one of the STRATEGIES to ATTRACT USERS and HOLD Them and long term. Does your GREAT PROJECT have plan about to Staking?
Bika: Yes we do!
TKO can be staked on Binance, BiSwap, PancakeSwap, Autofarm and Moonfarm. We are now still preparing our next staking cycle so get ready!
As these are external platforms, the requirements for the staking of TKO on them differ based on the procedural arrangements put in place by the operator of the respective platforms. You can check out the websites of the aforementioned platforms to find out more about how to use them to stake TKO to the Moon.
Do stay tuned as we have more staking options lined up for TKO in time to come.
Q2. Do you have a whitepaper? if yes please share it with us and secondly are you working to AUDIT your project, to make its security more secure and reliable?
Bika: OH YES WE DO!
Our whitepaper was recently updated, in December 2021 and announced during our quarterly update i.e. TKO Summit!.
https://www.certik.com/projects/tokocrypto
Check out the whitepaper here: https://bit.ly/3IjDah1
Q3. How did you get the community involved in developing the project? and how do you build a strong community to grow globally?
Bika: We are always trying to build a stronger community around the globe! We are currently looking to create TKO Community groups in several countries/languages, and grow our community even bigger! For a start, we will launch TKO Telegram Groups in 10 countries/languages: Turkey, Russia, India, Vietnam, Mandarin (for China, Taiwan, HongKong, etc), Nigeria, Pakistan, Ukraine, Germany and Saudi Arabia. Thus, we will hire natives frome each country to be the admins.
If you're interested in being a TKO admin of your local community (earn up to $50/month) and want to find out more details on how to do so, click here: https://bit.ly/TKOLocalCommunities
Q4. Do you have any plan for burning tokens in the future to reduce the supply of the token and increase its investment attractiveness?
Bika: Yes we do have plans for this!
As promised in TKO whitepaper and as part of our continuous efforts to control the inflation rates of TKO, every quarter we will utilize a portion of trading volume generated on Tokocrypto's crypto-to-crypto platform to burn TKOs whereby the amount of TKOs burned may go up to 10% of total TKO token supply. TKO's first quarterly burn was carried out from 26-30 July 2021 during which about 200,000 TKOs were burned. The second and latest quarterly TKO burn has been completed on 11 November 2021 with a total of 349,500 TKOs burned. The details of the breakdown and the proof of burn for the second quarterly TKO Burn are as follows:-
Stage 1:5 November 2021–32,250 TKOs
Stage 2:7 November 2021–70,500 TKOs
Stage 3:9 November 2021 – 105,750 TKOs
Stage 4–11 November 2021–141,000 TKOs
For more details, please visit our Twitter page: https://twitter.com/tokoverse_?s=20&t=uNkQCwgaGQ-T4krO991p9w
Trying to find MEXC AMAs recaps?
It's easy! Explore them in a special section of our MEXC blog. Find insights for other recently listed projects at MEXC like Tokocryto.