In this Telegram AMA recap, you'll find insights about the MEVerse project. In an event hosted by Mia from MEXC Global, you will meet James Song, Head of Business Development of MEVerse.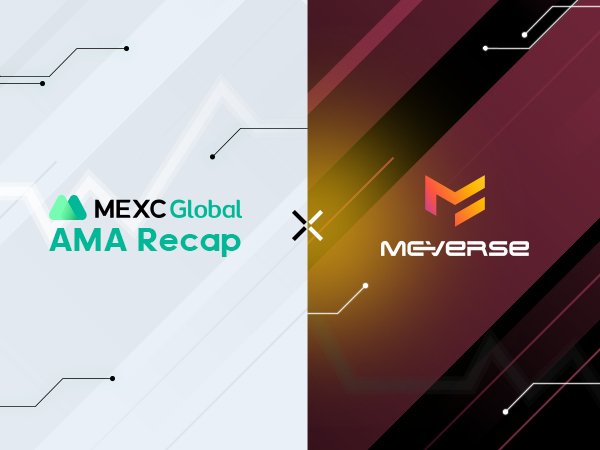 Introduction:
Hi MEXCers😁
it's a pleasure to be here. This is James Song, head of business development at MEVerse!
Questions from community:
Question 1:
Mia: What is MEVerse? Can you share with us more in detail?
James: MEVerse is the most optimum blockchain metaverse platform that allows users to explore a new form of entertainment. The joy of watching, feeling, and relating together is the core value that we pursue.
We developed a layer-1 blockchain mainnet with core blockchain technology like Level Tree Validation, Parallel Sharding, Independent Multi-Chain Structure, Block Redesign, and PoF(Proof-of-Formulation), its consensus algorithm.
basically, we aim to become the blockchain metaverse entertainment platform, so that we can provide various fun stuff to you guys!
Question 2:
Mia: What triggers you to launch MEVerse? What are some of the real-world problems/ pain points that MEVerse aims to solve?
James: We aimed to solve existing mainnet platforms' problems, such as slow speeds, scalability limitations, and expensive fees, and provide a flexible development environment.
That's how we all started. We were able to launch a high-performance mainnet and we are now ready to on-board DApps in our mainnet. We call DApp a 'MApp' instead in our ecosystem though, MApp stands for MEVerse+DApp and also can relate to Metaverse+DApp, ME+DApp.
We wish to play a significant role in blockchain industry to lead commercialization of blockchain in our daily lives and foster our new lives in Metaverse.
Blockchain can be difficult for all, but we wanted to provide FUN blockchain usecases with ease:)
Question 3:
Mia: I believe our community also want to know more about #MEV token. What is the role of the $MEV token in MEVerse? Would you tell us more about its tokenomics?
James: MEV token plays as a key governance token in MEVerse ecosystem. MEV is used to form a mining node on MEVerse mainnet and also as transaction fees in our network.
MEV can play as many roles as other mainnet governance coins once the ecosystem is settled with various usecases such as Defi, Entertainment.
As there will be various entertainment usecases in MEVerse, MEV token is necessary to enjoy all contents!
Question 4:
Mia: Are there any exciting news or updates with regards to MEVerse that you would like to share with MEXCers?
James: We are just on time! 🙂
MEVerse will be launching its own AMM Dex and bridge. Dex will be MEVerse's first usecase utilizing MEVerse mainnet. Users will be able to bridge assets from BSC (such as BTCB, ETH, USDT, USDC), Polygon, Klaytn, Ethereum to send to MEVerse mainnet.
You can yield farm, join launchpad, join P2E games and etc.
Bridge will be launched on 25th April and Dex will be live on 2nd May!
If you are a Defi user, you can easily ship your assets to MEVerse mainnet and participate in mining by providing liquidity. If you dont want to provide liquidity, there is an event that users can just lockup their 500 USDT to receive MEVerse Genesis NFT!
MEVerse Genesis NFT will provide various benefits such as cheeper swap fee, whitelist for NFTs and games that will be launched on MEVerse.
Since this is just a beginning of MEVerse ecosystem, I am sure there will be a lot to enjoy once you join! You can now easily add network on metamask!
Network Name: MEVerse Mainnet
New RPC URL: https://rpc.meversemainnet.io/
Chain ID: 7518
Currency Symbol: MEV
Block Explorer URL: https://www.meversescan.io/
Question 5:
Mia: If you were to summarize your project in ONE word, what would it be? Why?
James: This is the hardest one 😩 haha.
I would say 'Metaverse' but the meaning of Metaverse can be broad.
To be more specific, I would say 'Entertainment'!
Free-asking Session
Q1. Can you give an overview of your Tokenomics, and the UTILITY of Token?
James:
As I mentioned earlier, MEV plays as mainnet governance coin.
For example, you pay ETH for gas fee to use DApps on ETH.
You will need MEV to use MEV network as well. but much cheaper and a lot faster.
As there will be more MApps(MEVerse DApps) in our ecosystem, MEV will be the key currency for all services!
Q2. Where i can buy such token and when such token will be listed sir ?
Please share some roadmap and whitelist of your project ?
James:
MEV token can be traded at MEXC Global, Bithumb Korea, Coinone and Digifinex.
There will be continuous launch of entertainment usecases such as P2E games and MApps. It will start from our Dex launch (May 2nd). We will be launching more than 5 use cases before the year ends!
Q3. NFTs is hot trending now, Do you have a play to have NFTs in your platform? If so, can you tell us the plans of your project in NFTs?
James:
NFT is certainly one of hottest trending now.
We will also launch NFTs and NFT Marketplace in our MEVerse Dex!
We have a cross-chain bridge with BSC, Polygon, Klaytn, Tomochain, so we can also bridge NFTs to utilize NFTs in various networks!
Q4. What achievements have been obtained during the project? are there any unfulfilled achievements in the past year?
James:
Largest achievement would be our mainnet launch.
and unfulfilled achievements are filling our mainnet with many MApps.
We are now ready to onboard many MApps into our platform!
In other words, we just finished building a tower, and we are now ready to welcome users and stores(MApps) to enjoy our platform :))
Q5. why choose ENTERTAINMENT ? [2890]
James:
because everyone loves entertainment!
From sports to games, web cartoon, movie, and more!
MEVerse will onboard various MApps starting with P2E Game! Hope you can enjoy 🙂
Follow us:
Medium: https://medium.com/mexcglobal
Telegram: https://t.me/MEXCEnglish
MEXC trading: https://t.me/MEXCTradeofficial
Twitter: https://twitter.com/MEXC_Global, https://twitter.com/MEXC_Updates, https://twitter.com/MexcResearch
Facebook: https://www.facebook.com/mexcglobal
Discord: https://discord.gg/nc6Jfwn3ap
Instagram: https://www.instagram.com/mexc.globa
Trying to find MEXC AMAs recaps?
It's easy! Explore them in a special section of our MEXC Global blog. Find insights for other recently listed projects at MEXC like MEVerse.
Start your travel on MEXC Global