In this Telegram AMA recap, you'll find insights about the Rare FND project. In an event hosted by SenHo from MEXC Global, you will meet Ryan Howells (CEO)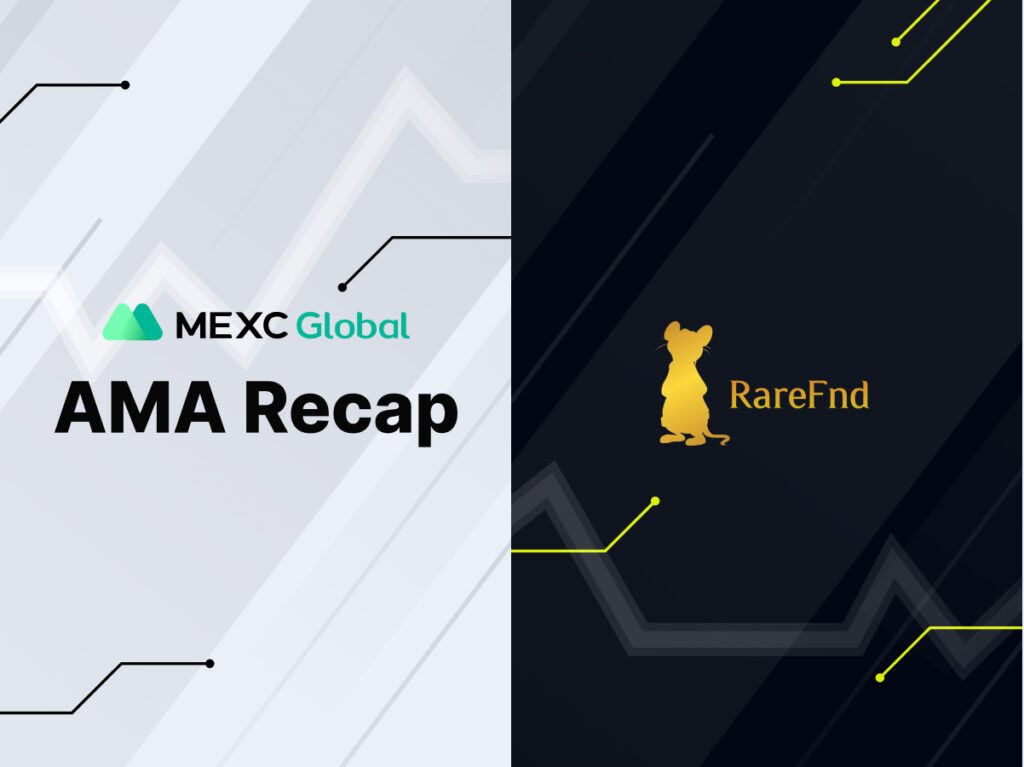 Introduction:
Ryan Howells: I am founder of The Rare Antiquities Group based in Dubai, UAE.
Rare FND is a new token as part of our Rare ecosystem.
Under the Rare Antiquities group we have multiple business incorporated in the UAE. Our Rare Antiquities Software Design house is incorporated in DED Dubai which is where we first started.
We initially started the development of a true fractionalization platform that enables to configure and fractionalize pieces of art worth millions making it accessible to everyone no matter where you are in the world or what budget you have.
This is not to be confused with tokenization where shared ownership is distributed as tokens.
Fractionalization allows us to distribute shared ownership as individual NFTs.
This technology is what forms the technology behind our latest token in the ecosystem… Rare FND which is now listed on MEXC
This Rare Group structure includes the incorporation of 4 additional companies across Dubai and Abu Dhabi for our NFT Marketplace, MetaVerse, Dex and now our crowdfunding platform which is our Rare FND company.
Rare FND utilizes components from all the technologies we've already built, using fractionalization for crowdfunding so that upon a successful crowdfunding campaign we are able to distribute NFTs to contributors.
We also use a new technology called steganography. One of the first times in 15 years since I graduated that I could put my Computer Forensics degree to work.
Steganography is the act of hiding an image inside another. We use this for NFTs and hide images inside the NFTs which can only be revealed with the encryption key.
We used this for art to encrypt the Certificate of Authenticity inside each and every NFT fraction even if the NFT only showed a pixel or 2 of the piece of art.
We have then implemented this into our crowdfunding platform to allow charities and startups to deliver their incentives or rewards through encrypting them inside the NFTs upon a successful crowdfunding campaign.
Questions from community:
Sen ho 1.What is Rare FND ? Can you share with us more in detail?
Ryan Howells: Rare FND is an end to end crowdfunding platform working with the Dubai government and other big partnerships across the charity and startup space.
Through the benefit of our token…we pay startups to crowdfund with us…not the other way round.
The likes of Kickstarter and Gofundme me take a commission on all funds raised.
If I wanted to raise $20k for my startup then I'd actually have to raise $25k if I were to crowdfund on Kickstarter due to the fees and commission they take. Even though I only needed $20k to start my new business.
We are the complete opposite.
We are actually running a marketing campaign whereby we pay startups to crowdfund with us.
So for the startup looking to raise $20k… we'd start them off on 10% towards their crowdfunding target leaving them with just $18k left to raise.
Furthermore we also implement automated staking on all donations and contributions.
So that means they may need even less to raise as all amounts contributed are staked at 240% APY.
Upon hitting the crowdfunding target the funds are vested so they can't sell all the FND raised in one go.
This means that as long as we continue to onboard charities and startups the price of FND will only ever go up.
Sen ho 2: What triggers you to launch Rare FND ? What are some of the real-world problems/ pain points that Rare FND aims to solve?
Ryan Howells: We actually started a project with the Dubai government for a charity by the name of One Billion Meals under The Rare Antiquities Token.
So we developed a way of donations being made towards an NFT and that NFT being fractionalized with each individual NFT fraction containing an incentive from the one of the One Billion Meals charity partners such as a cinema ticket for donating up to $20.
Unfortunately the UAE ruler passed away and the new ruler funded the remaining $9 million that they were looking to raise through our platform so we were left with a platform to raise funds for charity.
As a result FND was born.
FND resolves a number of issues crowdfunding campaigns face on mainstream platforms.
1. Is marketing…we have partnered with some of the biggest influencers across the crypto space and will be adding to this over the coming weeks with some of the biggest philanthropists in the world.
These partnerships have a condition that they must post on social platforms about any charities or startups that use our platform for their crowdfunding campaign. So we instantly assist them with their marketing efforts and exposure.
2. Is lack of planning and unrealistic timelines.
When a crowdfunding campaign is submitted then it undergoes a strict compliance check for a number of factors.
One of those factors is the business plan and use of funds.
The use of funds is then used as a vesting schedule for the release of funds if the campaign is successful.
But the project plan shows that that have conducted the necessary to make their project a success.
As a result the campaigns launched in our platform should have a high chance of success.
We'll also be adding additional help and services from our partner incubators whereby we can help startups with this aspect too.
Sen ho 3: What is the role of the $FND token in Rare FND ? Would you tell us more about its tokenomics?
Ryan Howells: $FND is a zero tax token used for fundraising for charities and startups.
In the front end it will appear as though USD is being raised directly but what actually happens in the back end is FND is being bought and put against a staking smart contract.
For those that know how to buy FND they can connect their wallet and pay directly using FND.
For those who don't know about crypto then they can make payments with their credit/debit card and FND is bought in the back end.
Sen ho 4: Are there any exciting news or updates with regards to Rare FND that you would like to share with the users?
Ryan Howells: Sure.
The most recent is hot off the press as of this morning.
We've partnered with Zilliqa to build a city in their Metaverse.
We've just had a 2 hour long workshop to establish the way FND will be incorporated will be something along the lines of us hosting Startup Expos that are running 24/7 whereby startups have their own stand in one of our buildings whereby they can demo what they're looking to achieve with their startup.
That's just one of the things we'll be doing in the Metaverse.
Other things include Charity events whereby fundraisers can be conducted in our Rare City and many other exciting things that haven't been done before.
We're a very innovative tech company so you can be sure that what we're doing will have never been done before.
We have already partnered with some high profile charities and incubators in Dubai with more to be announced over the coming days.
The best way to keep up to date with our constant new partnerships and what work we're doing with the Dubai government is to join the telegram at https://t.me/RareFnd
Sen ho 5: If you were to summarize your project in ONE word, what would it be? Why?
Ryan Howells: INNOVATIVE
Innovation is key at the Rare Antiquities group and we are always looking to be the first to develop a new idea or a new technology.
Being the 2nd to do something doesn't have anywhere near as much impact.
Everything we have developed to date and everything going forward we will have been the first to do which will set us up as the market leaders in these areas for many years to come.
It is with this mindset that has seen us partner with some of the most well known names across all industries in the past 6 months and something that no one else coming after us will be able to achieve.

Free-asking Session
Q1. Hello On your website you don't mention that you have done any internal or external audit of your smart contract, so can you give us details if you have done any audit before? And in case you haven't, would you plan to perform any review of your smart contract in the near future ?
Ryan Howells: Audit was completed by our Rare Group partners, Hacken.
The audit report for Rare FND can be viewed at:
Downloadable at:
We are also audited twice a year by the Dubai government for our business activities to make sure we're not conducting business outside of what the company has registered for.
We then also have financial audits on an annual basis.
Q2. Where I can get the latest updates or more information about the project?
Ryan Howells: 💥 Rare FiND, FuND!
🥇 1st end-to-end charity&crowdfunding crypto platform
📈 We pay projects to crowdfund
📊 Incorp in Dubai
💯 Dubai gov onboard
🔐 Hacken audit Lossless protocol
🚨 0% tax
🇬🇧 https://t.me/RareFnd
Q3. Hello Where can I currently buy Token?
Ryan Howells: Buy on Pancakeswap at:
MEXC at: https://www.mexc.com/exchange/FND_USDT
Q4. When will your tokens be listed on the exchange and which exchanges do you plan to list on in the future?
Ryan Howells: Currently on MEXC, then crypto.com and Binance in the next few weeks
Q5. How did you get the community involved in developing the project? and how do you build a strong community to grow globally?
Ryan Howells: We started developing the product through our partnership with Binance Charity Foundation and and the Dubai government.
Trying to find MEXC AMAs recaps?
It's easy! Explore them in a special section of our MEXC Global blog. Find insights for other recently listed projects at MEXC like Rare FND
Start your travel on MEXC Global