Rags to Richie is a collection of 3333 unique NFTs with features and backgrounds designed by Alec Monopoly in person. Holders will have the possibility to participate in a winnable NFT game, a metaverse club, and a digital art gallery. And still more, holders have access to in-person events and over $1 million in prizes. A real key to the other dimension of the art world. This article explores the core features of Rags to Richie and how one can purchase Rags to Richie by first purchasing ETH as a base token on the MEXC Exchange.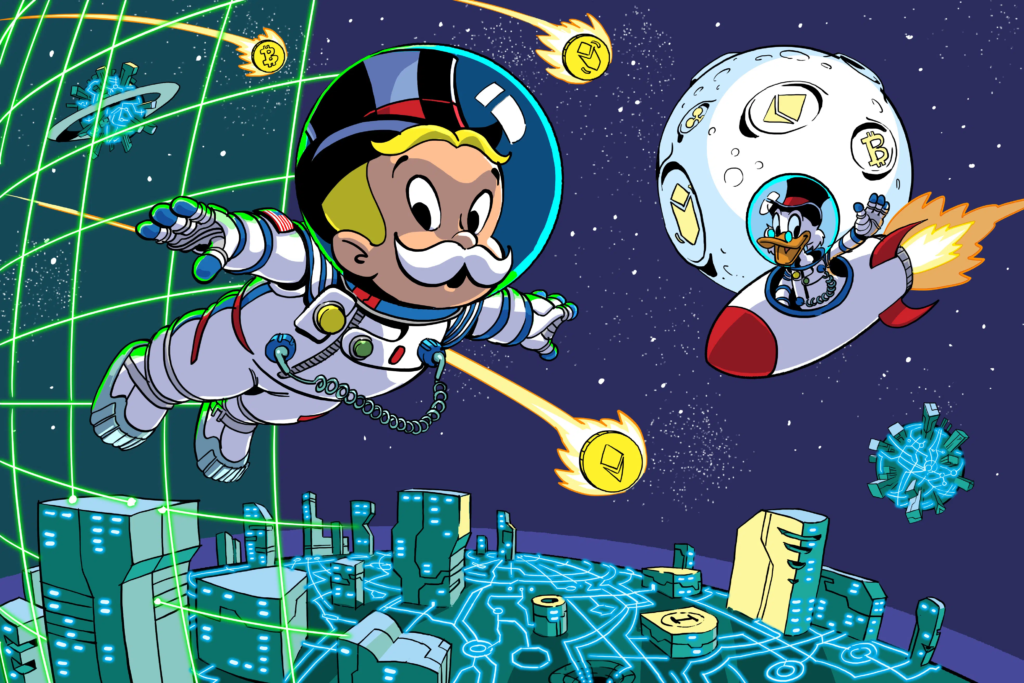 What is Rags to Richie by Alec Monopoly?
The Rags to Richie series consists of 10,000 unique NFTs with features and backgrounds drawn by Alec Monopoly. NFTs provide utility; holders have the opportunity to participate in NFT games, Metaverse clubs, and digital art galleries. Additionally, holders can participate in live events and win over $1 million in prize money.
Alec Monopoly is a street artist born in 1986 in New York City. He is known for his immersive appropriation of pop culture cartoons, such as the famous Monopoly board game. He is now considered one of the greatest interpreters of contemporary art and street art of the moment. His works are a must for any self-respecting collector and can be found in the world's greatest art galleries.
How to buy Rags to Richie?
To purchase Rags to Richie, users should first purchase ETH on MEXC Exchange following the steps listed below:
Log in to your MEXC account and click [Trade]. Click on [Spot].
Search "ETH" using the search bar to see the available trading pairs. Take ETH/USDT as an example.
Scroll down and go to the [Spot] box. Enter the amount of ETH you want to buy. You can choose from opening a Limit order, a Market order, or a Stop-limit order. Take Market order as an example. Click [Buy ETH] to confirm your order. You will find the purchased ETH in your Spot Wallet.
After purchasing your desired amount of ETH, you can send them to your Metamask wallet and then purchase Rags to Richie on OpenSea.
Recent Rags to Richie Price & Performance
Over the last 90 days, the collection Rags to Richie has an average price of 0.7597 ETH and an average transaction volume of 1,522.48. In September 2022, Rags to Richie accumulated a total transaction volume of 1,500 ETH.
Interested in buying NFTs? We have more!
MEXC not only provides access to the world's most popular tokens and new GEMs, but also offers unique assets & tools! Visit the hot projects section to find more hot tokes that were listed already. If you would like to know more about crypto trading itself visit MEXC Academy.