In this Telegram AMA recap, you'll find insights about the BikeRush project. In an event hosted by Sebastian from MEXC Global, you will meet Harry, CTO of BikeRush.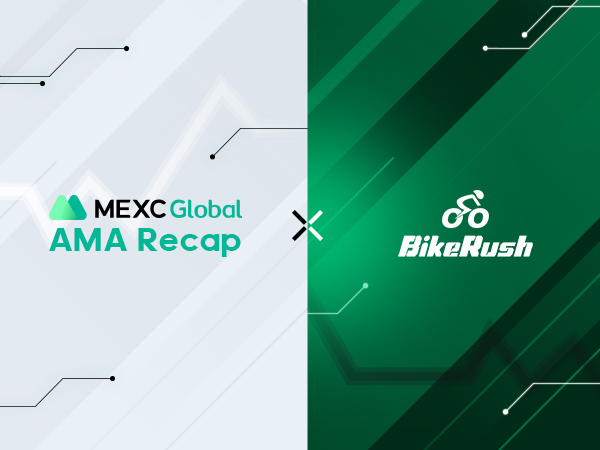 Introduction:
Harry: hello everyone
Website: https://bikerush.io
Twitter: https://twitter.com/BikeRush_
Discord: https://discord.gg/bikerush
Telegram: https://t.me/bikerush_official/ https://t.me/BikeRushgroup
Questions from community:
Question 1:
Sebastian: What is Bikerush? Can you share with us more in detail?
Harry: We are a move-to-earn health and fitness DAPP. Users equipped with Bikes move outdoors to earn tokens. The project aims to inspire millions of people to a healthier lifestyle, connect them to Web3 and combat climate change.
BikeRush offers diverse in-app gamification features such as bike leveling, bike-minting, and Parts/Mystery Boxes. BikeRush has a built-in wallet, swap and marketplace that allow non-crypto users to onboard BikeRush.
Sebastian: Wow, sounds fun! What a cool way to encourage people to exercise more! I'm sure cyclists will be very excited!
Question 2:
Sebastian: What triggers you to launch Bikerush? What are some of the real-world problems/ pain points that Bikerush aims to solve?
Harry: BikeRush integrates various health concepts such as fitness, green environmental protection, and play earning. With Game-Fi, BikeRush aims to drive tens of millions towards healthier lifestyles, fight climate change encourage low-carbon travel and connect the fitness public to Web 3.0, while building a durable platform that fosters user-generated More Web 3.0 content.
Sebastian: Amazing. I agree that climate change is something we must all be aware of. It's fantastic that you guys are encouraging a healthy lifestyle, that also promotes a lower carbon footprint🍃
Question 3:
Sebastian: What is the role of the $BRT token in Bikerush? Would you tell us more about its tokenomics?
Harry: The game use dual-currency mechanism, Game Token (BST) and Governance Token (BRT).
BST: bike maintainance, upgrade , unlock slots, open packages, upgrade parts, toke withdrawal fees, invite rewards, etc.
BRT: community governance, repurchase and burn,cost in the game, etc.
Sebastian: Dual-currency, that is very interesting. I'm sure your users will find them to be very useful 🙂
Oooh, upgrading of parts too! That sounds really fun
Question 4:
Sebastian: Are there any exciting news or updates with regards to Bikerush that you would like to share with the users?
Harry: In June, we will also launch ios and android apps. In July, we will open the bike NFT transfer function, as well as cycling activities. It is planned to open the rental function in August.
Question 5:
Sebastian: Last of all, If you were to summarize your project in ONE word, what would it be? Why?
Harry: Bike is the most effective whole-body aerobics. less harm to the human body compared with other ways.
BikeRush bicycle design includes City Bike (3-8KM), Mountain Bike (6-20KM), Road Bike (8-40KM), Future Bike (3-40KM)
In product design, bikerush does not restrict cycling, but lowers the user's threshold for use by reducing the speed of the bicycle. Even if there is no bicycle, ordinary users can still obtain benefits through Move (walking and running).
Free-asking Session
Q1. [2828] Do you allow suggestions and feedback from the community? Are we allowed in decision making, do you put community into consideration ?
Harry:
At present, there are more than 100,000 users in our community. If users have questions, they can give us feedback on our discord and Telegram. There are also feedback channels for questions and suggestions on our software homepage. We have also opened an official customer service email. .
Q2. [2828] How can users stay updated with this project? Are there channels, including local communities where users can get the latest updates? I love nabox @Harryhe89
Harry:
Website: https://bikerush.io
Twitter: https://twitter.com/BikeRush_
Discord: https://discord.gg/bikerush
Telegram: https://t.me/bikerush_official
This is the link to all our communities, you can ask any questions there, and there are global multilingual channels.
Q3. [2828] How could I own NFT and what is the benefit of it? Do you have any guide for beginners?
Harry:
Bikerush NFT can be purchased in our dapp or app. You can use the browser in the wallet to access the address: https://app.bikerush.io, the official website also has an android version to download. For more information, please follow our project official website: https://bikerush.io
Q4. Can you list 1-3 killer features of this project that makes it ahead of its competitors? What is the competitive advantage your project has that you feel most confident about?
Harry:
Our competitor is Stepn, but it can only walk or jog. Our BIKERUSH can walk, run, ride a bicycle, and an electric car. Our designs can cover many different types of users.
Q5. [2828] Hello @Harryhe89 How many team members do you have? Do they have enough experience in the blockchain field? Do they have any experience on working in crypto and non-crypto project?
Harry:
The project team is located in France, team has 18 employees, all of them have experience in development of mobile game projects and blockchain game
Trying to find MEXC AMAs recaps?
It's easy! Explore them in a special section of our MEXC Global blog. Find insights for other recently listed projects at MEXC like BikeRush.
Start your travel on MEXC Global