In this blog interview, you'll find insights about the HistoryDAO project. In an event hosted by MEXC, you will meet HistoryDAO team.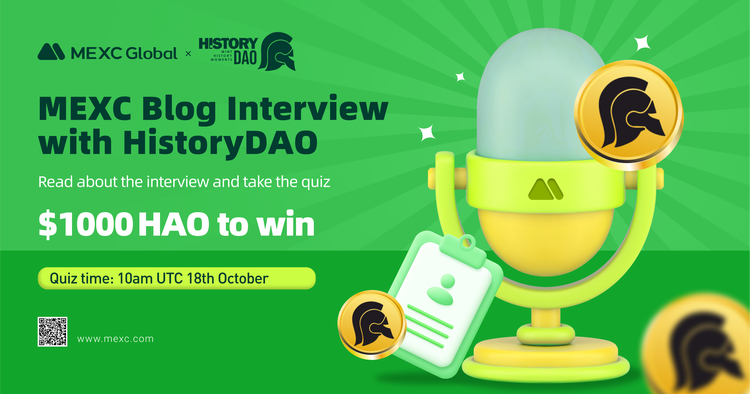 MEXC:First, can you introduce HistoryDAO?What are the core features?
HistoryDAO Team:HistoryDAO is where the world records history in Web3. The world comes together on the HistoryDAO platform to mint historic and current events immutably on the blockchain to be preserved as HistoryNFTs. The decentralization and democratization of history now lies in our hands with blockchain and NFT technology, governed by we, the DAO, the people.
On HistoryDAO, users can mint any moment in current events or history as a History NFT. Use headlines, articles, images, and more to mint these moments.
You can also crowdfund your NFT collection through our INO feature, where you can create a series of History NFTs to track major events and issue them to other users.
Users will also be able to participate in DAO features such as project governance, community voting to promote and award excellent History NFTs, voting to remove inaccurate History NFTs, and more
We've also developed a platform marketplace for the trading of History NFTs
MEXC:How does HistoryDAO work?
HistoryDAO Team:The flow works like this: Users mint HistoryNFTs to record current events and history. They can then buy, sell, or trade those HistoryNFTs on the marketplace. Additionally, our DAO community will vote on the best HistoryNFTs, which will get promoted on the HistoryDAO website and socials. Those winning HistoryNFTs will be eligible for rewards.
Users can also issue their own HistoryNFT collection with HIstoryNFT Series! Other users can mint those individual HIstoryNFTs. This is the INO process.
The treasury, which is controlled by the DAO, will adjust marketplace fees and rewards as they see fit. That sort of completes the HistoryDAO ecosystem and business model.
MEXC:How do ordinary people use HistoryDAO? What can they get from it?
HistoryDAO Team:Mint HistoryNFTs to become a part of History. They'll also give you a chance to make some profit, if you create great HistoryNFTs that get rewarded by the community.
Users now also have the power to issue their own NFT collection through our INO feature
Following our socials and being a part of our community means you'll get to see the latest news developments around the world as users share that info and mint it directly as HistoryNFTs.
MEXC:Why choose the historical NFT trading platform instead of the extensive NFT trading platform? Will the market size be limited?
HistoryDAO Team:Our marketplace and project is limited, but not so limited as you might think.We cover current events and history, which actually covers a lot of things. Sports, music, literature, art, politics, eSports, space exploration, technology, cooking- anything that's newsworthy!
MEXC:Does HistoryDAO face art history or truel history? How to ensure the authenticity and artistry of history?
HistoryDAO Team:Yeah it's a good question. Copyright and authenticity will come up a lot. We've reserved a portion of our token allocation for litigating these issues, when they arise. But the blockchain is also great at sorting and organizing information, as well as making it transparent and trackable. Motivated entities will be able to sort out these issues somewhat easily, we think.
MEXC:What is the current NFT transaction volume of HistoryDAO?
HistoryDAO Team:HistoryDAO have 1000+ holders among 800+ addresses.
HistoryDAO community NFT Total Supply of 15k+ and unique address hitting 8k+ on that.
Users are minting HistoryNFTs fast and hard lately.
MEXC:Will HistoryDAO issue NFT? What are the rights and interests of holding its NFTs?
HistoryDAO Team:Yes! We've issued two community NFT campaigns recently.We'll also work with some IPs to issue NFT using HistoryDAO's INO feature.
The HistoryDAO community OAT is an exclusive community OAT based on Project Galaxy. It has four OATS: Helmet, Shield, and Morgenstern/Mace. All three can be combined to form the Gladiator OAT.
1)The OAT gives you $HAO token private sale access
2)$HAO airdrop whitelists
3)Priority standing for partnership activities/giveaways
4)Priority for community ambassador elections
The HistoryDAO OAT can be obtained by completing the tasks on this Project Galaxy Campaign
We've also launched a limited collection of 1000 History Leader NFTs on Galxe. The NFTs represent the dialectic, a form of dialogue established by Plato that intends to discuss and investigate the truth between viewpoints/individuals. They are Explorer, Discoverer, Researcher, and Historian.
1)First, as humanity, we must explore. 600 HistoryDAO Exploration NFTs are minted for users who join HistoryDAO social media channels. 
2)Discovery comes from exploration. 300 HistoryDAO Discovery NFTs are minted for users who interact with AMAsDetails on how to claim these NFTs are all listed  in our History Leaders NFTs article!
MEXC:DAO is still very early in the industry, and many DAO projects eventually turned into meme projects. What do you think of this?
HistoryDAO Team:Crypto stuff can be pretty lighthearted. There was a goblins NFT project where everyone just got on Twitter Space and talked like drunk, trash goblins and the floor price blew up for a while. So I think not everyone takes themselves super seriously, and we're all trying to have fun and enjoy what we're doing.
Our project has some passionate contributors, because there's a category for everyone. And some people (myself first and foremost, a literature and history major) are just excited to do something as simple as follow the news. But all the features, categories, interactions, community activities…all that stuff that we offer on top of just the Web3 news cycle, I think that's what makes our DAO more interesting and engaging than most.
MEXC:How to make DAO longer? What problems can DAO solve for centralized organizations?
HistoryDAO Team:Staking for voting on NFTs for the sake of curating them.
Let me clarify- We're working on a feature where users can stake $HAO on top of HistoryNFTs that they like, are quality, and that they want to see succeed. Those HistoryNFTs then go through rounds of competition, and as they advance, both the creator and stakers are eligible for $HAO rewards. So we're creating a DAO voting system, with incentives, that pushes the best content to the top of the platform. That's one way we're trying to extend the DAO lifecycle.
MEXC:But DAOs also have inefficiencies, how does HistoryDAO solve this problem?
HistoryDAO Team:60% of the internet is from unpaid contributions from regular users. 40% is commercial. That's a way different skew than I would have guessed, honestly. But what it means is that we're all driven by more than just the financial incentives, we're driven by our passions.
And people who follow sports, literature, art, music, space exploration, all these different things- they follow them fanatically. And to be able to watch them unfold live, on the blockchain, to be preserved immutably as tradeable HistoryNFTs, I think that'll help us change the DAO game. We just have involved, engaged users who put time into this project.
MEXC:What is the next plan for HistoryDAO?
HistoryDAO Team:$HAO coin just launched! Now launching DAO features. In the rest of the year we'll work on adding support for more blockchains (currently ETH/BSC supported), and keep collaborating with big names in Web3 and otherwise to bring this project to the attention of as many people as possible.
Trying to find MEXC blog interviews?
It's easy! Explore them in a special section of our MEXC blog. Find insights for other recently listed projects at MEXC
Start your travel on MEXC