In a world where cryptocurrencies soar and plummet like roller coasters, Cardano (ADA) holders find themselves on a bumpy ride. A recent report from data analytics firm IntoTheBlock has exposed a disheartening truth: a staggering 80% of ADA holders are currently wallowing in losses.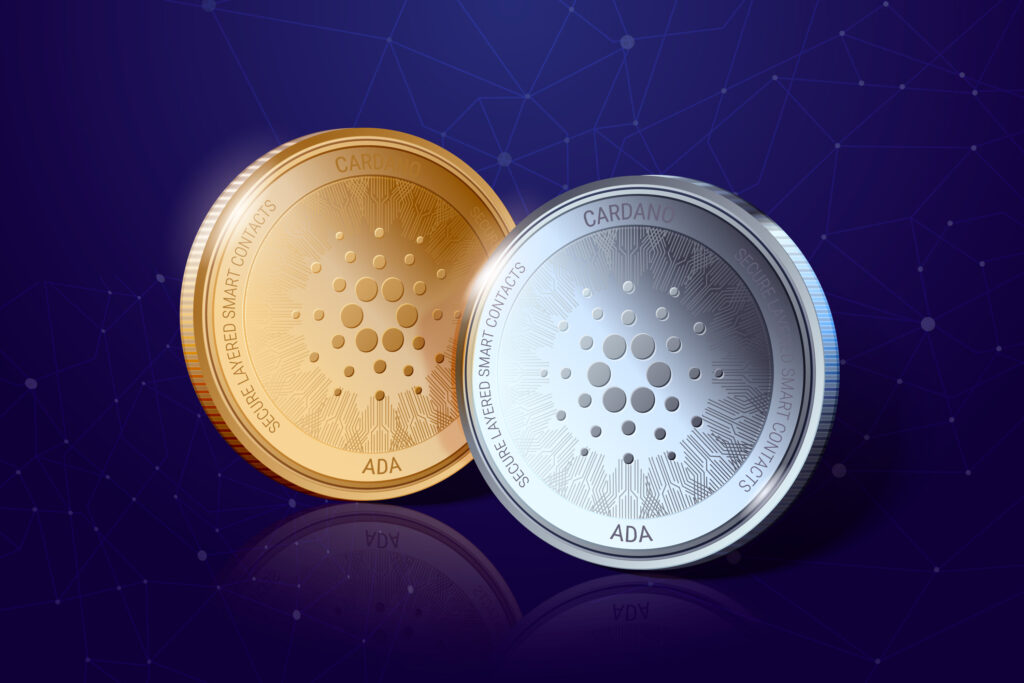 Approximately 3.44 million addresses, holding a combined 26.85 billion ADA, equivalent to a jaw-dropping $9.48 billion at current prices, find themselves caught in this predicament. Only $1.66 billion worth of ADA manages to stand tall, desperately clinging to profitability amid a sea of red.
In a classic tale of "buy high, regret later," those adventurous souls who purchased Cardano tokens between the range of $0.374 and $0.456 are now desperately searching for a lifeline. A whopping 743,560 addresses joined this ill-fated club, clutching a hefty 13 billion ADA in their digital wallets.
What adds insult to injury is the cruel timing of their entry. Just as Cardano reached its local peak and inspired dreams of financial glory, fate decided to pull the rug out from under them. A week later, they were left stranded in the vast desert of losses, which have only deepened over the past four weeks.
Cardano Marches Onward With Node 8.0.0 Update
Despite the gloomy atmosphere in the ADA market, the Cardano project refuses to be swayed by setbacks. With the release of Node 8.0.0, Cardano takes a giant leap forward, signaling its unwavering commitment to progress.
This milestone update acts as a crucial stepping stone towards the much-anticipated Conway ledger era, affectionately known as Voltaire. While Node 8.0.0 doesn't bring Voltaire's exciting features to the table just yet, it lays the groundwork by introducing transaction formats and the ability to hard fork into the era. Voltaire aims to empower the community and further decentralize the network.
This update isn't just about fancy bells and whistles; it's about enhancing the very essence of Cardano. With improved fairness in mempool logic, SPOs can bid farewell to unfairness and usher in a new era of transparency and control. But wait, there's more! The update also blesses SPOs with new query commands, providing them with enhanced visibility and reign over the mempool. And as if that wasn't enough, SPOs can now define the network through an environment variable, giving them the freedom to customize and optimize their operations.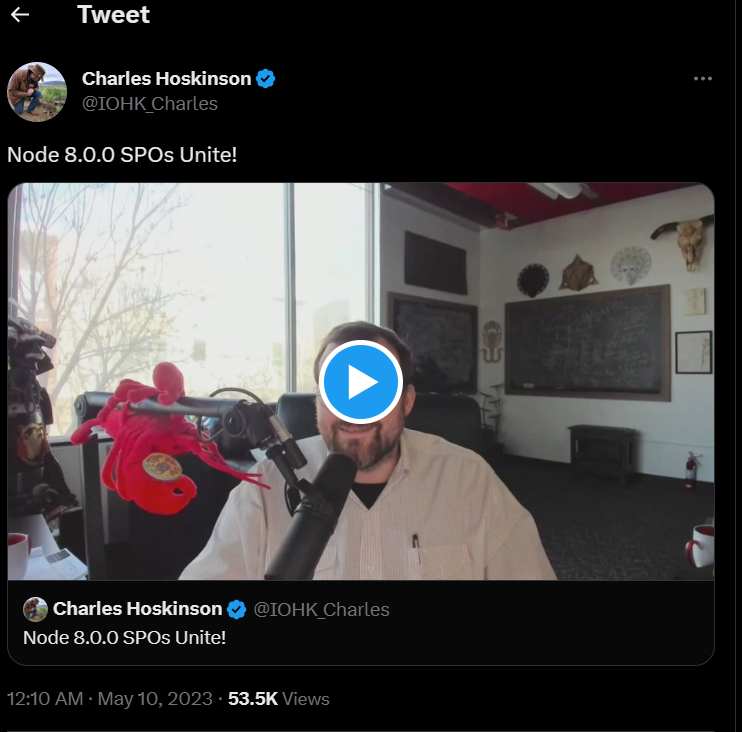 Cardano Inches Towards Full Network Capacity, Anticipating Network Optimization
Sebastien Guillemot, the co-founder of DCSpark, recently shared a tweet that sent shivers down the spines of ADA enthusiasts. He cheekily mentioned that Cardano is a mere six percent away from hitting full network capacity. Once that threshold is breached, brace yourself for a line of transactions waiting to make their grand entrance onto the blockchain stage.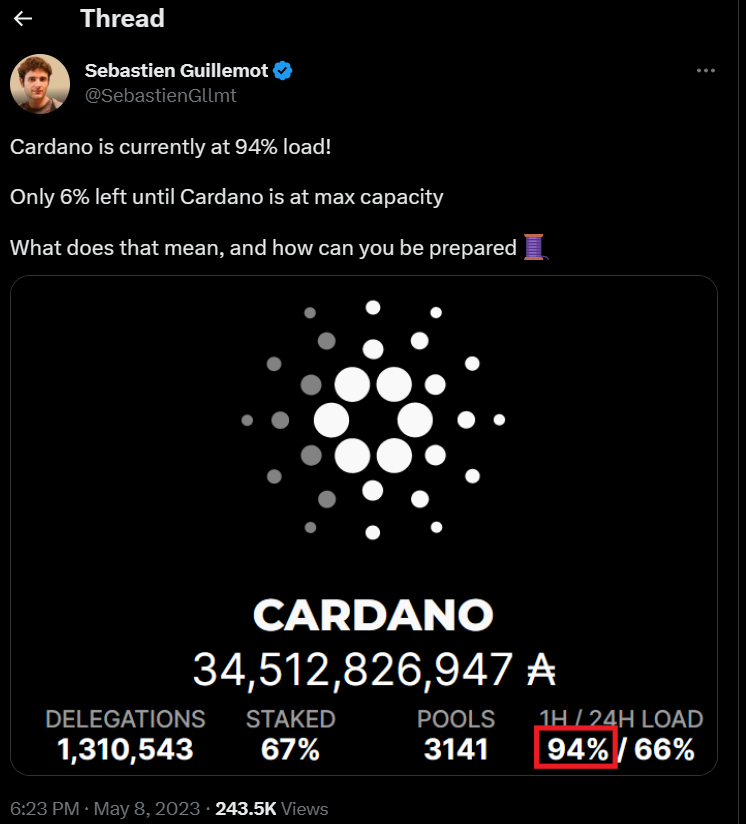 However, Guillemot predicts a silver lining amidst this potential chaos. He envisions a future where stake pools offer priority access to transactions, turning the waiting game into a VIP experience. You'll have the option to splurge and prioritize your transactions, like jumping the queue at a popular amusement park.
ADA Could Go Under
As highlighted earlier, ADA is in a bearish pinch, with the seventh-largest cryptocurrency barely keeping itself from falling below the $0.350 support mark. On the daily chart, we can see a clear bearish trajectory for the cryptocurrency, with more declines likely to come if ADA fails to re-emerge above the $0.380 level soon.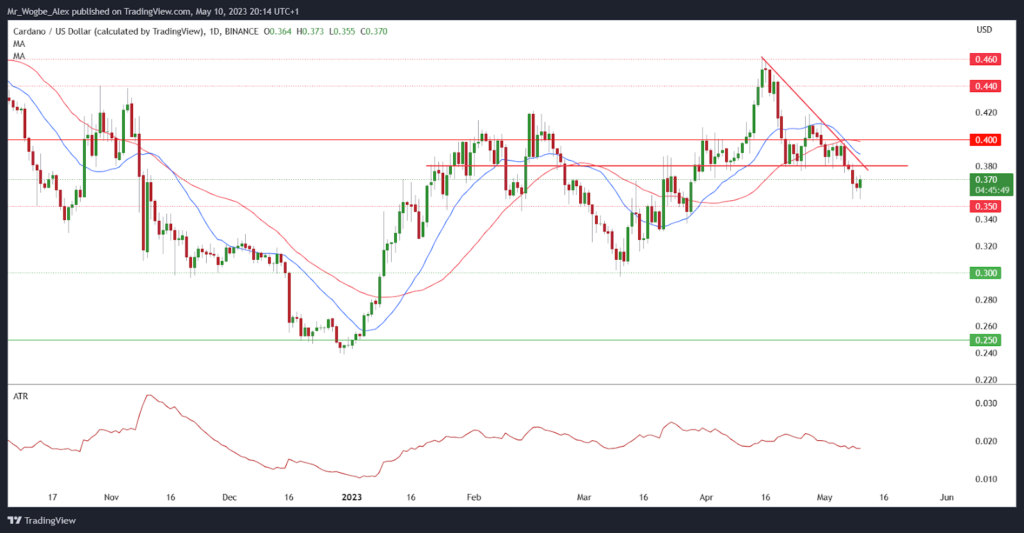 To make matters worse, Cardano has just recorded a critical MA cross, projecting more declines in the near term. This decline comes despite the many positive factors recorded in the Cardano ecosystem recently. One could blame the mood of the general market for this anomaly, as other crypto heavyweights record notable slumps.
ADA Statistics Data
Current Price: $0.370
Market Cap: $12.8B
Circulating Supply: 34.8B
Total Supply: 45B
Market Ranking: #7
Get accurate, winning trading signals: https://learn2.trade/
Best crypto trading bot: https://learn2.trade/crypto-trading-bot