The well-known collapse of FTX, led by Sam Bankman-Fried (SBF) might have a significant impact on US politics. Dozens of congressional candidates received financial support from Sam Bankman-Fried. Most of these candidates are Democrats. After FTX declared bankruptcy last week, it is unclear where SBF's money came from.
According to a report on NBC News, SBF donated about $39.7 million to Democrat causes during the 2022 federal election cycle. This includes the Democratic National Committee, most widely supported political action committee in crypto, GMI PAC Inc. This makes SBF the second largest donor for Democrats. Philanthropist George Soros is the largest donor who spent $129 million on Democrats.
Back in 2020, Sam Bankman-Fried spent $10 million helping Joe Biden to get elected. This makes me curious about the connection between SBF and the Democratic Party. Interestingly, the mother of SBF, Barbara Fried has something to do with Democrats as well. According to a report in the New York Post, she is a law professor at Stanford, and a co-founder of Democratic action committee Mind The Gap, which has raised $140 million to help Democrats to win the election.
Elon Musk's Controversial Conspiracy Theory
Twitter's new boss Elon Musk has been speculating if SBF was laundering money for Democrats on FTX exchange. Connecting members of Bankman-Fried's family and business partners to the World Economic Forum, a target of the populist right. These hazy and flimsy arguments, according to Musk, are sufficient justification for mistrust. Musk also said if SBF helped in money laundering, it is "a question worth asking,' tweeted on Monday.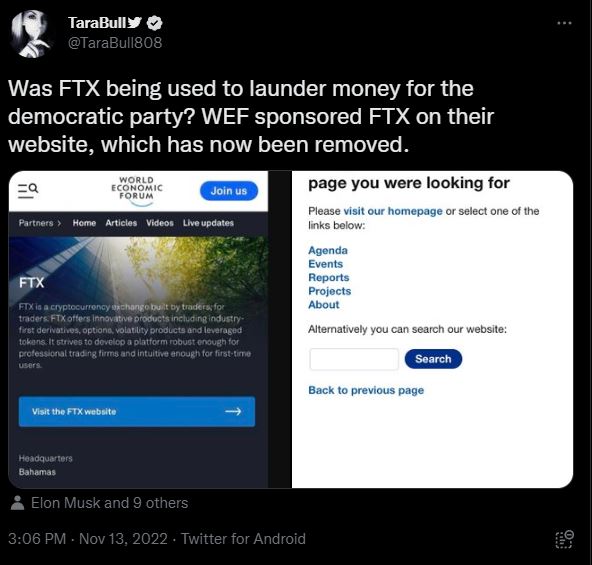 Closing Thoughts
The connection between the Bankman-Fried family and the Democrat party is quite tricky here. I would have never imagined a used-to-be crypto billionaire would have any connection with a political party, and potentially be involved in illegal activities besides using users' funds.
Currently, it is just rumors and we don't know the truth, probably for a long time. I am excited to learn what exactly happened with FTX and what SBF has done in the past that cause the current situation. Don't forget to stay tuned in cryptocurrency and to check out our daily industry news on MEXC!