In this Telegram AMA recap, you'll find insights about the Metavault.Trade. In an event hosted by SenHo from MEXC Global, you will meet AJ Crypto (Marketing Team).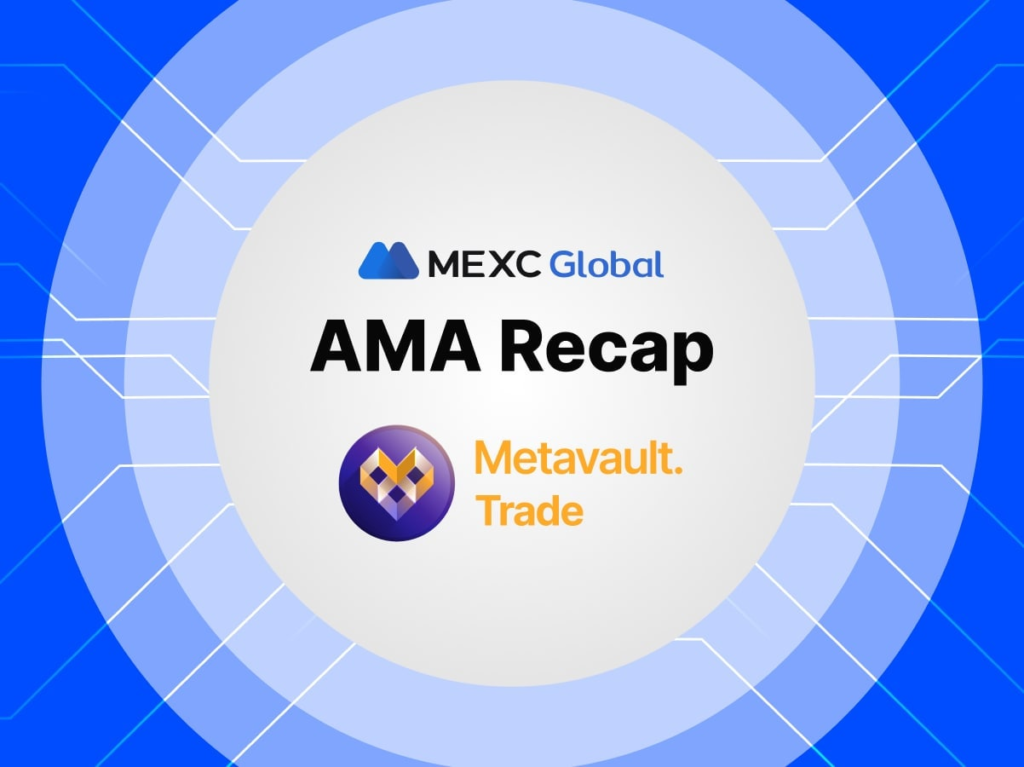 Introduction
Sen Ho: Today, we're honored to have AJ Crypto, from Marketing Team (Metavault.Trade) in our community to give us a more intuitive introduction to their unique project.
AJ Crypto: Hello everyone, my name is Dorian but I go by AjCrypto since I started crypto back in 2015. My background is business development and I have degree on International business from an Ivy League here in US. I have been with MetaVault team for quite a while now, since August 2022 and my position is Marketing and Business Development.
Questions from Community:
Sen Ho: 1. What is Metavault.Trade ? Can you share with us more in detail?
AJ Crypto: Metavault.Trade is a next generation Decentralized Exchange, designed to provide a large range of trading features and very deep liquidity on many large cap crypto assets. Spot trading with swaps is offered on one side, while perpetual futures are offered on the other side including leverage trading. Whether visiting the platform as a trader or an investor, both are brought into a profitable symbiosis through a unique and rewarding trading experience.

Sen Ho: 2. What triggers you to launch Metavault.Trade ? What are some of the real-world problems/ pain points that Metavault.Trade aims to solve?
AJ Crypto: Being an exchange that operates in a decentralized manner, we make sure users can trade or invest hassle-free. Our platform doesn't require KYC or 2FA, so we provide accessibility to it for users all around the globe.
The idea of sharing all the platform revenue to his investors / stakers to be a partner not a service provider to his community/investors is what triggered us to launch Metavault.Trade. Technology that is mostly available to whales is now open to small retail investors as well, in a nutshell. This is partly thanks to the low fee structure on Polygon.

Sen Ho: 3. What is the role of the $MVX token in Metavault.Trade? Would you tell us more about its tokenomics?
AJ Crypto: MVX is our utility and governance token. Users of the platform are able to buy or stake MVX. MVX Stakers are earning 30% of platform accrued fees. Staked MVX generates three reward types among them being MATIC, esMVX and MP's (Multiplier points)
The other token is MVLP, which you get if you invest in the liquidity pool, paying out 70% of platform earnings.
You can read about our tokenomics.
Sen Ho: 4.  In such a competitive environment, how do you plan to scale and develop your Metavault.Trade to a greater height in order to reach for the moon?
And how can you differentiate yourself from your competitors in terms of technology?
AJ Crypto: That's a good question Sen Ho. Well, lately we see the demand raising for DEXs.
MetaVault.Trade is open source and decentralized. There are many things that make us stand out, for one it's the 100% of platform earnings that we split up between MVX and MVLP stakers. We also offer more pricefeeds that can prevent liquidations through temporary wicks (Chainlink price-feeds) and allow for a fast and cheap execution of trades with zero price impact.
In terms of growth, Metavault.Trade has been achieving exponential growth rates since its launch in June 2022, acquiring more than 4700 Users. We have several goals to scale and develop on our Roadmap, such as going multi-chain in the beginning of the next year, implementing options, synthetics and forex trading this year in Q4, providing an all-in one platform aiming to be the go-to solution for trading.

Sen Ho: 5. If you were to summarize your project in ONE word, what would it be? Why?
AJ Crypto: Oh wow! That is tough… I'd say Transparent!
The reason why we chose this word is because for us the key importance lies in sharing each and every development with our community. We are building and developing for our community to be able to provide sustainable solutions and sustainable yield for our investors.
I was on some twitter spaces recently and I really liked how Andrew addressed all the concerns regarding the recent events with couple CEX. We try to be fully transparent and honest with our users!
Free Asking Segment
Q1. How many people are involved in this project?
AJ Crypto: We have 9 Blockchain Development Team and 7 Business Development and Strategies.

Q2. Most of the team have worked together in the past and we're from different time zones and different backgrounds
AJ Crypto: Yes, we're audited from TechRate. The audition was done recently. Once we have more developments

Q3. Marketing is a vital for projects to develop faster and a chieve set goals. Do you have a strategy to attract new investors to your platform and keep them long term?

AJ Crypto: We're doing different marketing campagins with different platforms like crew3 and cre8rDAO. Also we will launch a trading competition soon. We're working with different KOLs We're doing different marketing campagins with different platforms like crew3 and cre8rDAO. Also we will launch a trading competition soon. We're working with different KOLs

Q4. Can you show me $MVX token distribution? What are the additional benefits of holding your tokens over those that don't hold $MVX token and is there also any benefits for long term holders?

AJ Crypto: Supply
The maximum supply of MVX is 10,000,000. Minting beyond this maximum supply is controlled by a 28 day timelock, an eventuality that will only be considered if the demands of the protocol necesitate an increase of the supply.
Circulating supply changes are dictated by the number of tokens that are distributed through other DEXs, vested, burnt and spent on marketing.
$MVX allocations are:
1.2 million for marketing, partnerships and community development (not pre-allocated / as reserves behind a 7-day timelock)
6 million reserved for rewards (as esMVX which can be converted over time to MVX)
1 million for liquidity on Uniswap (reserve held in the MVX-Multisig)
300,000 for MetavaultDAO team (as esMVX which can not be converted to MVX)
1.5 million allocated to presale.
Holding $MVX you can stake it and earn 30% of our trading fees.

Q5. How much $MVX hold for participate in Staking? And how much rewards for participating? Any minimum amount hold for reward?
AJ Crypto: There's no minimum on staking and no lock period. At the moment the APR for staking at 36% plus you can have multiple points as well.
Trying to find MEXC AMAs recaps?
It's easy! Explore them in a special section of our MEXC Global blog. Find insights for other recently listed projects at MEXC
Start your travel on MEXC Global