Yearn Finance (YFI/USDT – Trade it Here) a yield aggregator for stablecoins that runs on the Ethereum network. Initially named iearn, Yearn Finance existed because DeFi users found it hard to manually find DeFi applications that gave them the highest interest rates. The protocol of Yearn Finance automates this process by automatically depositing funds into DeFi with the most profitable interest rates. In this article, we will discuss everything you need to know about Yearn Finance plus a guide on how to buy YFI tokens.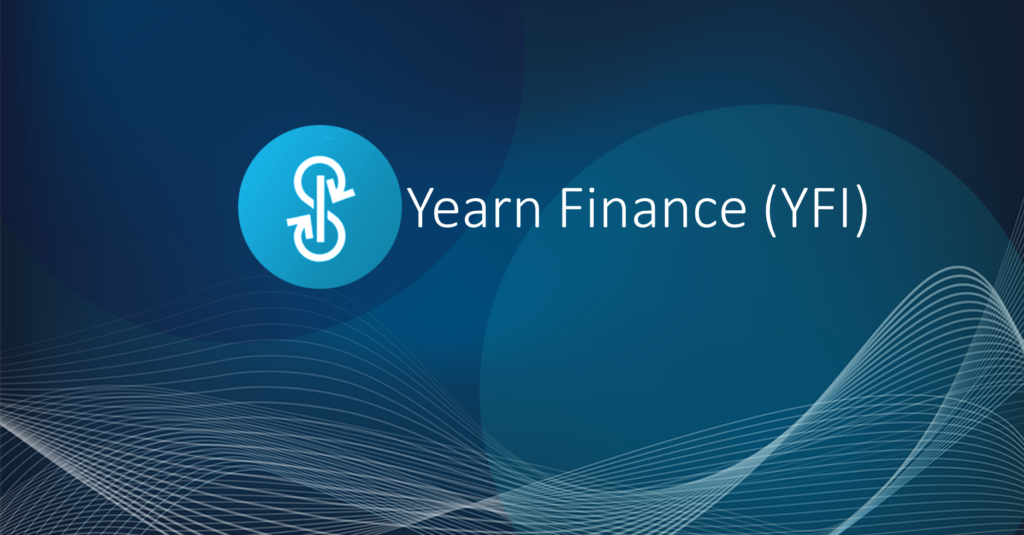 Key Features of Yearn Finance (YFI)
Earn
Earn is the first and simplest feature of the Yearn protocol. Through Earn, the protocol will find a DeFi application that can provide the highest percentage of interest for your deposit. You will get profits from your stablecoins in the form of Ytoken which you can then withdraw and exchange. Earn is the most basic feature with low risk and a fairly stable percentage of around 1-6% depending on your stablecoins.
Zap
Zap is a feature that makes it simple to convert what would otherwise be complex cryptocurrencies pairing. This feature can simplify the process in one click within Yearn Finance. For example, if users want to convert their USDT into yCRV, users need to use multiple platforms. Through Zap, users can do this in just one step. This simplifies the process, saves time, and also cuts transaction costs. This feature will be useful for people who trade or use DeFi applications and like to switch platforms.
Vault
Vault is Yearn Finance's newest product and the riskiest. However, this product also provides the highest interest percentage. Vaults with huge interest leverage complex strategies executed across multiple separate platforms. Users need to carefully choose vaults to balance between risks and interest rates.
Who created Yearn Finance (YFI)?
A former lawyer and South African coder, Andre Cronje created Yearn Finance in early 2020 before he went on to launch YFI token in June 2020. In July 2020, he also created the hard fork of Yearn FinanceFinance II (YFII), DFI.Money that can be read here.
How does Yearn Finance (YFI) work?
As we know, Yearn Finance is a yield aggregator that connects users' funds to other DeFi applications such as AAVE, Compound, and Curve. However, the funds that can be deposited in the protocol are mostly stablecoins such as USDT, USDC, and DAI. The application then looks for the highest profit interest and connects the stablecoin funds stored in the protocol.
Users will get a reward in the form of Ytoken according to users deposits (if you enter USDT you will get YUSDT). Currently, Yearn Finance is connected to the Ethereum and Fantom blockchain networks thus leveraging DeFi applications in both.
At the beginning of Yearn's creation, the protocol strategy was very simple because it only needed to find and connect funds into DeFi with the highest percentage of profits. However, as more people started using Yearn, that strategy no longer worked. The reason is that if the funds entered into the DeFi application are huge, the interest will automatically decrease to match the flow of incoming funds.
To mitigate this, the protocol now automatically splits and distributes funds across multiple DeFi apps so as not to change the interest earned by each user.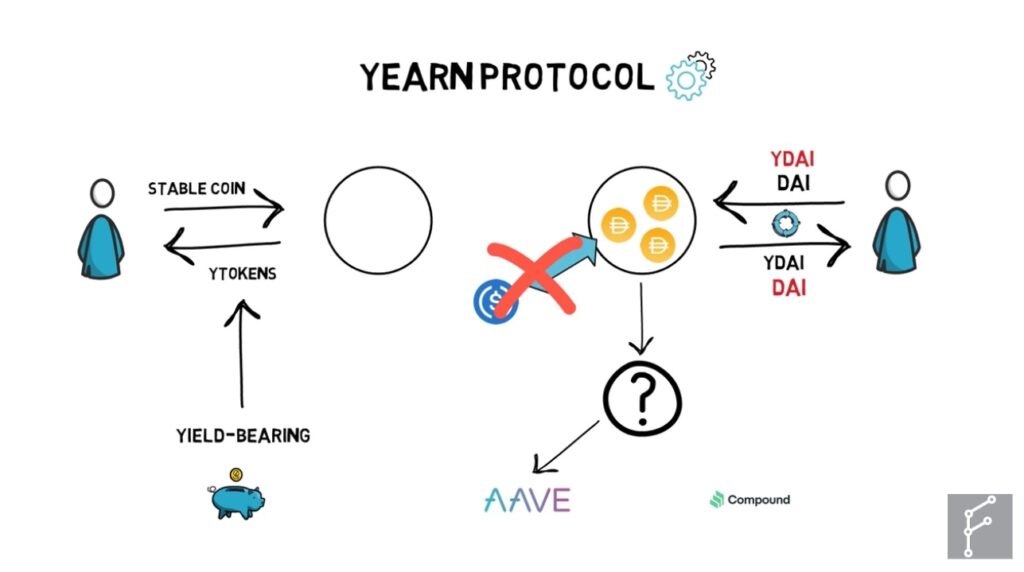 Protocol process diagram of Yearn Finance starting from depositing stablecoins, searching for DeFi protocols, and getting Ytokens in return. Source: Finematics
Yearn Vaults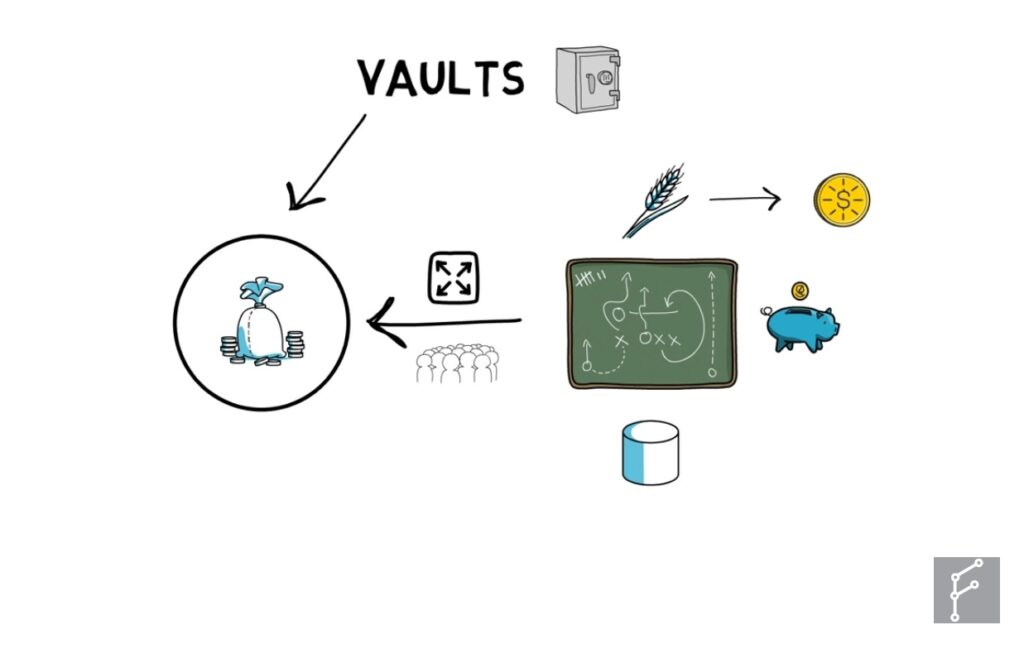 Vaults diagram of Yearn Finance. Source: Finematics
Vault is the latest product from Yearn after the update to V2. Each vault works like a savings account with different tokens and strategies to maximize profits. This strategy is a series of actions taken by the Yearn algorithm to get maximum profit for each vault according to market conditions. YFI token holders have the power to vote for a change in the strategy of vaults.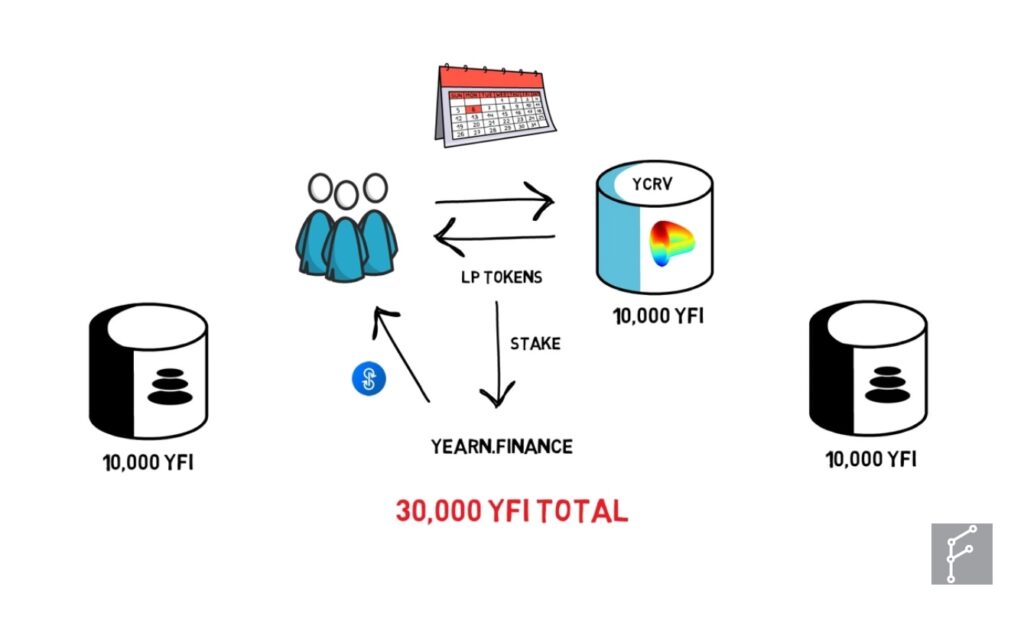 Source: Finematics
The native cryptocurrency of Yearn Finance is YFI token, or mostly known as YFI. Being a governance token, it gives the holders the power to vote changes to the Yearn Protocol rules and strategies in the vault.
Initially, a 9-day long token distribution started with allocating 10,000 YFI tokens to the liquidity providers of the yCRV pool. The LPs had to stake their yCRV LP tokens to receive YFI rewards. Shortly after, 2 more Balancer pools were added, with 10,000 tokens each, totalling 30,000 YFI tokens as shown on the diagram above. With limited circulating supply, YFI has become the second most expensive token after Bitcoin.
How to buy Yearn Finance Token (YFI)?
You can buy Yearn Finance Token (YFI) on MEXC by the following the steps:
Log in to your MEXC account and click [Trade]. Click on [Spot].
Search "YFI" using the search bar to see the available trading pairs. Take YFI/USDT as an example.
Scroll down and go to the [Spot] box. Enter the amount of YFI you want to buy. You can choose from opening a Limit order, a Market order or a Stop-limit order. Take Market order as an example. Click [Buy YFI] to confirm your order. You will find the purchased YFI in your Spot Wallet.
Recent Yearn Finance Token (YFI) price & performance
The initial issue was 30,000 tokens on the Ethereum blockchain platform and there are 36,637.72 YFI token in current circulating supply. YFI reached the highest price (ATH) of 82,745.19 USDT on May 11, 2021. The lowest price since the date of ATH was 4,384.97 USDT on June 18, 2022. The 30 days performance sees the highest price at 12,209,06 USDT on June 6, 2022 and lowest at 8,023,05 on September 22, 2022. At the time of writing, its current performance is 8,115.4 USDT with a market cap of $298,483,486 and fully diluted market cap of $298,713,870.
Want to stay tuned in crypto market?
Check out our listings in the Innovation and Assessment zones as well as the major tokens in the Main Zone – we have more amazing projects to come! What's more, MEXC lists moonshot and offers access to trade major cryptocurrencies. Visit the Hot Projects section as well to uncover more featured popular tokens. Lastly, feel free to visit MEXC Academy to learn more about cryptocurrency in general.