Value Relationship Storage (VRES) or VRS Token (VRS/USDT – Trade it here) is a platform that can store, manage, and use various values using blockchain technology. Furthermore, the team established VRS with the purpose of "Defining, developing, and saving the future with solutions." Basic information for their token is available on the MEXC Digital asset introduction page.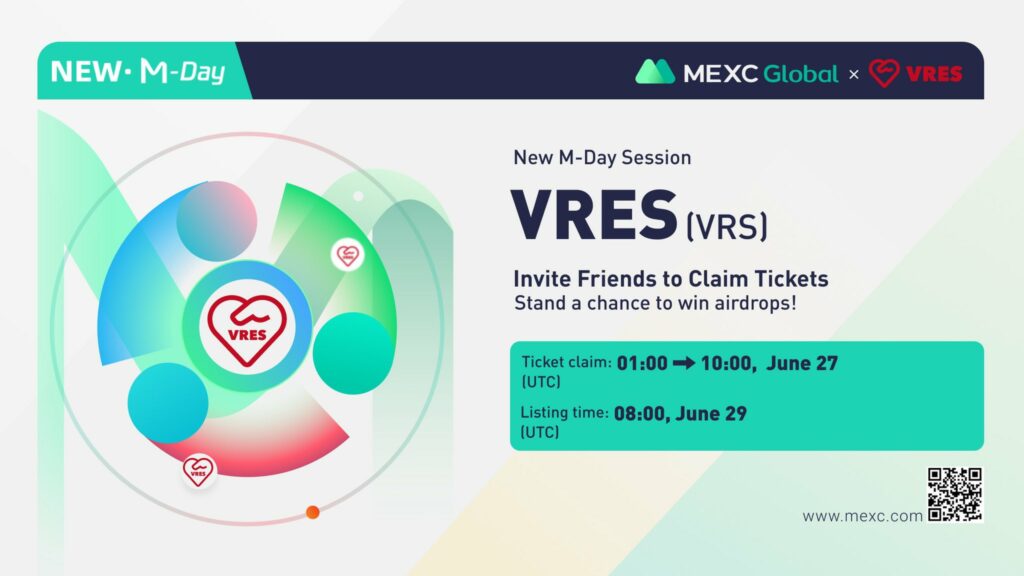 VRS Core Features
To achieve this goal Value Relationship Storage has proposed several systems and tools as follows:
V-CARE from Value Relationship Storage service is an on/offline senior welfare platform. It seeks to solve fundamental problems by discovering underprivileged people in welfare blind spots based on healthcare technology and operating systems. It also supports and collaborates with local social service industries and fosters and hires health coordinators to perform un-tact management and smart healthcare for senior citizens, and single-person households. This service is the most suitable service in the Corona era, a super-aged society.
Happy Table is a smart device that allows education, fun, and prevention through a variety of content such as games, recreations, tests, and lecture viewing that help one to four people sit at a table with a smart table.
It is a foot control smart device by Value Relationship Storage that manipulates multimedia exercise contents with feet instead of hands. It is a device that helps both the brain and the body that can stimulate both the brain's judgment ability and the resulting body response at the same time because it thinks it is a visual stimulus and exercises with its feet again.
The Health Wallet Service is a service that plays a central role in creating the Value Relationship Storage ecosystem, allowing users to exchange and use their VRS tokens, provide various Defi services to the VRS ecosystem, and expand the market through participation and connection of various governance.
Value Relationship Storage Ecosystem
Value Relationship Storage's goal is to create an ecosystem where people can create a healthier life by establishing the value of health information data through the introduction of VRS. The VRS ecosystem is composed of three main parts:
Digital wallet and reward mechanism
Membership
Various platform service connections.
Main stakeholders included Value Relationship Storage users, experts, offline stores, health businesses, health insurers, employers, applications, startup companies, etc.
VRS Tokenomics
A VRS token is a coin issued by Value Relationship Storage Global that can be utilized in a variety of ways. The most representative methods available are as follows:
Users will be rewarded if they check their body fat analysis through the service provider's platform.
Users will be rewarded when users achieve the goal proposed by the platform service provider.
Rewarded VRS can be exchanged for other platform services and products.
Users can also use premium services provided only by VRS platform services.
Platform service providers can provide services and archive VRS to gain new users.
Both users and service providers can participate in the development of new platform services and receive rewards.
VRS can be held and used
Provide mutually accumulated health data and rewards can be paid and traded.
Recent Price & Performance of Value Relationship Storage (VRS)
Currently, their market price is $0.9999 per unit. It has a market cap of $2,499,960,578 and a fully diluted market cap of $2,499,960,578. It also has a 24-hour trading volume of $429. You can check the live price of their token right here!
How to buy Value Relationship Storage (VRS)
You can buy Value Relationship Storage (VRS) on MEXC by following the steps:
Log in to your MEXC account and click [Trade]. Click on [Spot].
Search "VRS" using the search bar to see the available trading pairs. Take VRS/USDT as an example.
Scroll down and go to the [Spot] box. Enter the amount of VRS you want to buy. You can choose from opening a Limit order, a Market order, or a Stop-limit order. Take Market order as an example. Click [Buy VRS] to confirm your order. You will find the purchased VRS in your Spot Wallet.
You can find a detailed guide on how to buy VRS token here.
Keep Yourself Updated With The Crypto Trend
Check out all of the listings in the Innovation and Assessment zones as well as the major tokens in the Main Zone – we have more amazing projects to come! What's more, MEXC lists moonshots and offers access to trade major cryptocurrencies. Visit the Hot Projects section as well to uncover more featured popular tokens. Lastly, feel free to visit MEXC Academy to learn more about cryptocurrency!
Start your travel on MEXC Global