BONE (BONE/USDT – Trade it here) is the is the governance token of ShibaSwap ecosystem which will allow the ShibArmy to vote on proposals on Doggy DAO, the governance system of Shibaswap.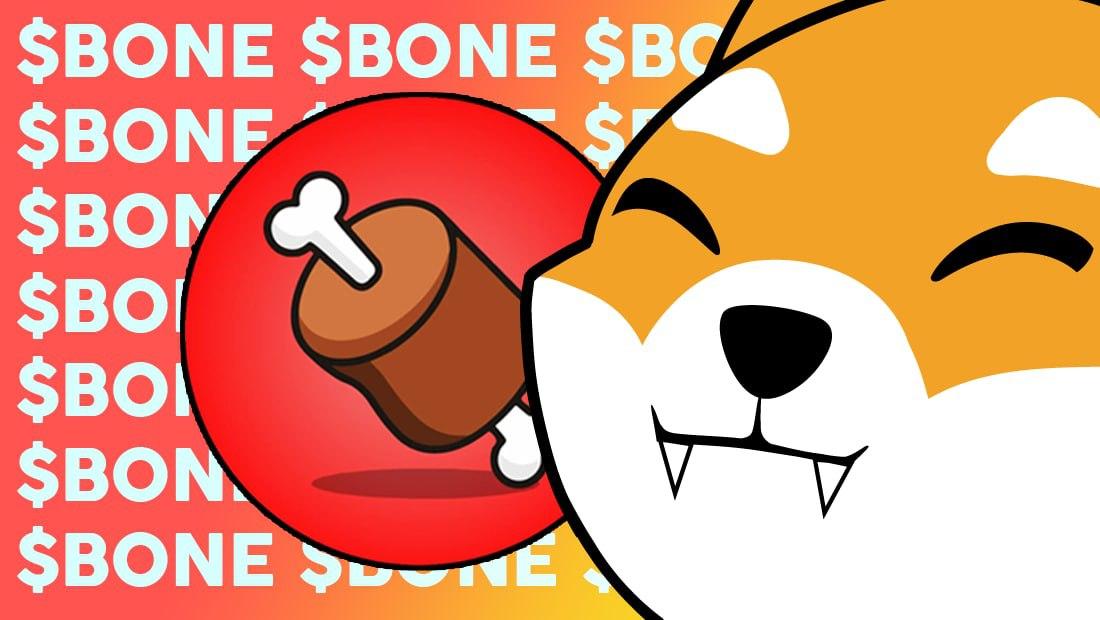 ShibaSwap Core Features and Ecosystem
ShibaSwap started from a decentralized meme token SHIB and evolved into a vibrant ecosystem. ShibaSwap is the native decentralized exchange (DEX) of the Shiba Inu Coin project that allows users to trade peer to peer without any counterparties.
ShibaSwap allows users to provide liquidity to earn BONE through digging, stake their BONEs to earn rewards, swap their tokens for other tokens, vote through Doggy DAO to make decisions and participate in community events, and claim WOOF as returns, all in decentralized environment. It also has a unique and exclusive NFT collection called Shiboshis with 10,000 NFTs, which are special to the ShibaSwap community and available for trading.
ShibaSwap's Tokenomics
Here is a brief introduction to ShibaSwap's BONE economic flow within the ecosystem. Usually users can "bury" (stake) or "dig"(provide liquidity) BONEs.
Bury BONE
When the user "bury"(stake) BONE tokens, the user will get tBONE. 1% of all BONE Per Block (BPB) is additionally minted and distributed to tBONE holders, that are part of the BONE POOL. 0.05% of the allocated swap fees are distributed into Bury pools and a part is sent to tBONE holders, which allows users to increase their BONE balance. The 33% of the BONE returns will be distributed weekly and available for withdrawal and the remaining 67% will be time locked for six months.
Dig BONE
BONE liquidity is encouraged on ShibaSwap by offering the BONE SSLP TOKEN. The BONE SSLP TOKEN pool gathers 0.1% of all DAI swap returns and 0.1% of all USDT swap returns. The 33% of the BONE will be available for withdrawal at any time and the remaining 67% will be time locked for six months.The 33% of the DAI and USDT returns will be distributed weekly and available for withdrawal and the remaining 67% will be time locked for six months.
How to buy BONE?
You can buy BONE on MEXC following the steps:
Log in to your MEXC account and click [Trade]. Click on [Spot].
Search "BONE" using the search bar to see the available trading pairs. Take BONE/USDT as an example.
Scroll down and go to the [Spot] box. Enter the amount of BONE you want to buy. You can choose from opening a Limit order, a Market order or a Stop-limit order. Take Market order as an example. Click [Buy BONE] to confirm your order. You will find the purchased BONE in your Spot Wallet.
BONE Token Price & Performance
Since listed on MEXC in 2022, BONE reached the highest price (ATH) of 1.2586 USDT in January 2022. Lowest price of BONE since the date of ATH date was at 2022 May reaching 0.2500 USDT.
Interested in crypto like ShibaSwap?
MEXC lists moonshot and provides access to trading of altcoins coins like ShibaSwap's BONE, keep an eye on our listings in Innovation and Assessment zones, as well as major tokens in the Main Zone – we have more great projects to come! Also, visit the hot projects section to find more hot tokes that were listed already. If you would like to know more about crypto trading itself visit MEXC Academy.