RichQuack or QUACK (QUACK/USDT – Trade it here) is a Hyper Deflationary, self-generating automatic liquidity that pays out static rewards to holders. It is a 100% community driven high quality project with meme capabilities. Basically, all you have to do is buy and hold QUACK, in time your QUACK tokens will increase. Basic information for the QUACK token is available on the MEXC Digital asset introduction page.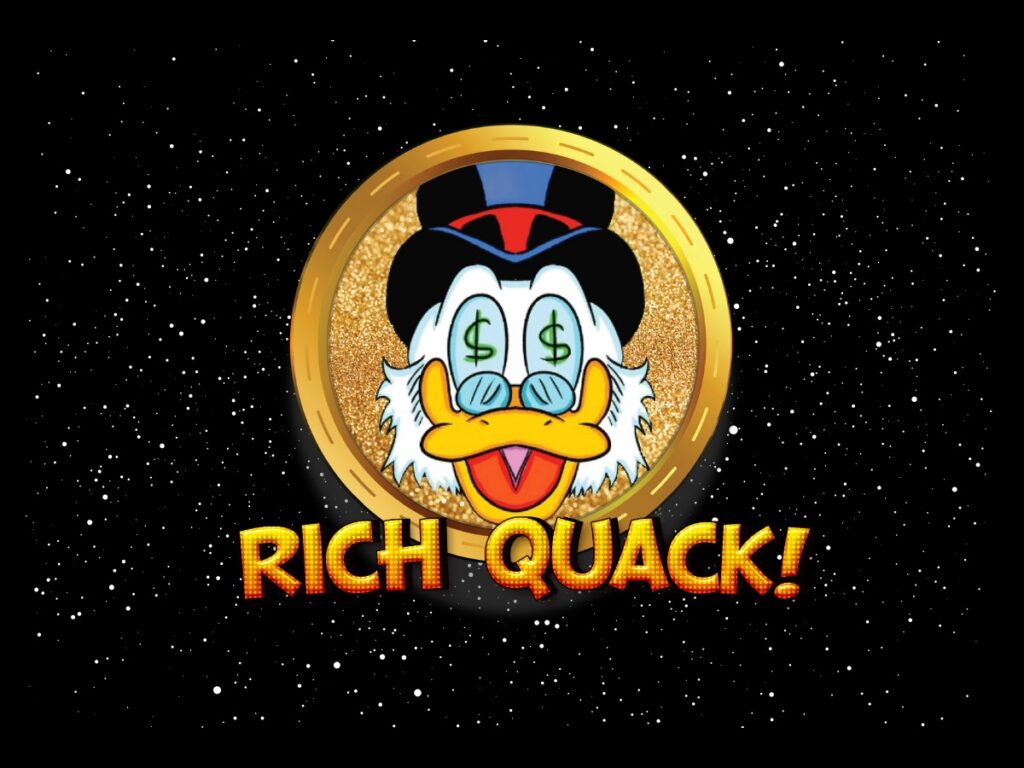 How Does it Work
For starters, no wallet holds more than 1% of the token supply, and (QUACK) takes pride in being free of whales. You are not allowed to sell more than 1% of the total supply. They believe that this will stop whales from making drastic changes on the price. Additionally, QUACK has passed security audits by TechRate, LP Locked, Anti-Whale, RUG Proof – ensuring security to their users.
Their mechanics is quite simple really. RichQuack provides a hyper-deflationary token, with 50% of its supply programmed to be burnt or sent to a black hole. You stake your tokens, and you gain more tokens as time goes. On the other hand, the platform allocates 10% transaction fees to their token holders. 5% of the fees earned will go to the auto-farming mechanism, another 5% will be invested in a PancakeSwap liquidity pool. This ensures that token holders can continue earning over time.
They also have a lotto platform, where you can gamble your QUACK hourly, daily, weekly or monthly. Last but not least , they provide their own raffles called Quackpot. It is similar to any jackpot raffles where the more tokens you hold, the higher your chances of winning the mega Quackpot.
Recent Price & Performance of RichQuack Token (QUACK)
QUACK reached the highest price (ATH) of $0.0000000041960 USD on October 12, 2022. At the time of writing (November 3, 2022), its performance is at $0.0000000019580 USD with a market cap of $86,311,879 & fully diluted market cap of $174,983,595. You can check the live price of RichQuack Token right here!
How to buy RichQuack Token (QUACK)?
You can buy RichQuack Token (QUACK) on MEXC by the following the steps:
Log in to your MEXC account and click [Trade]. Click on [Spot].
Search "QUACK" using the search bar to see the available trading pairs. Take QUACK/USDT as an example.
Scroll down and go to the [Spot] box. Enter the amount of QUACK you want to buy. You can choose from opening a Limit order, a Market order or a Stop-limit order. Take Market order as an example. Click [Buy QUACK] to confirm your order. You will find the purchased QUACK in your Spot Wallet.
You can find a detailed guide on how to buy QUACK tokens here.
Keep Yourself Updated With The Crypto Trend
Check out all of the listings in the Innovation and Assessment zones as well as the major tokens in the Main Zone – we have more amazing projects to come! What's more, MEXC lists moonshot and offers access to trade major cryptocurrencies. Visit the Hot Projects section as well to uncover more featured popular tokens. Lastly, feel free to visit MEXC Academy to learn more about cryptocurrency!