Gala Games or GALA (GALA/USDT – Trade it here) was founded with one goal in mind: to give power back to the gamers. It is a blockchain NFT games platform that aims to let players take ownership of NFTs used in the gaming sector and to enable freedom through play.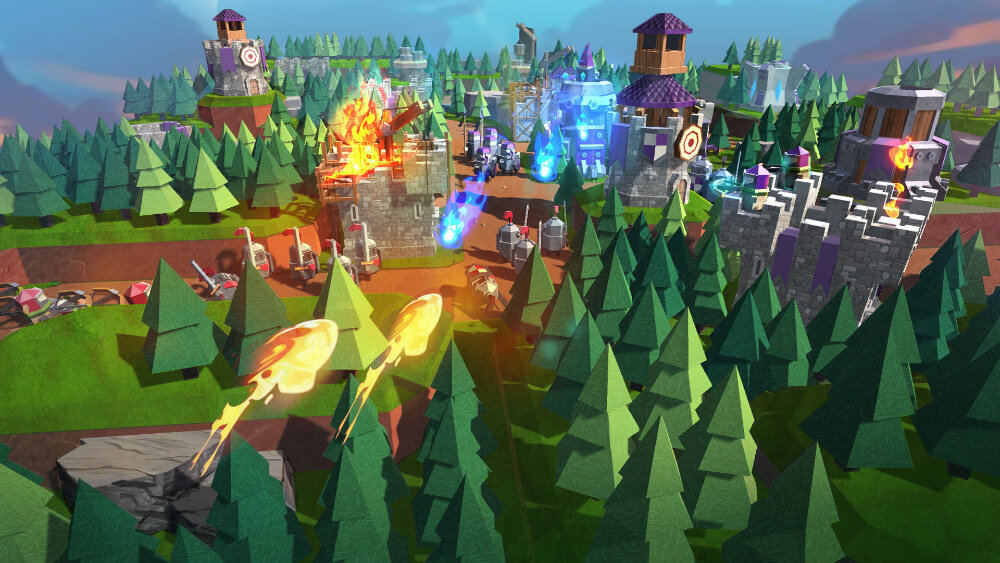 GALA Core Features
These are the core features of GALA's project that separate this one from others:
Fun First – Gala Games believe that the blockchain should be invisible in their games. They use simple game mechanics that all players can enjoy, whether or not they consider themselves to be blockchain pros.
Owned by Players – Players get to truly own what they win in our games. If the player earns or wins a magical sword on the Gala Game Platform, it is the player's. The player's items and any inherited status is a verifiable asset on the blockchain he or she can trade to another person or play with in-game.
Community Rules – Gala Games don't develop games in a vacuum but constantly engage and test assumptions with the Discord community. GALA is built alongside a vocal community whose input shapes the direction each game's design takes.
Powered by the People – Everything within the Gala Games Network depends on the player-owned Node Ecosystem. The Gala Network is supported by users who operate Gala Nodes from their home computers.
GALA Ecosystem
The decentralized Gala Games ecosystem aspires to blow the doors wide open and give players back the control they deserve. Through decentralization, players not only own their in-games items, but they have a voice in how the Gala Games roadmap develops. Players and node owners will be enlisted, via distributed voting mechanisms, to help determine what games should be added to the platform or what should be funded by the decentralized Gala Games ecosystem. Now, let's explore key components of the Gala Games structure!
Gala Games
Gala Games, as an entity, provides curatorial and maintenance services to the decentralized network. This includes helping to integrate game studios into the Gala Games Network, updating the node software, maintaining best practices in development, and helping the community grow the network through their marketing efforts.
The Game Development
Studios that publish content on the Gala's Network are able to release NFTs using the Gala Games protocols and tool kits currently under development. It is the project's goal to make it easy for any company to quickly and easily add their game to the Gala Games Ecosystem with toolkits to produce standardized crypto packages, NFT libraries, and wallets to be integrated into their games. These studios are approved by a majority vote of the Gala Games Full Node holders (both "Grandfather" and "Paid" nodes). These Game Studios will be granted "Game License" NFTs by the Gala Games Ecosystem that will give them access to the Gala Games Ecosystem.
The Governance-Based Random Distribution Algo
This part of the Ecosystem is responsible for distributing NFT rewards to the node network. This part of the ecosystem is very much under development and still being discussed internally. While it will initially be a random distribution, the Gala Games team is aware that the Community of Node Owners has a range of thoughts about how this system could be implemented. More information will be released on this in the near future once thoughts and technological research reaches a more rigorous level.
Public Database (DB) with Easy-to-Access Endpoints
The Gala Games Node Ecosystem will depend on the work of a whole community of developers who are willing to put their time into growing a decentralized ecosystem. The Gala Games Community has seen this already with GALABASE.io, which was developed outside of the Gala Games team, but the easier it is for developers to run analytics and audits on the Gala Games Ecosystem, the better. Central to this effort will be the creation of a publicly accessible database with easy-to-access endpoints.
GALA Tokenomics
GALA is the native token of the project. It is an ERC-20 utility token compliant with the Ethereum network. Players can potentially earn rewards in GALA by supporting and getting involved in the ecosystem. GALA can also be used as a medium of exchange between players within the ecosystem and can be used to purchase in-game assets and NFTs. The total maximum supply of GALA is 37,864,382,294.19041718 GALA.
How to buy GALA?
You can buy GALA on MEXC following the steps:
Log in to your MEXC account and click [Trade]. Click on [Spot].
Search "GALA" using the search bar to see the available trading pairs. Take GALA/USDT as an example.
Scroll down and go to the [Spot] box. Enter the amount of GALA you want to buy. You can choose from opening a Limit order, a Market order or a Stop-limit order. Take Market order as an example. Click [Buy GALA] to confirm your order. You will find the purchased GALA in your Spot Wallet.
For the comprehensive guide on how to buy GALA and other available tokens, please visit special MEXC How to Buy Guides Section.
Recent GALA Token Price & Performance
Since listed on MEXC in 2021, GALA reached the highest price (ATH) of 0.84 USDT in November 2021.
Interested in crypto like GALA?
MEXC lists moonshot and provides access to trading of major crypto coins like GALA, keep an eye on our listings in Innovation and Assessment zones, as well as major tokens in the Main Zone – we have more great projects to come! Also, visit the hot projects section to find more hot tokes that were listed already. If you would like to know more about crypto trading itself visit MEXC Academy.
Start your travel on MEXC Global