ReelToken or REELT is a cryptocurrency solution for the media and entertainment industry. It is an innovative solution that aims to energize and invigorate the entire sector! Essential information for their token is available on the MEXC Digital asset introduction page. Furthermore, we are listing (REELT/USDT – Trade it here) on our Innovation Zone! Check it out now!
What Exactly is ReelToken?
ReelToken (REELT) is a decentralized blockchain token that comes equipped with smart contract capabilities. It operates on a multi-blockchain infrastructure, leveraging the power of both the POLYGON (MATIC) and Binance Smart Chain (BSC) blockchains for added redundancy and arbitrage options. This feature-rich design enables REELT holders to easily, securely, and affordably store, exchange, and use their tokens to access discounted goods and services within the Reel Star App. Furthermore, ReelToken provides a seamless, user-friendly experience that's designed to energize and invigorate the entire media and entertainment industry.
Key Features of ReelToken
Reel Star
Reel Star is a unique mobile application that serves as an all-encompassing digital solution for all users. Furthermore, it aims to be a community-focused, global social media and entertainment platform. On Reel Star, users can generate, exchange, and share content with people from all over the world. By providing a limitless array of opportunities, Reel Star empowers its users to explore new horizons and enhance their experience on the app.
NFT Marketplace
Reel Crypto is a marketplace catering to the specific needs of its users. It includes both open and curated segments with cross-platform functionality, each with unique features that cater to its demands. Furthermore, the platform has user-friendly navigation, enhanced recommender systems, and both public and private marketplaces to appeal to both creators and collectors alike. The design is fluid and efficient, enabling easy buying and selling of single or multiple digital assets within the community. Reel Star's ecosystem is scalable, and digital assets from games and other sources can be easily integrated into the marketplace. This offers access to a larger market and platform and cross-platform promotion tools. The platform also encourages engagement and connection and has in-platform and cross-platform marketing tools available.
Reel Pay
Reel Pay is a cutting-edge mobile payment solution that seamlessly integrates fiat and cryptocurrencies on a global scale. As the world's first mobile-first payment solution, Reel Pay offers an easy transition for anyone moving from traditional finance to digital currencies. Whether you prefer fiat or crypto, Reel Pay lets you live easily in both worlds at once. And with full integration into the Reel Star app, Reel Pay is the perfect solution for anyone looking to create, share, and trade content with a global audience.
The core features of Reel Pay include the ability to store and use both fiat and cryptocurrency in a seamless manner. Additionally, users can exchange currency, make P2P transfers, and use QR code payments. The platform also offers safe and secure encrypted transactions with biometric authentication options. Reel Pay is accessible via iOS, Android, and Web interfaces, with middleware APIs and an extensive partner ecosystem. Additionally, the platform features advanced security, audit, and compliance tools to ensure maximum security and protection for users.
Reel Production
Reel Production is a platform that supports young and new artists by allowing them to seek community support and donations for their projects. Established creators and artists can also use the platform to share profits from their projects with their supporters. Reel Production provides a democratic approach to engaging with artists and creators, opening up support to people of all levels, not just large corporations or wealthy donors. Each project showcases the artist's history and past work, with success leading to more opportunities. The platform also provides comprehensive analytics for each project, giving creators and supporters a real-time insight into their portfolio status.
What is the Tokenomics of REELT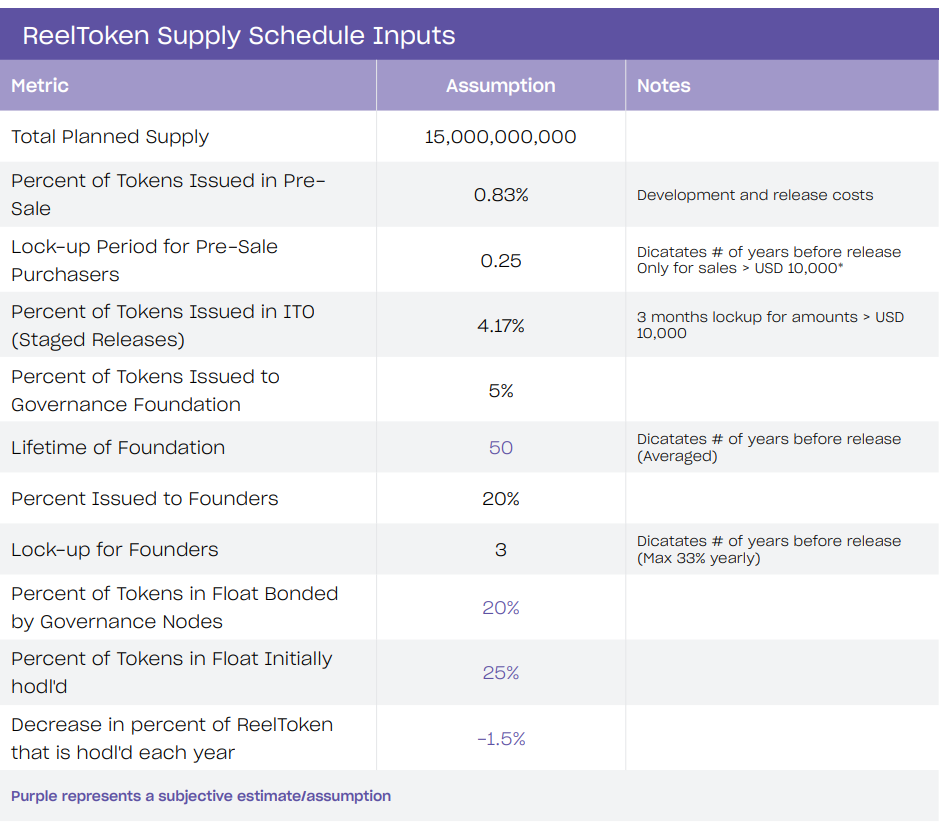 Currently, REELT is leveraging the POLYGON (MATIC) infrastructure. It enables enabling ReelToken holders to securely and efficiently hold and trade REELT with fiat or other cryptocurrencies. Additionally, they can utilize REELT for discounted goods and services within the Reel Star App.
Is ReelToken Safe to use?
Yes, it is. ReelToken is implementing state-of-the-art standards in protocols, encryption, and security to ensure the utmost safety and security for our users. Furthermore, they are at the final stages of AUSTRAC Registration from The Australian Government agency. Furthermore, the Reel Crypto governance token maintains stability and security through advanced consensus, governance, and control mechanisms.
Is ReelToken a Good Investment?
ReelToken is a good project with a lot of utilities. It has a great team managing the entire project as well. It has the potential for a long-term investment. However, it is important to conduct thorough research and analysis before making any investment decisions. Factors such as market trends, historical performance, and current events can all impact the potential profitability of an investment in ReelToken or any other cryptocurrency. It's recommended to consult with a financial advisor or professional before making any investment decisions. This is not financial advice.
Where to buy REELT Token
You can find REELT Token here at MEXC Global! We are listing REELT/USDT in our Innovation Zone!
What is the Price of REELT Tokens?
REELT token is currently trading at $0.02529 per unit. It has a fully diluted market cap of $379,288,585. It also has a 24-hour trading volume of $123,883. You can check the live price of their token right here!
How to buy REELT Tokens
You can buy REELT Tokens on MEXC by following the steps:
Log in to your MEXC account and click [Trade]. Click on [Spot].
Search "REELT" using the search bar to see the available trading pairs. Take REELT/USDT as an example.
Scroll down and go to the [Spot] box. Enter the amount of REELT you want to buy. You can choose from opening a Limit order, a Market order, or a Stop-limit order. Take Market order as an example. Click [Buy REELT] to confirm your order. You will find the purchased REELT in your Spot Wallet.
You can find a detailed guide on how to buy REELT Tokens here.
Keep Yourself Updated With The Crypto Trend
Check out all of the listings in the Innovation and Assessment zones as well as the major tokens in the Main Zone – we have more amazing projects to come! What's more, MEXC lists moonshots and offers access to trade major cryptocurrencies. Visit the Hot Projects section as well to uncover more featured popular tokens. Lastly, feel free to visit MEXC Academy to learn more about cryptocurrency!
Start your travel on MEXC Global