Rabbit Wallet of RAB is a multi-utility decentralized Wallet application (DeFi Wallet). It facilitates users' crypto storage and asset management. Furthermore, Rabbit Wallet is able to connect with different Dapps, allowing users to experience the full DeFi World. Essential information for their token is available on the MEXC Digital asset introduction page. Furthermore, we are listing (RAB/USDT – Trade it here) on our Innovation Zone! Check it out now!
Why is Rabbit Wallet so Special?
Rabbit Wallet aims to provide a simple and convenient wallet for all crypto users. Furthermore, they hope to be a highly secure wallet solution for users to explore the crypto industry. Therefore, they focus on the most important aspect – privacy and security. Only the owner can access the wallet. Another party will not be able to access the wallet. The platform also does not collect any personal information to ensure maximum privacy. Additionally, it is multi-utility along with easy usage for users. There is no need to move around different apps as Rabbit Wallet is able to directly connect with the DeFi app.
What can you Find in Rabbit Wallet?
Rabbit Swap
Just like all the popular swaps, Rabbit Swap is an automated marketplace that allows users to exchange tokens. It boasts more than 3000 tokens across a variety of chains such as Ethereum, BNB, Optimism, and many more. Thanks to their innovative auto-update technology, users on Rabbit Swap will constantly receive the best prices.
NFT
In Rabbit Wallet, you can view your NFTs with ease. Furthermore, you can share your NFTs on social media with a simple click. It also allows users to gain insight into the rare traits of specific NFTs. In fact, the wallet supports multiple formats of NFT on multiple blockchains.
Tokenomic of Rabbit Wallet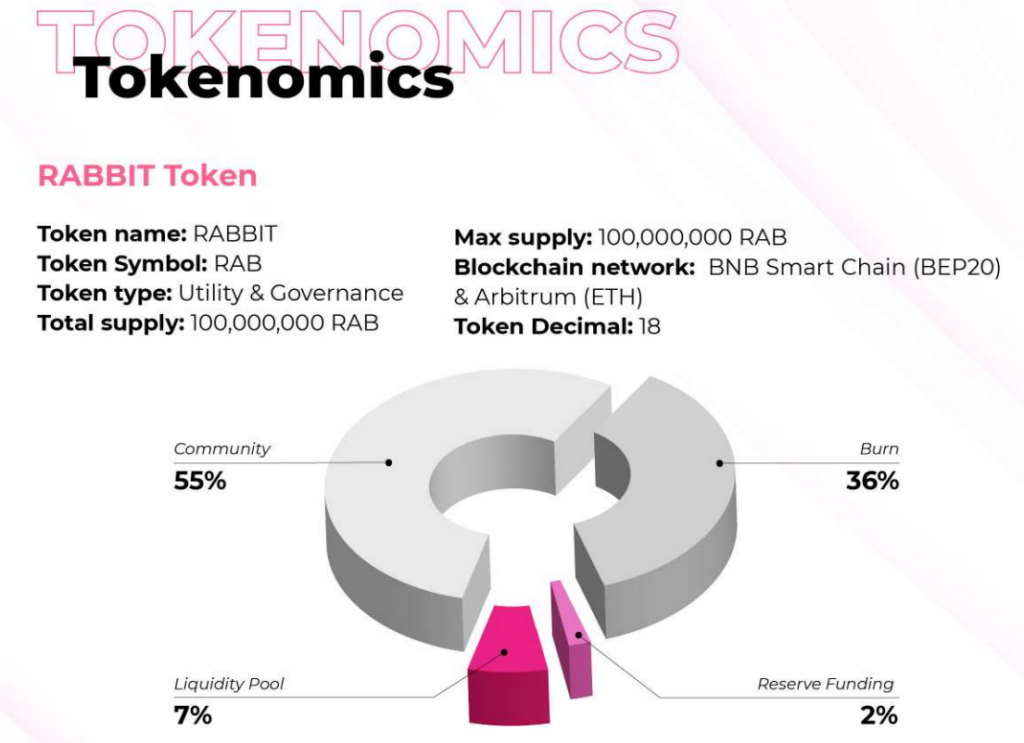 RAB token is the governance and utility token for Rabbit Wallet. Token holders are able to vote on the future direction of the platform. Furthermore, RAB holders are able to generate passive income via Rabbit Staking. In the future, holders will also receive trading discounts on their Rabbit DEX.
Where to buy RAB Token
You can find RAB Token here at MEXC Global! We are listing RAB/USDT in our Innovation Zone!
What is the Price of RAB Tokens?
RAB token is currently trading at $0.0161 per unit. It has a fully diluted market cap of $1,609,756. It also has a 24-hour trading volume of $779,271. You can check the live price of their token right here!
How to buy RAB Tokens
You can buy RAB Tokens on MEXC by following the steps:
Log in to your MEXC account and click [Trade]. Click on [Spot].
Search "RAB" using the search bar to see the available trading pairs. Take RAB/USDT as an example.
Scroll down and go to the [Spot] box. Enter the amount of RAB you want to buy. You can choose from opening a Limit order, a Market order, or a Stop-limit order. Take Market order as an example. Click [Buy RAB] to confirm your order. You will find the purchased RAB in your Spot Wallet.
You can find a detailed guide on how to buy RAB Tokens here.
Keep Yourself Updated With The Crypto Trend
Check out all of the listings in the Innovation and Assessment zones as well as the major tokens in the Main Zone – we have more amazing projects to come! What's more, MEXC lists moonshots and offers access to trade major cryptocurrencies. Visit the Hot Projects section as well to uncover more featured popular tokens. Lastly, feel free to visit MEXC Academy to learn more about cryptocurrency!
Start your travel on MEXC Global