Prime Numbers Labs is a prominent organization with a strong focus on blockchain technology. It is famous for its groundbreaking contributions to the fields of decentralized finance (DeFi) and non-fungible tokens (NFTs) within the XDC Network.
Essential information for their token is available on the MEXC Digital asset introduction page. Furthermore, we are listing (PRNT/USDT – Trade it here) on the Innovation Zone! Check it out now!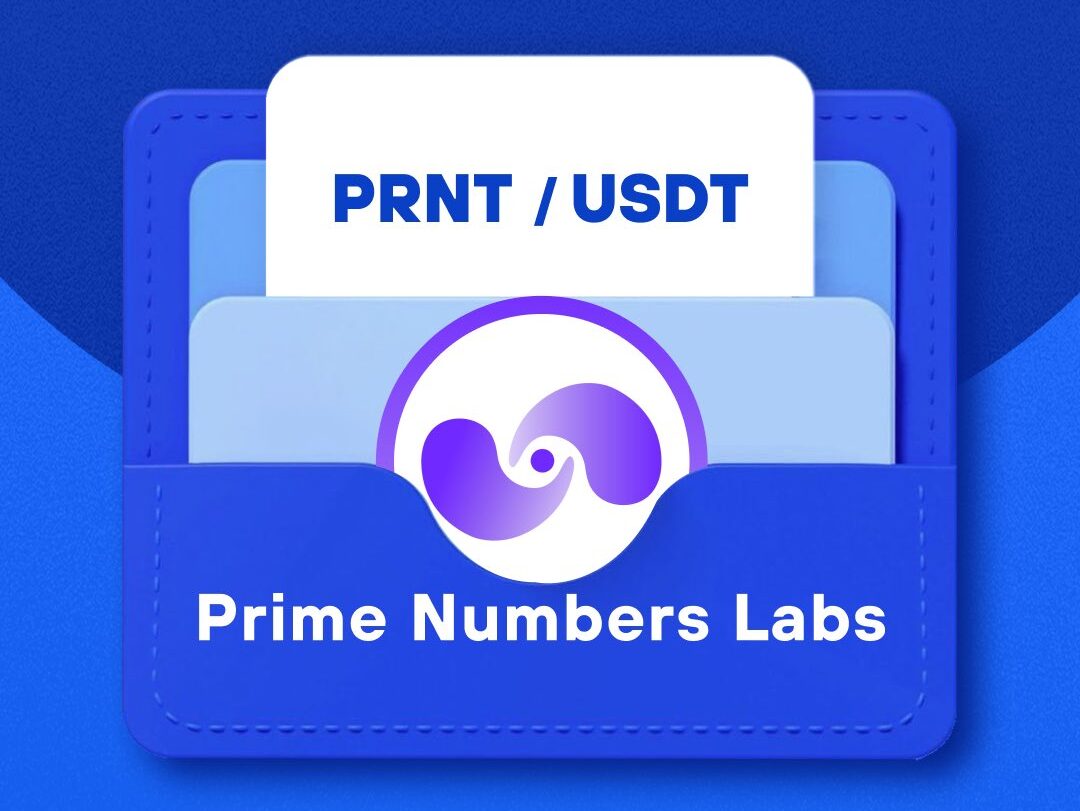 What Exactly is Prime Number Labs?
Prime Numbers Labs is a blockchain-centric organization focusing on the realms of decentralized finance (DeFi) and non-fungible tokens (NFTs) on the XDC Network.
The organization has played a pivotal role in crafting a diverse array of prosperous ecosystems. Foremost among these is the popular Prime Numbers XDC Ecosystem. It serves as their inception point as well as the foundational platform that has propelled them to their present stature.
However, this is merely the outset of their journey. They are actively engaged in the deployment of additional ecosystems across various Ethereum Virtual Machine (EVM) blockchains, expanding their impact and reach.
Liquid NFT Staking System On Prime Numbers Lab
The Liquid NFT Staking System represents an innovative approach to staking digital assets. It effectively merges the adaptability of liquid staking with the potential advantages offered by non-fungible tokens (NFTs). This marks a significant evolution beyond the conventional Liquid Staking System.
Within this system, a collection of NFTs is integrated with inherent staking capabilities, imbuing each NFT with intrinsic value. Furthermore, the potential applications of this system are vast and varied. It has notable instances including the creation of masternodes, rewards for liquidity provider (LP) staking, and token staking rewards.
What is PrimePort.xyz NFT Marketplace
Primeport.xyz stands as a multichain NFT marketplace, serving as the central hub within the Prime Numbers ecosystem. Its primary purpose is to facilitate the trading of NFTs from various Ethereum Virtual Machine (EVM) blockchains. This platform was constructed on the XDC Network and was officially launched on December 9, 2022.
PrimePort offers the ability to create NFT collections and, notably, confers ownership of the smart contract to the user. In light of the dynamic nature of the NFT realm, PrimePort remains a project in continuous evolution, constantly adapting and enhancing its features to align with shifts in the NFT landscape.
As part of its strategic roadmap, Prime Numbers Labs is actively planning to integrate additional blockchains into PrimePort, including but not limited to Ethereum (ETH), Polygon, and the Kusama (KCC) network.
Prime Finance On Prime Number Labs
Prime Finance is a decentralized finance (DeFi) protocol that operates on the XDC network. It pioneers a novel approach to lending and borrowing cryptocurrencies through a pooled liquidity system. This protocol, which is compatible with most Ethereum Virtual Machine (EVM) networks, empowers lenders to generate a stable and relatively low-risk income from interest on loans, all while eliminating the need for intermediaries.
One standout feature of this protocol is its integration of Non-Fungible Tokens (NFTs) into its lending and borrowing framework. Similar to well-established protocols like Compound, Maker, and Aave, Prime Numbers Finance functions as a lending and borrowing platform. Users deposit funds earmarked for lending into a liquidity pool, which then becomes accessible to borrowers seeking loans. To facilitate this process, the platform issues two types of tokens: aTokens for lenders, allowing them to accrue interest on their deposits, and PRNT tokens, the native tokens of Prime Numbers Labs.
Furthermore, the loans within this system are overcollateralized. It ensures that the collateral's value surpasses that of the borrowed asset. Borrowers have the flexibility to choose between fixed and variable interest rates. Additionally, these loans have no set expiration, enabling borrowers to retain the borrowed asset as long as the price of the collateralized asset remains above a specified threshold.
Where to buy PRNT Token
You can find PRNT Token here at MEXC! We are listing PRNT/USDT in our Innovation Zone!
What is the Price of PRNT Tokens?
The PRNT Token is currently trading at MEXC with a live price of $1.42. It also has a fully diluted market cap of $14,007,188. You can check the live price of their token right here!
How to buy PRNT Tokens on MEXC
You can buy PRNT Tokens on MEXC by following the steps:
Log in to your MEXC account and click [Trade]. Click on [Spot].
Search "PRNT" using the search bar to see the available trading pairs. Take PRNT/USDT as an example.
Scroll down and go to the [Spot] box. Enter the amount of PRNT you want to buy. You can choose from opening a Limit order, a Market order, or a Stop-limit order. Take Market order as an example. Click [Buy PRNT] to confirm your order. You will find the purchased PRNT in your Spot Wallet.
You can find a detailed guide on how to buy PRNT Tokens here.
Get Free Airdrops with MEXC Launchpad!
Did you know MEXC gives out 20+ free airdrops weekly? Launchpad and Kickstarter events ensure that all our loyal MX token HODLers receive a ton of new tokens! Learn all about it at our MX Zone now!
Meanwhile, check out all of the listings in the Innovation and Assessment zones as well as the major tokens in the Main Zone – we have more amazing projects to come! Visit the Hot Projects section as well to uncover more featured popular tokens. Lastly, feel free to visit MEXC Academy to learn more about cryptocurrency!
Start your travel on MEXC